LAS VEGAS – myFC announced JAQ Hybrid Charger, with both lithium ion and fuel cell technology, at CES 2018. The device functions as a normal lithium ion charger in normal use, but includes the ability to charge via a fuel cell module when needed. Max Rydahl, Group Sales & Marketing Director, told us more about the product.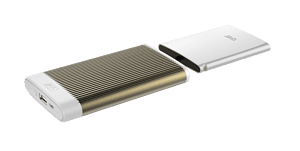 JAQ Hybrid Charger and PowerCard
The JAQ Hybrid Charger starts off with a traditional lithium ion rechargeable battery with 2750 mAh capacity, which one can charge via USB, and of course charge another device via another USB port.  For most, this scenario works if you are near a USB power source.
But if you're in a situation where power to charge the charger just isn't available, is where their fuel cell (also called a PowerCard, which contains water, NaOH and Reaction Components, and has a 1250 mAh capacity) comes in.  Just insert a PowerCard into the JAQ Hybrid Charger, and it'll top off the lithium ion battery with energy created by the fuel cell reaction in the PowerCard.
The price of the JAQ Hybrid Charger with one PowerCard is US$59, and each addition PowerCard is US$2.  Availability was said to be now.