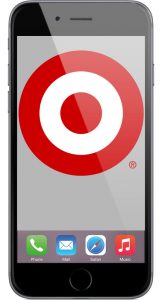 Target released its 2nd quarter results on Wednesday, including a 1.1% decline in revenue year-over-year. In a conference call with analysts, executives cited a 20% decrease in sales of Apple products as one of the principle reasons for overall performance.
Target
Target CEO Brian Cornell said the Apple slump resulted in an overall decease in traffic to its electronics department. More interestingly, that 20% decrease in Apple sales was responsible for 0.7 percentage points of the total 1.1% revenue decrease for the entire company.
Looked at from the other direction, Apple has an outsized effect on Target's overall sales. Related, there are apparently a lot of people who buy their Apple devices at Target.
Mr. Cornell also said his company was working with Apple to increase performance of its devices at Target. Neither company announced any new initiatives relating to Target.
Target also saw poor performance in its grocery business, and said the total number of transactions was down 2.2%.
Apple
Apple itself turned in decreased sales year-over-year for the June quarter, Apple's third fiscal quarter. iPhone sales have particularly struggled when compared to the rip-roaring success of iPhone 6.
CEO Tim Cook has said that his company is working on new products, that the smartphone will continue to be integral to people's lives for the near and midterm future, and that he believes in Apple's future.
Shares of $TGT closed lower Wednesday at $70.63, down $4.85 (-6.43%), on heavy volume of 19.6 million shares trading hands.
Shares of $AAPL ended the day at $109.22, down $0.160 (-0.15%), on light volume of 25.3 million shares.