It doesn't matter if you're an average Mac user who enjoys capturing casual photos and videos or a professional photographer and videographer depending on high-quality shots for your livelihood. The value of your visual assets is immeasurable. However, it's not uncommon for folks to accidentally delete, damage, or lose such memories due to various technical issues. This is where photo recovery software for Mac comes in. Stellar Photo Recovery is one option for that, so let's see how well it suits its purpose.
Why Would You Need Photo Recovery Software for Your Mac
The primary function of this software is to recover lost, corrupted, or accidentally deleted photos and videos. For the casual user, this might mean saving those precious family photos or vacation videos that you mistakenly deleted. For the more serious photographer or videographer, the implications can be much more profound. It could easily come down to preserving a once-in-a-lifetime shot. You may have hours of meticulously recorded footage that could represent significant income.
Not only does the software recover files, but it also repairs corrupt ones. This is a lifeline when you're dealing with crucial shoots or sentimental memories. Such software should be able to retrieve files from a variety of storage devices, including:
Internal and external hard drives and SSDs.
Various SD, microSD, and CF cards.
Even cameras directly, expanding the usability.
In essence, photo recovery software for Mac is your safety net against digital loss. It helps make sure no precious memory or professional work ever truly disappears. With a user-friendly interface and powerful recovery tools, a good choice in this kind of software helps safeguard your valuable visual assets against unexpected loss. You cannot understate the peace of mind this provides.
Stellar Photo Recovery's Suite of Features
Stellar Photo Recovery is a feature-rich, user-friendly application designed for this purpose. It can assist you in retrieving lost, corrupted, or accidentally deleted photos, videos, and audio files. This software is specifically developed to be compatible with both Windows and Mac systems, ensuring broad usability.
One of the distinguishing features of Stellar Photo Recovery is its ability to recover from a wide array of storage devices. Whether your files are on your internal hard drive, an external drive, a memory card, or a digital camera, Stellar can access and recover these files. This versatility makes it an essential tool for both personal and professional use.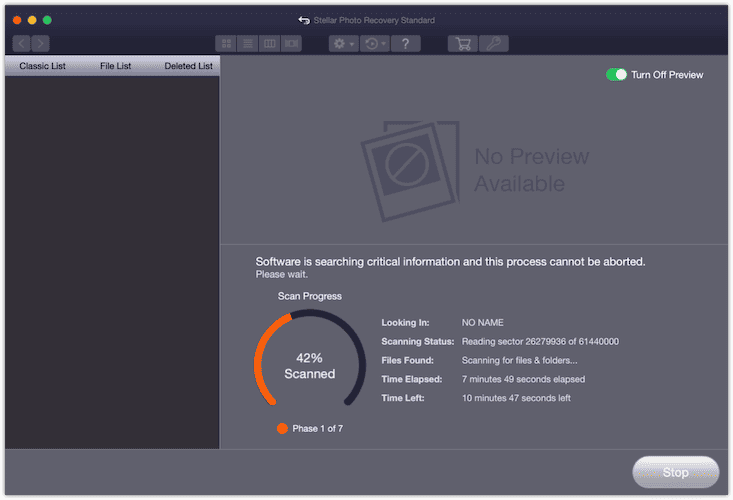 Stellar stands out with its Deep Scan feature, which performs an in-depth sector-wise search of the storage device to recover every bit of lost or deleted data. This thorough scanning mechanism increases the chances of retrieving even the most elusive files.
Additionally, the software supports the recovery of 4K, 8K, and VR media files. Furthermore, you can use Stellar Photo Recovery to locate and restore lost or deleted music files. The tool can even recover the RAW imaging formats of the major camera manufacturers, including files used in macOS photo editing software and Adobe tools like Photoshop and Lightroom. This is particularly important for professional photographers and videographers.
The software comes equipped with a simple, intuitive user interface. Its Recover-What-You-See feature allows users to preview files before recovery, ensuring that you restore exactly what you need. Moreover, with its Add File Type feature, Stellar Photo Recovery can be updated to support new or custom file formats, providing a level of customization not commonly found in recovery software.
In essence, Stellar Photo Recovery provides a comprehensive, adaptable solution to photo and media recovery needs, with features that cater to both general and advanced users.
Pricing of Stellar's Recovery Software
While Stellar Photo Recovery boasts professional-grade tools, it still offers a free trial. This freebie allows you to recover up to 10 files, limited to 250MB — a limit easily met when searching for RAW files or videos. Beyond that requires a purchase for full functionality. The Standard edition, priced at $49.99, offers a decent suite but lacks certain features such as working with partitions, unbootable systems, or optical media, and lacks photo or video repair functionality, including batch repair.
The value of a two-year license might not compare favorably with cheaper, more feature-rich applications. The Professional tier, which costs $59.99 for a one-year license, unlocks additional features but still lacks file repair. The $69.99 Premium tier includes repair capabilities, making it perhaps the ideal solution for many professional photographers, particularly individual proprietors.
Finally, if you need RAID support, the Stellar Data Recovery Technician product can recover all sorts of data, even from RAID arrays. It will recover up to 1GB of data for free.
Regardless of the chosen tier, Stellar Photo Recovery includes robust technical support via email, live chat, and phone, ensuring customers have assistance when needed.
The Usability of the Powerful Image and Video Recovery Tools
Stellar Photo Recovery offers more than just photo restoration. The software includes notable general-use features such as the ability to pause and resume scans, preview images prior to restoration, and add unsupported file types to scans. It can retrieve data from RAID arrays and NAS drives and is compatible with Linux and Mac file systems.
The Stellar interface is intuitive, allowing users to select their storage volume and scan type to start. Like many similar apps, it presents results in a familiar, easy-to-navigate Finder-style interface. Users can browse results by file type and employ a search function.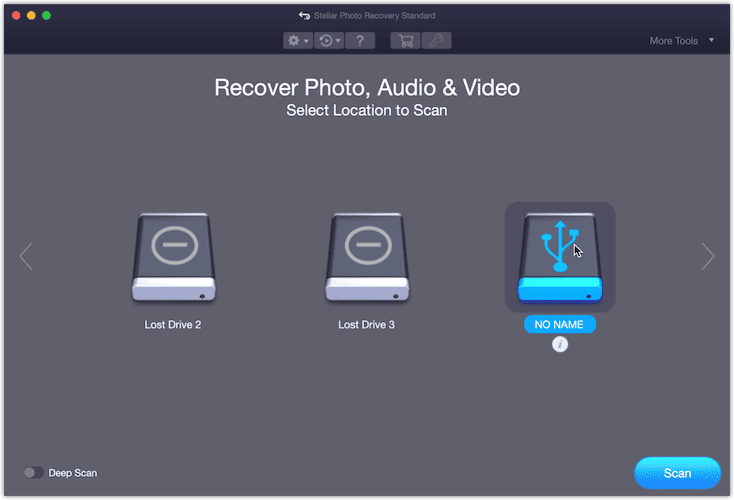 While functional, the Stellar interface isn't particularly groundbreaking, and it presents a few minor drawbacks. The software doesn't always restore files under their original names, making it challenging to locate recovered photography. Additionally, while the scans are effective, they're not notably fast.
All of that said, Stellar Photo Recovery is effective and affordable, especially when you take into account the much higher price tags attached to more capable and professional digital forensic tools.
Stellar Photo Recovery
Retrieve lost or deleted photos and other important data with one of the most effective tools.
Promisingly Effective, and Yet Continuously Improving, Photo and Video Recovery
The ability to recover deleted images and videos can be a true lifesaver. Furthermore, Stellar is continuously improving its software, testing it rigorously to find problems, so you're unlikely to experience too much trouble. Even so, the process does have potential risks and drawbacks.
1. Overwriting Data
When a file is deleted, its physical space on the hard drive is marked as available for reuse. If you continue using the device after deleting the files, new data may overwrite this space, making recovery difficult or impossible.
Thus, it's critical to stop using the device and begin the recovery process as soon as possible after deletion.
2. Incomplete Recovery
Depending on the damage or how the file was deleted, recovery might not always be perfect. Partial recovery can leave you with fragmented, unreadable files. Stellar Photo Recovery does an excellent job of recovering deleted files, but I did experience images that weren't able to be opened after recovery. That's to be expected though, and is why regular backups are so important.
3. Privacy Concerns
When using third-party recovery software, there's always a risk of data breaches. Always ensure that the software you're using is from a reliable source and maintains strict privacy policies., as Stellar does. The company has a strict privacy policy that it takes very seriously.
Stellar follows data protection laws including the Federal Privacy and Data Protection regulations enforced by the U.S. Federal Trade Commission. Stellar's software and privacy policies also adhere to the Indian Personal Data Protection Bill (PDPB) of 2019.
4. Cost
High-quality, reliable recovery software often comes at a cost. Free or cheaper options may not provide comprehensive recovery solutions, and the best ones usually require a financial investment.
Stellar offers an excellent pricing structure that should provide just the option you need without necessarily breaking the bank.
5. Time-Consuming
Depending on the size of the drive and the number of files to be recovered, the recovery process can be lengthy. Also, deep scans for recovering files can take a significant amount of time.
That being said, all the risks above could very well be worth it. After all, if you inadvertently delete a photograph you spent your whole life trying to capture, what're a few more hours waiting to recover it if you inadvertently delete it?
Given these potential issues, it's always best to maintain regular backups of your important files to avoid needing recovery solutions. If recovery is necessary, Stellar Photo Recovery is an excellent choice as a tool to mitigate these risks.