The SanDisk Extreme Portable SSD is an insanely small, fast, external SSD. At 44 grams, USB-C based, some degree of water resistance, and up to 2 TB storage, it's a spectacular product in casual tests so far.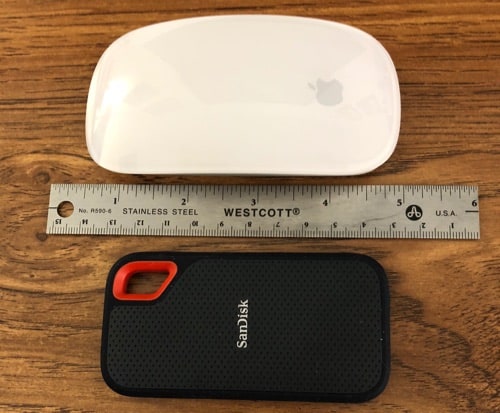 SanDisk Extreme Portable SSD Overview
The first amazing thing about this SSD is its size. 95 mm x 50 mm x 9 mm. That's 3.74 x 2.0 x 0.35-inch. It's greatly smaller than an Apple Magic Mouse and very much thinner. It weighs in at 44 grams (1.55 oz.) It'll take your breath away, even before you realize how much 2 terabytes is. Here are some of the notable features.
Advertised at up to 550 MB/s read speed.
Capacities of 250, 500, 1,000, 2,000 GB.
Designed for both Windows and Mac.
USB Type-C connector. Includes a 1) USB-C to USB-C cable and 2) USB-C to USB-A adapter plug. But the cable is short: 150 mm (6 inches)
Loop for carrying on, say, carabiner.
3 Year warranty.
With the normal caveats, has an IP55 rating. "Stands up to rain, splashes, spills and dust."
Non-slip, grippy surface texture.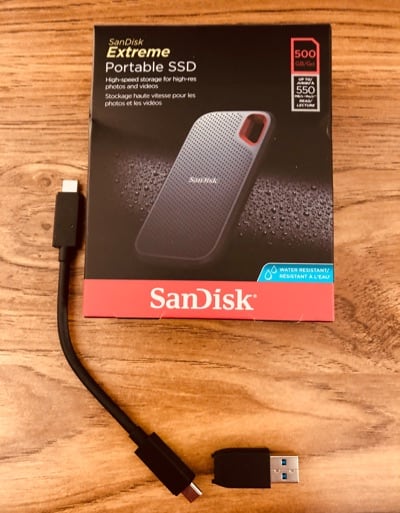 Tests To Date
The primary testing has been as my Mac's external SSD, formatted as APFS, running Mojave betas. The format as APFS, wiping out the original SanDisk factory format, took perhaps 2 seconds. The installation of Mojave DP3 went smoothly, but I did use a Thunderbolt hub with the MacBook. I have not yet tried a direct USB-C connect install.
[macOS Mojave Failing to Install on an External USB Drive? Here's the Fix ]
If you use macOS Disk Utility to format this drive, as I did, be aware of this visual bug:
[Understanding and Fixing the APFS Container Bug in macOS Disk Utility ]
I haven't yet tested in with Linux, so I can't report on that compatibility. I'll update this review if I find out more from SanDIsk. [UPDATE: SanDisk replied as follows: "...the Extreme SSD works as a regular plug and play device. Although we have not tested the drive on a Linux machine however, it solely depends on the OS to support removable storage."]
This is a quick look review, and so I haven't done extensive speed tests. But I can generally say that a first-blush test with Blackmagic Disk Speed Test.app (in High Sierra, MacBook, USB 3.0) suggested something in the range of 400 MB/s, read and write. This is very unofficial.
What I Liked (and Not)
I really like the small size, the USB-C cable system provided, and the price. I purchased the 500 GB model for US$140 at Amazon a few weeks ago, and since then the price has come down a bit. This is a tremendous value given the design and features of this SSD. I do wish the supplied cable were a few inches (maybe 10 cm) longer.
Summary
Our Jeff Gamet recommended this product, and we're both using it to run macOS Mojave as an external boot drive. So far, it's been a joy, easy to use, feels very fast, and is priced right. $529 will get you the 2 TB version. So far, so good for this nifty, well-thought-out product.