Any Mac user who works on the internet with people in other time zones should have this essential, time tested app called World Clock Deluxe. I've used it for a long time and love it.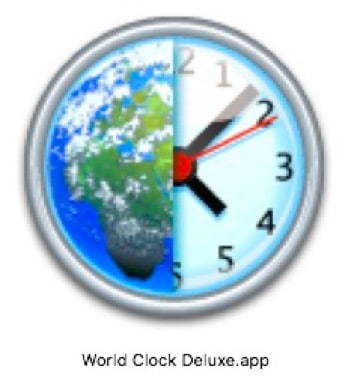 There are people who just always know what time it is in every time zone. It's almost as if they have a special clock in their head. But for the rest of us, keeping track of what time it is elsewhere in the world can be a daunting task, especially when going across the International Date Line. Fortunately, most of use don't have colleagues in the middle of the Pacific Ocean. But they might be in Tokyo or Sydney.
Now there are many apps on the iPhone/iPad that serve as a great world clock, including Apple's own iOS Clock app. Here's my own setup. (I use a 24 hour clock on my iPhone.)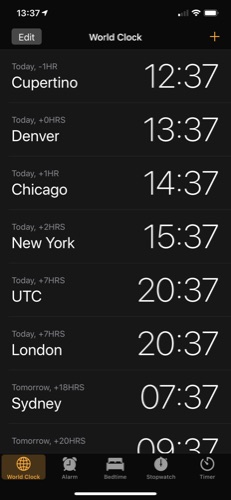 But for those who are doing their work on a Mac, I don't think there's a better app than World Clock Deluxe from mabasoft. Here's what it looks like on my desktop, very customized just the way I like it, in ascending time order, from west to east. Note how each time zone has its own 3- or 4-letter abbreviation. There is much to learn here. For example, in the summer, the UK uses BST which is not British Standard Time as one might suspect, rather British Summer Time, which is their Daylight Saving Time. The rest of the year is GMT. Got that?
Features of World Clock Deluxe
From the mabasoft website:
With World Clock Deluxe you can:
display multiple digital or analog clocks in a horizontal or vertical palette, in the menu bar, and in the Dock;
show the time in over 1,600 cities and 200 time zones and world times (Coordinated Universal Time, Greenwich Mean Time, Internet Time);
show seconds, weekday, date, date change, time zone, and the offset from local time or UTC;
show daylight-saving time transitions;
customize date and time formats and assign labels and colors to clocks;
sort clocks alphabetically, by time, longitude, longitude offset, and label;
edit cities and time zones and add new cities and time zones;
easily identify the best time for a conference call or videoconference across multiple time zones (Meeting Planner);
calculate time conversions between different cities or time zones;
show the current weather all over the world.
World Clock Deluxe, now at version 4.16, runs in English, German, Dutch, French, and Italian. A single user license is US$19 and a family license is $29.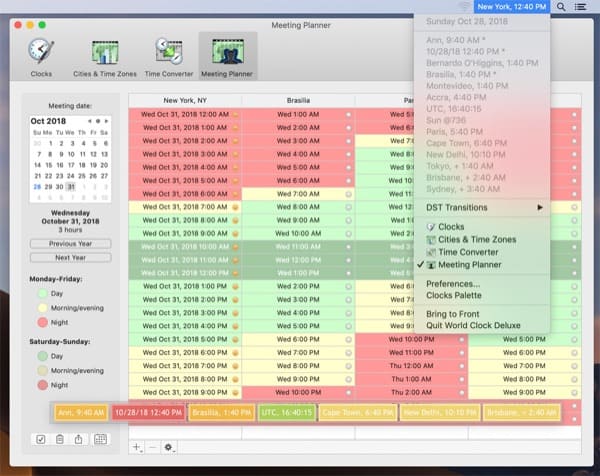 Final Words
During my years of use, I've seen how the frequency of World Clock Deluxe updates reveals that nations are constantly modifying their time zones and Daylight Saving Time rules. No app keeps better track of all that. And it happens more than one might think. Now, with California contemplating the move to Daylight Saving Time all year round, things could get even more complicated. The U.S. already has its interesting irregularities, and they could get yet more complicated in the future.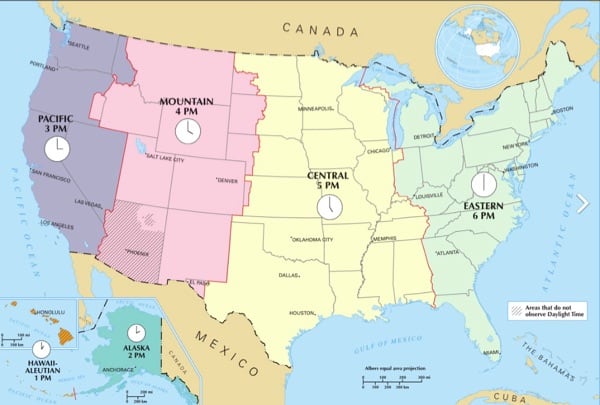 World Clock Deluxe can help make immediate visual, time-sense out all your favorite cities. It's easy to use and easy to customize. I've been using it for a decade and wouldn't want to be without it on my Mac's desktop. Plus it's ready for macOS Mojave and even supports Dark Mode. This is a quality, accurate world clock.