With plenty of Harry Potter fans looking to play Hogwarts Legacy, Apple users should know that there is a way to play the game on their Mac. While the game is unfortunately not directly available to Mac users, there are ways to get the game running on your machine, regardless of whether you are using an M1, M2 or Intel-based chipset. While some of the options aren't exactly the most pretty, they will get the game running on your machine.
For those that don't know, Hogwarts Legacy is a massive open-world RPG that takes players through the world of Harry Potter. For the first time, fans will get to explore Hogwarts in the 1800s, playing the role of a student who has a key to an ancient secret that may have an impact on the wizarding world. Garnering much attention and acclaim, no doubt many Harry Potter fans are excited to get a copy of the game.
Is 'Hogwarts Legacy' Available for Mac?
Currently, Hogwarts Legacy is available for PS4, PS5, Xbox One, Xbox Series X/S and Nintendo Switch. So while the game is not available for Mac devices, there is a workaround for this.
Depending on your Mac chipset (Intel, M1 or M2), users may have several different options to play this game. I'm going to take a look at a user's option when it comes to playing, as well as provide instructions on how to access the game.
There's a couple of different ways users can play Hogwarts Legacy. I'm going to explain each method, and then explain what options users have depending on the chipset of their Mac.
When it comes to ways of playing the game, there's three options available for users.
You can install Windows on your Mac for free and play Hogwarts Legacy through Boot Camp. Going this route will allow you to play the PC version of Hogwarts Legacy on your Mac, while also turning your Mac into a PC. This option is only available for Intel-based Macs.
Users can also play the Xbox version of version of Hogwarts Legacy by installing OneCast. Allowing you to play Xbox games on a Mac, OneCast is your only option going this route, as the game is not available on Xbox Game Pass or Xbox Cloud. Currently, there are no planned releases for these platforms. This option can work for M1/M2 and Intel-based Macs.
Your third option is going through another cloud-based gaming platform. I will be taking a look at Boosteroid, which does have Hogwarts Legacy. This option also works regardless of your chipset.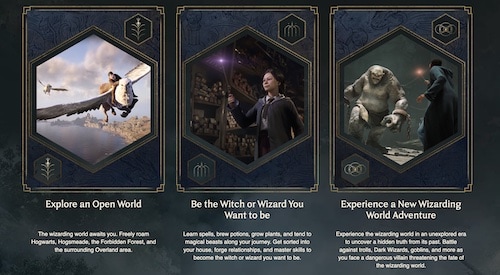 If you have an Intel-based Mac, all three options are available to you. If you are running an M1/M2 chipset, only Boosteroid and OneCast will work for your machine. Currently, Boot Camp does not have support on Apple-based chipsets. You can check your processor by going to Apple > About this Mac from the Menu Bar.
Can You Run 'Hogwarts Legacy' Through Parallels?
Users should also now that while there is another way to run Windows on M1/M2 Macs, this is irrelevant if you are trying to play Hogwarts Legacy. While users can't use Boot Camp to get Windows on their M1/M2 Macs, they can use Parallels virtual machine. However, due to Hogwarts Legacy implementing Denuvo anti-cheat software, the game will not work in this virtual environment. Boot Camp works because it runs natively, whereas Parallels is running virtually.
Users should also know that Hogwarts Legacy is not available on GeForce Now for Mac.
Run the Game Through Windows Using Boot Camp
When it comes to using Boot Camp, this is a free tool that allows users to install and run Windows from a separate partition on their hard drive. Note that Ventura doesn't include Boot Camp, you need a copy of Windows and Boot Camp doesn't support M1/M2 Macs. Keeping that in mind, this may only be a viable option for certain users.
Of course, when trying to run Hogwarts Legacy, pay attention to system requirements. If you have Boot Camp, it's as simple as getting Windows running, and then purchasing Hogwarts Legacy or the Digital Deluxe Edition from Steam.
As mentioned earlier in the article, running Parallels isn't an option due to the Denuvo anti-cheat protection that Hogwarts Legacy implements. Boot Camp is fine because it runs Windows natively, whereas Parallels is a virtual machine, which Denuvo doesn't like. This is also why Xbox Cloud isn't an option.
How to Use an Xbox to Stream the Game to Mac with OneCast
However, users can run Hogwarts Legacy through OneCast, which is a way to stream Xbox games to a Mac. Even better, OneCast supports Intel and Apple chipsets, meaning M1 and M2 users are good to go.

However, users should note that while there is a 14-day free trial of OneCast, it is then $14.99 to buy a license. Of course, you will also need a copy of Hogwarts Legacy for Xbox. Both the standard and deluxe additions are available as digital downloads from Amazon or the Xbox Store.
Time needed: 2 minutes
How to use an Xbox to stream Hogwarts Legacy to Mac with OneCast.
Make sure that your Mac and your Xbox are on the same Wi-Fi Network.
Download the trial of OneCast.

Then, drag OneCast to your application folder, and then launch the program.

Following these steps, OneCast should then automatically find your Xbox on the network and you will receive a prompt to login to your Microsoft account.
You then need to connect your Xbox controller to your Mac through Bluetooth.

Simply activate BlueTooth, and go to Apple > System Preferences or Apple > System Settings and select Bluetooth. Find your Xbox controller in the Device list and select Pair. You can also unpair the controller this way, or turn off your Bluetooth to unpair the controller.
When using OneCast, it's generally a good idea to close all other applications. Hogwarts Legacy is GPU-intensive, so running other applications may cause slowdown. Additionally, users can also try changing the video quality within OneCast if lag becomes an issue.
Play 'Hogwarts Legacy' Using Boosteroid
If none of these options sound all that viable for you, the last option is playing Hogwarts Legacy on Boosteroid. Much like GeForce Now, Boosteroid is a way to stream games directly to your device. As Boosteroid uses its own gaming-rigs to stream Hogwarts Legacy to you, there's no need to worry about device requirements.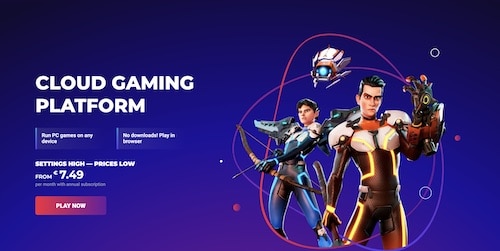 Additionally, you can also play games directly from your browser, so there's no need to even worry about downloads or apps. Using Boosteroid, users can play Hogwarts Legacy on their Mac, regardless of whether they are using an M1, M2 or Intel-based processor. However, Boosteroid does still carry a subscription cost, with prices starting at $7.49 per month. For those that want to play the game without installing any additional software, this can be a great alternative.
Additionally, there is a Boosteroid app available as well, which you can find here.
Conclusion
For those looking to play Hogwarts Legacy on a Mac, there are some options available, but you will have to implement some sort of third-party source. Unfortunately, there are currently no plans from Warner Bros, the publisher, or the developers, Avalanche Games, to bring the game directly to the Mac.
However, this doesn't mean a port will never arrive to Mac, but right now, the outlook doesn't seem so good. If you absolutely can't wait to play Hogwarts Legacy and you're a Mac user, you can either wait and hope a port arrives, or you can try giving one of these suggestions a try. Be sure to have fun while playing Hogwarts Legacy!