Apple has finally added USB-C port to the iPhone 15. Last year when I was trekking, I remember how I misplaced my charger and could not contact anybody for three days because my phone had died. Nobody else around me had an iPhone charger.
But with USB-C type chargers, you will now be able to charge your iPhone anywhere, anytime, even if you do not have your own charger with you. This introduction comes after the European Union's decision to have a uniform USB-C charging port across a number of electronic devices.
We have reviewed and curated a list of the best USB-C chargers on the market that you can buy. As Apple won't be providing you with a charging brick, you will need to get one. So, let us have a look at the list of the best USB-C type chargers available in the market.
Best USB-C Chargers for iPhone 15
We have focused on availability, affordability, and functionalities as the main criteria for choosing the top USB-C type chargers for iPhone 15. While we would mostly be focusing on the charging brick, you can also get the USB-C cable from the same manufacturers. Just that, Apple will give you a USB-C cable along with your iPhone 15. So, unless you end up misplacing or damaging the cable, you do not need to buy it.
1. Anker Nano 30W USB-C Charger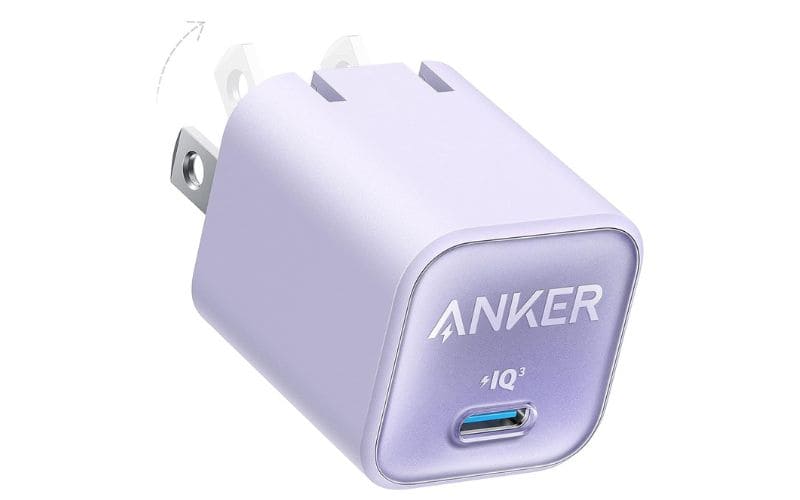 Touted to be the smallest 30W iPhone charger on the market. The Anker Nano 30W USB-C charger weighs a measly 1.3oz (36gms). Apart from being lightweight, it has foldable prongs. This makes it even easier to carry around. It also comes in Phantom Black, Misty Blue, Natural Green, Aurora White, and Lilac Purple.
Best Features
It can charge your iPhone 15 from 0-50% in 30 minutes.
Can charge laptops, tablets, smartphones, and a lot of other devices.
Both the U.S. and the U.K. models have foldable prongs that make it easy to carry them around while traveling.
Price
The prices might vary across color but it starts from $19.99
2. Official Apple iPhone charger: Apple 20W USB-C Power Adapter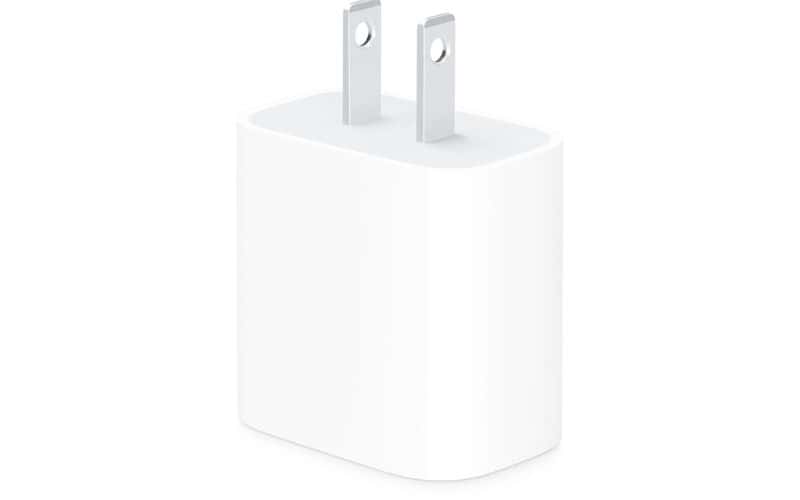 While all the other chargers on this list are reliable chargers in their own rights, if you do not want to experiment and go for maximum security, this is the option for you. You can buy this USB-C charger for iPhone 15 directly from Apple's website.
Best Features
Charges any iPhone upto 50% in around half an hour.
Is compatible with all USB-C devices which include non-Apple products too.
Performs optimally with an iPad Pro or an iPad Air.
Price
Pricing- $19
3. Plugable 30W USB-C GaN Charger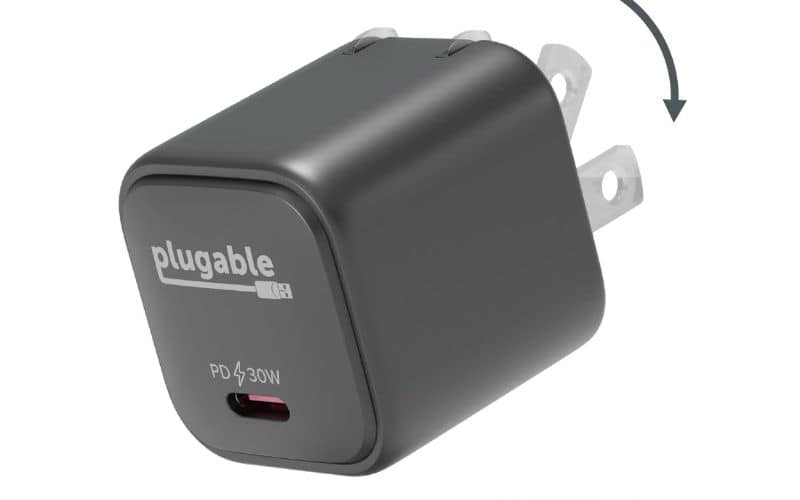 Plugable's 30W USB-C type charger for iPhone 15 is easily one of the best value-for-money products on the market. With dimensions of 1.22 x 1.26 x 1.37 inches, it is only slightly bigger than its predecessor. It weighs around 45gm which isn't that heavier than Anker Nano 30W's 36gm charger.
Best Features
Offers a two-year warranty period which is a great benefit because most manufacturers give a 6-month warranty on charging accessories.
It is small and has a foldable plug making it easier to carry.
Comes in both white and black colors.
Price
It is priced at $19.95.
4. Anker 521 40W Charger (Nano Pro)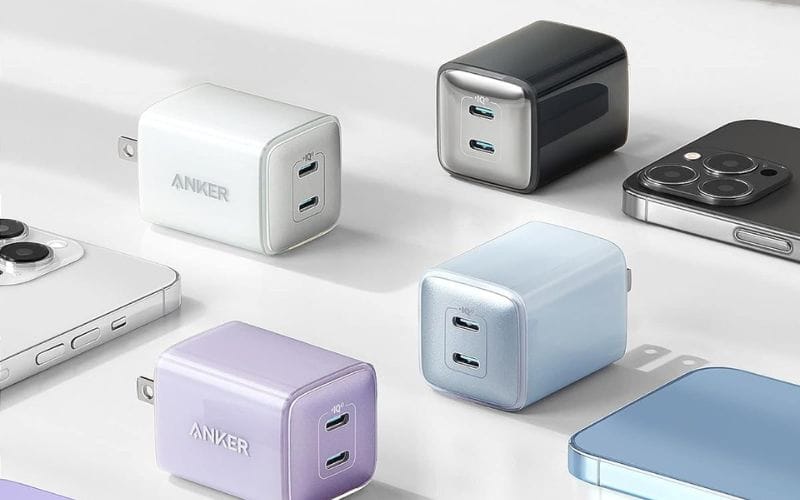 Despite the 40W charging capacity and the dual-ports, this charger is just a tad larger than the entries above. Measuring at a meager 1.37 x 1.34 x 1.8 inches, it packs quite a punch for its size. However, it does not come with foldable prongs.
But, this charger is ideal for households that have at least two iPhones. The dual ports can charge them both at the same time. However, each iPhone will only be charged with 20W capacity. (This is enough for fast charging through USB-C ports.)
The choice of colors for this USB-C charger is lavender, black, white, or light blue.
Best Features
It is the best dual-port charger in the market both in terms of value for money and the 40W capacity, especially at its size.
Can charge two devices simultaneously at 20W each.
Is perfect for families owning multiple iPhones.
Price
Pricing details for the USA are currently unavailable as they are not available there yet at the time of publishing this article.
5. Baseus 30W Dual Port USB-C Charger Block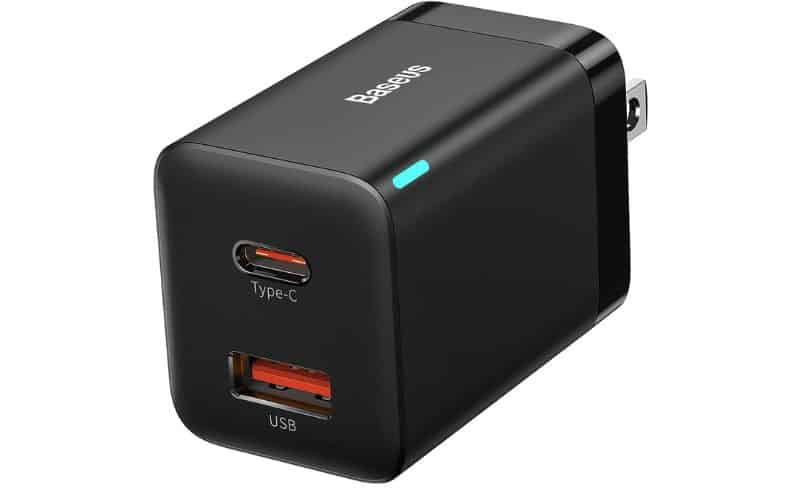 If you are looking for a compact and foldable USB-C charger block for your iPhone 15, this is the one for you. It has dual ports, one each of USB-C and USB-A. The power division between the two ports is 18W for the USB-C port and 12W for the USB-A port.
If you are a solo traveler, this is the perfect charger for you as it has two different types of ports. So you can charge both your iPhone 15 and iPad/Mac at the same time.
Best Features
The trickle charging technology and the SuperSi chip developed by Baseus protect your battery from overheating or overcharging.
Has a one-year warranty period and has fast charging capacities. Baseus's undisputed claim is the charger is able to charge an iPhone 14 Pro Max to 60% from 0 in 30 minutes.
Although has no choice of colors available save the original black, it is a worthy charger to invest in. Especially if you have multiple devices to charge.
Price
It is currently priced at $19.99
6. UGREEN Nexode Mini 30W GaN Charger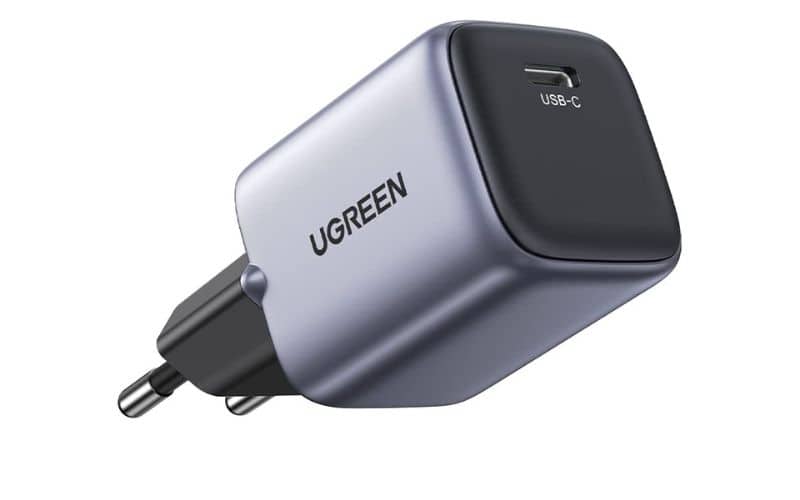 At a tiny size of 1.26 x 1.26 x 1.57 inches, the UGREEN Nexode Mini is only slightly bigger than Anker Nane. It weighs 48 grams and is easy to carry around thanks to its foldable prongs.
It can fast charge an iPhone 15 and can even charge a 13-inch MacBook Air with its 30W capacity. The color of the product is grey. Sadly, there are no other color variants.
Best Features
It is a lightweight, compact, and fast-charging solution that has only one USB-C port.
Offers built-in protections against voltage fluctuations, short circuits, extreme temperatures, power overloads, etc. So, it is a compact and reliable charging solution in terms of device security.
The Thermal Guard technology monitors temperature at a rate of 800 times per second to ensure secure charging.
Price
It is available for $19.99
7. Anker Fast 20W Cube Charger with Foldable Plug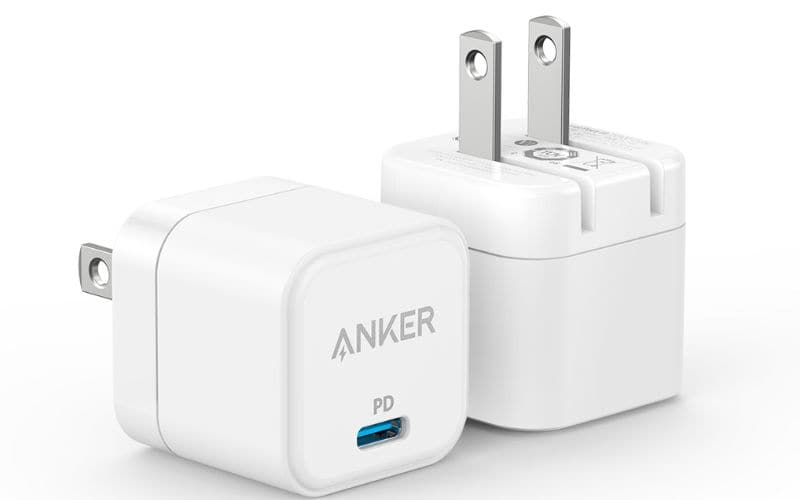 This is the most affordable charger on the list. You can buy it in packs of 2, or 3, or a single unit.
It has a tiny size with dimensions of 1.23 x 1.25 x 1.3 inches. However, because it is not foldable, it is not as comfortable to carry as the first two entries on this list. The prongs stick out like sore thumbs. But, it is affordable. I would still recommend you to go for other chargers if you wish to have fast charging, especially on iPhone 13 or later.
Best Features
Comes in either black or white colors.
Price
Prices start from $14.99 at Walmart.
8. USB-C Wall Charger, 20W Durable Dual Port QC+PD 3.0 Power Adapter, Double Fast Plug Charging Block (3-pack)
This is a good combination of charging bricks, especially if you are looking for fast charging for your iPhone 15. You can choose from a host of color combinations like dark green, blue, white, red, etc.
It is also not too expensive. And the combo of charging blocks ensures that you can charge all your devices at the same time.
Best Features
Has universal compatibility with three different charging blocks and six different USB ports that include both USB-C and USB-A.
Contains in-built protection against voltage surges, short circuits, etc. to safeguard your device and itself.
Offers high-speed charging.
Price
Priced at $16.99 on Amazon.
9. Amazon Basics 30W One-Port GaN USB-C Charger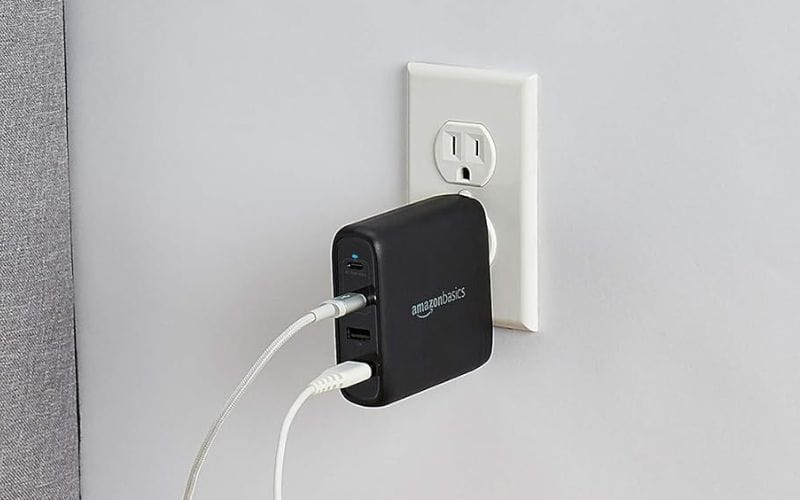 GaN components are environment-friendly as they generate less heat than their silicon counterparts. This charger by Amazon comes with a foldable plug which makes it ideal for carrying around. It is also quite compact in size.
You have black and white as the two choices of color for the product. It is a reliable USB-C charger for iPhone 15, iPad, Apple Watch, iPhone 15 Plus, and iPhone 15 Pro to name a few.
Best Features
It supports fast-charging and comes with a one-year warranty.
The maximum output is 30W but it wastes less power and conserves energy if possible.
Has built-in security feature to protect your device against voltage surges and other accidents through the power output of the outlet its your USB-C devices are connected to.
Price
Amazon lists this item at $17.43.
10. Our Pick: OneAdaptr OneWorld 65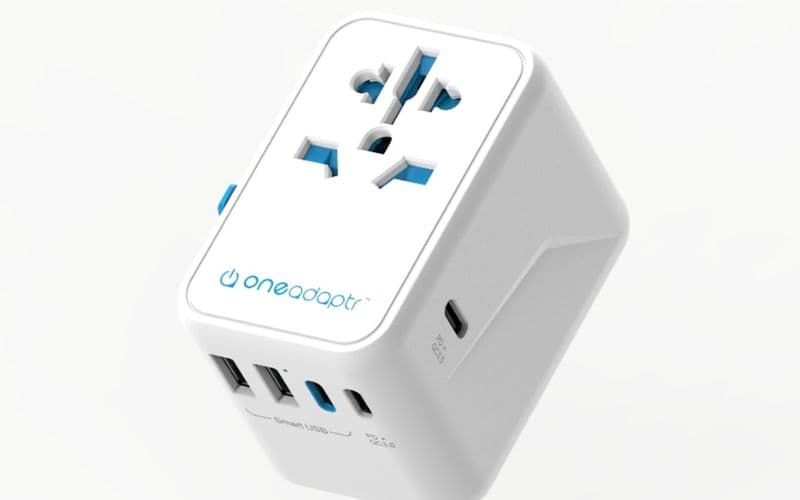 Available in over 200 countries, the OneAdaptr OneWorld can charge upto six devices simultaneously on the go. It is powered by the GaN technology and has security measure in place for power issues like short circuit, overload, etc.
Best Features
Has a 10A AC universal power outlet, 1 65W USB PD charging port with QC, and two each of USB-A and USB-C.
Is a compact and all-in-one charging solutions for people who travel a lot, especially across international borders.
Fuse protection, over current, and overheating protections are available.
Price
It is priced at $69.99
Factors To Consider While Choosing a USB-C Charger for iPhone 15
While you are looking for a USB-C charger for your iPhone, Apple Watch, or iPad, there are some features that you should look out for.
Specifications and Size: The size and the specifications of the charger are the first things that you should check. If it is too big or too small, it might cause issues in the future. So choose according to your comfort of carrying it.
Ports and Foldability: Check for the number of ports and then decide accordingly. And then check whether you can fold it for convenience or not.
Wattage: Decide on a 20W, 30W, or 40W capacity of the charger block depending on your needs.
Fast Charge Your iPhone 15 with USB-C Chargers
For years, iPhone users had to bear the slow charging speed of the Lightning Cables. But Apple replaced them with USB-C ports with iPhone 15 so you can say goodbye to your Lightning Cables.
With a host of new features, the iPhone 15 series of devices have caused quite a wave. Introduction of the USB-C type chargers for iPhones was a welcome change. The Action button on the iPhone 15 Pro series of devices was another notable upgrade.
If you wish to learn from what the Action button is and how to use it, please check out our comprehensive guide on the topic. For more Apple related news and updates, keep following us.