For folks who own an iPad, no matter what model it is, you've probably tried using your tablet to draw something. Paired with the Apple Pencil, the iPad has been transformed into a useful tool for digital artists. Using the iPad to practice your drawing skills or to create digital masterpieces, whether for personal or business purposes, the task has become easier and more fun if you use the right drawing apps. Here, I've rounded up the top seven drawing apps for iPad to help you decide which one to use to produce digital works of art.
Top Drawing Apps for iPad (Free & Paid)
Note that although you can download and install these apps for free from the App Store, all of them offer various in-app purchases that give you more features and functionality. But the basic, free version is good enough to try out drawing on your iPad. If you feel like you'll be needing more features, then the in-app purchases should come in handy.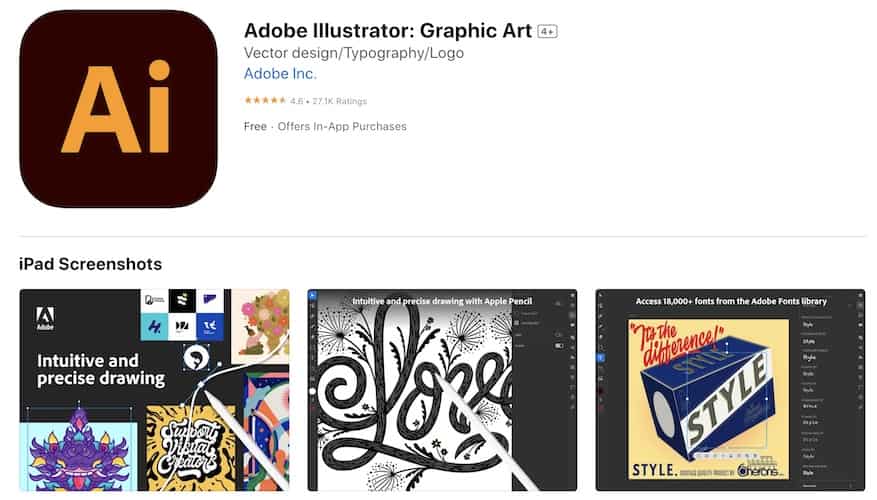 Folks who do digital art with their desktop or laptop should be familiar with Adobe Illustrator. Like its desktop version, Illustrator for iPad is equally popular among digital artists and digital art enthusiasts. That's understandable since most of the features of the desktop version were brought to its iPad counterpart.
Illustrator also works great for those who use an Apple Pencil. Adobe optimized its smart editing features with the Apple Pencil in mind. As such, you will be able to edit more fluidly and seamlessly. With the said menu, you will be able to change layer order, transparency, and strokes, or move and lock objects easily.
Availability: Free, Offers In-App Purchases.
Pros
Intuitive user interface.
Provides a way for users to develop dynamic workflow.
Cons
The subscription model may be a bit pricey for some.
Lack of support for iPad running on OS earlier than iPadOS 14.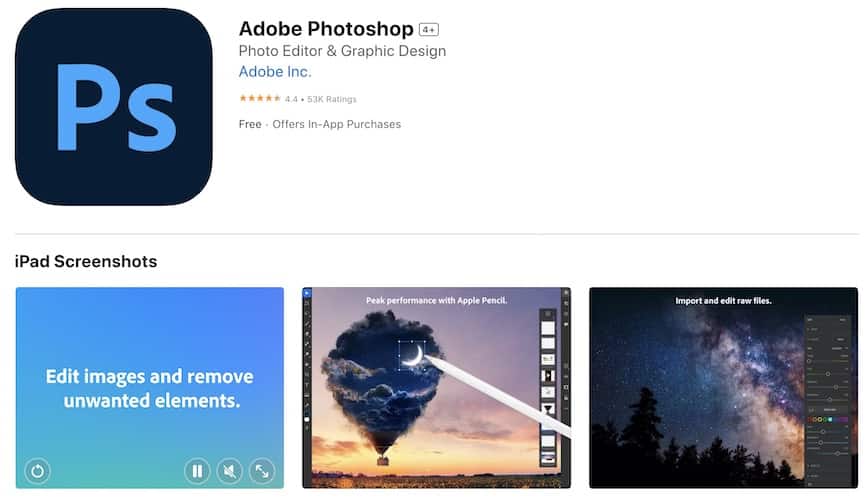 Similar to Illustrator, Photoshop for iPad is also a slimmed-down version of the desktop app, even though Adobe claims that it's a real Photoshop app. If you've been using the Photoshop desktop app, you could easily compare it with this version if you decide to get it.
Photoshop for iPad tends to focus on aiding users with retouching and composition tasks. So, you'll be able to enhance images and adjust color tones easily using the Curves function. It also has Spot Healing Brush, Clone Stamp tools, Object Selection, and Select-Object tools to help you make a quick and detailed selection when combining images.
There are also familiar Photoshop tools such as layer stack and toolbars. And with your Apple Pencil, Photoshop for iPad will let you swipe, pinch, tap, scribble, and slide with precision.
Availability: Free, Offers In-App Purchases.
Pros
Very responsive user interface.
Syncs with Adobe Creative Cloud service.
Great for retouching photos.
Cons
Lack of other major tools found in the desktop version.
Does not support RAW or CMYK.
Only available on iPadOS 13 or later.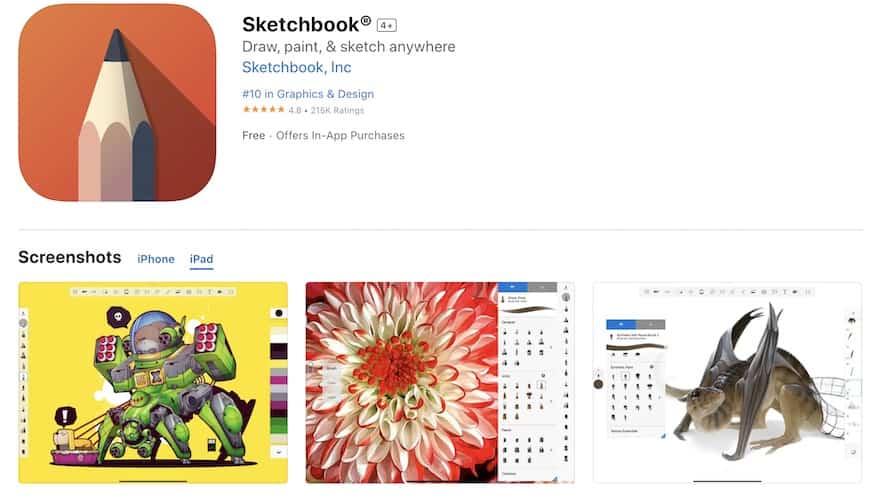 Surprisingly, even though it's free, Autodesk Sketchbook has tons of art tools that you can easily use. The free version is good for seven days. After that, you will need to register. But don't worry, registration is free and the only time you will be required to pay is if you opt to get more advanced features that the free version doesn't have.
Autodesk Sketchbook has a very easy-to-use interface that is good even for those who are new to drawing apps. It features n excellent collection of brushes in its library that you can easily customize to adjust the size, opacity, and even pressure.
One notable feature of Autodesk Sketchbook is the fact that it lets you transform your drawing or sketch from paper to digital. You simply scan the drawing using your iPad camera and it will be imported to the app with a transparent background. Then you can start working to enhance it on your iPad.
Availability: Free. Offers In-App Purchases.
Pros
Easy learning curve.
Caters to both novice and professional digital artists
Cons
Does not let you add text to your work.
Lack of advanced features such as 3D modeling.
If you're new to digital art and illustration, Art Set 4 should work well for you. Art Set 4 is free to download but you will need to spend a few bucks to unlock more features. If using the more advanced drawing apps deters you from getting into digital art, then try using Art Set 4 first. Art Set 4 mimics the feel of drawing using an actual pen and paper through its easy-to-use, clean interface.
Art Set 4 features a good selection of paint brushes, watercolor, 3D paint, layers and masks, and multicolored paper styles such as canvas. It allows you to easily change your digital canvass without messing up your digital art.
Availability: Free. Offers In-App Purchases ($10 for the Premium version).
Pros
Simple to use interface
A budget-friendly option for people who wants the basic sketch and draw feature.
Cons
Tends to lag when using some features.
Possibly one of the most popular, if not the most popular, drawing apps for iPad, Procreate offers a full suite of art tools and creative features. Catering to both seasoned digital artists as well as those who are just getting started in digital drawing, Procreate features various tools that include quick shape, blend, alpha locks, layering, and clipping masks will greatly make your digital drawing look very professional. That is of course, if you learn how to use them. But don't worry, Procreate has an easy learning curve and will get you started with your digital art journey in no time at all.
Procreate has a good collection of brushes that you can use in your digital drawing. You can do basic sketching, drawing, inking, painting, and more. And to get you started even easier, Procreate has various resources that you can check out. These include a handbook, forums, and YouTube video tutorials.
Availability: $12.99.
Pros
Supports various formats such as PSD, TIFF, PNG, PDF, and JPEG.
Massive library of brushes.
Provides smooth workflow when working on your digital art.
Cons
Lack of support for vector masks and shapes.
Masking features have more room for improvement and flexibility.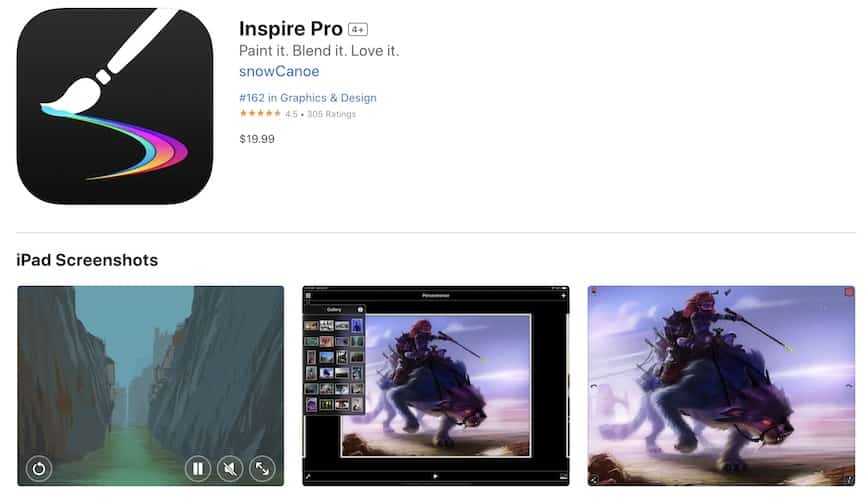 Inspire Pro is one drawing app that lets pick it up and start drawing anytime you feel like you want to express your creative side. This app uses your iPad's GPU to render brush strokes as fast as possible. It also has a painting engine. Together, these two features allow you to draw quality art as swiftly as you downloaded it from the App Store.
Inspire Pro also gives you plenty of tools to use and play around with. These include graphite pencils, basic shapes, airbrushes, markers, oil paint, and wax crayons.
Availability: $19.99.
Pros
Features a large collection of customizable paintbrushes.
Lets you quickly save your digital art to the iPad's camera roll,
Allows you to quickly share your work on various social media platforms.
Cons
Maybe a bit on the pricey side.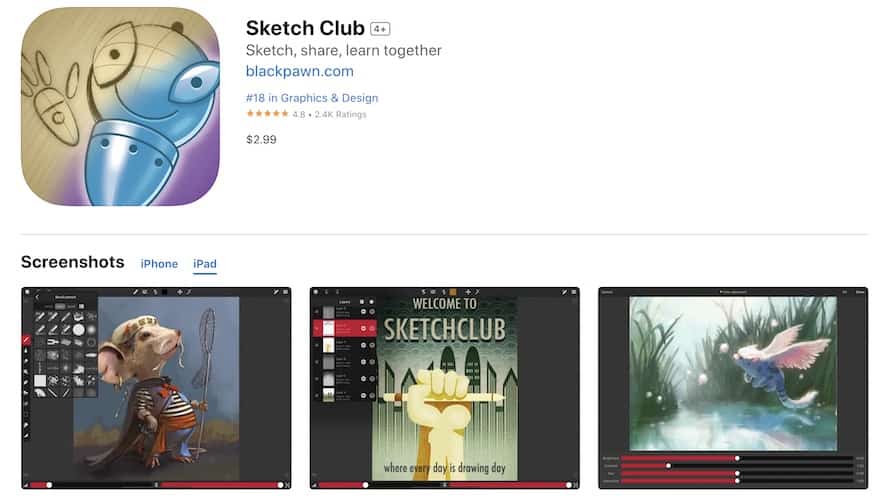 If value for money is important to you, then SketchClub fits the bill. For a measly sum of just under $3, SketchClub gives you unlimited tools and options for creating the digital image that you want. Suitable for both aspiring digital artists and professional artists, SketchClub lets you draw, sketch, doodle, paint, and even edit photos.
SketchClub features a nicely-designed, user-friendly interface. It is also intuitive and sensitive which are both essential when using the Apple Pencil to draw. It also works great even when you don't have an Apple Pencil and just use your fingers as a stylus pen. One thing worth noting about SketchClub is its highly integrated and active online community of users. You can enter daily challenges and weekly competitions to further your digital drawing skills as well as get inspiration from other members of the community.
Availability: $2.99.
Pros
Uncluttered interface.
Customizable tools.
Active online community of users.
Price is a steal for the many features that you can use.
Cons
Nothing negative to say about this app.
Final Words: The Free Drawing App Used by David Hockney on His iPad
At the height of a pandemic, David Hockney, considered to be the most influential British artist of the 20th century, caught headlines when he painted 116 works capturing the unfolding of spring. He did so on his iPad with the help of a drawing app Hockney Brushes.
That app was custom-built to suit the artist's specifications and was based on an existing drawing app for iPad known as Brushes. The Brushes app is currently available on the App Store for $3.99. Hockney Brushes, on the other hand, is not available for public use since it was exclusively made for Hockney.