Instagram users have paid others to help them receive a verified blue tick in what is a growing scam. Having a verified account can help build a user's credibility on the platform and earn them money via influencer marketing. The scam normally involves a person being paid to create fake accounts that appear to impersonate the user who wants to become verified. Other less-than-legitimate verification methods exist too. The cost for such a services is around $300-$500.
Selling Blue Ticks
There are a growing number of Instagram users offering to sell highly-coveted blue ticks on the photo-sharing network, TMO understands. "We're noticing a rise in people attempting to sell blue ticks on Instagram," Jon Binstead, CEO of social content agency Wildfire said in a statement emailed to TMO.
He explained: "We think that black market sellers are now being paid to set up several false accounts to merely pretend to impersonate someone, so that the someone in question can then apply to Instagram for a verified badge, claiming they are being impersonated."
Of course, the person trying to scam their way to verified status may themselves be a victim. "The other possibility is that scammers claiming to sell verified badges will just take the money and produce nothing in return," said Mr. Binstead. At the time of this writing, Instagram had not responded to a request for comment.
Scammers Becoming More Brazen
A source highlighted the issue of verification-as-a-service to TMO recently. Then, on Monday, Matt Navarra, a UK based social media consultant tweeted that he had noticed an account offering this service.
He told TMO: "I think there's always been people out there, there's somebody somewhere that claims to be able to get your account verified. There are a number of ways that people can do it. The typical way is that they have someone on the inside at Facebook or Instagram who they pay off. Or they themselves work at Facebook or Instagram."
Mr. Navarra recounted the recent incident that he was involved in. He was contacted via WhatsApp by an unknown person. Someone selling verification services had told him that Mr. Navarra had previously been a client. This was not true. Mr. Navarra's account had been verified back when he worked for The Next Web.  When Mr. Navarra reached out the scammer, the reality became all too clear: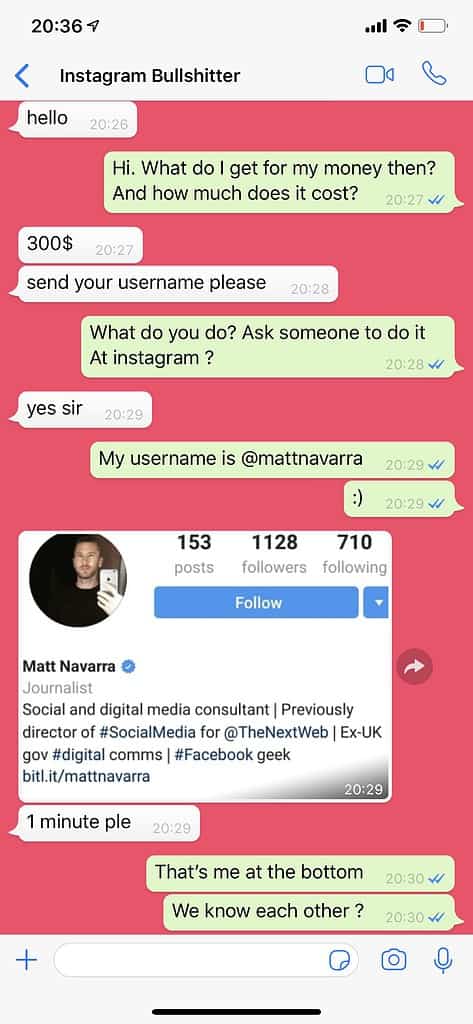 While people performing cons on social media scams have always existed, "the difference is now they're just a bit more brazen about it," said Mr. Navarra.
Instagram and other social networks have tried to take action against fake accounts and engagements in the past. They now need to tackle this latest scam.