Parallels launched Parallels Desktop 14 for the Mac on August 21 with support for Apple's macOS Mojave plus a a host of new features and enhancements.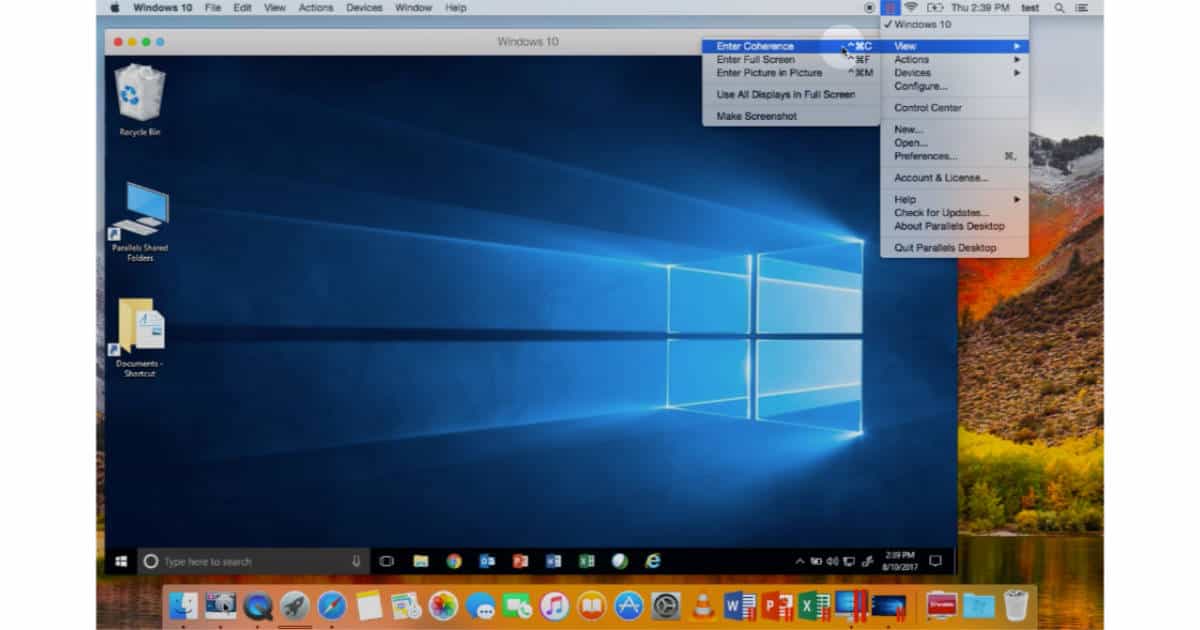 Introduction
A virtual machine (VM) system, like Parallels Desktop, on the Mac can be very handy. Nominally, it allows the user to run a complete instance of another operating system, such as Windows or Linux, in a macOS window. Even better, Parallels Desktop has a feature called "Coherence" that allows the Mac user to transparently run Windows apps on the macOS desktop, launched from the macOS Dock.
Another virtue of Parallels Desktop is that one can run a separate instance of macOS as a virtual machine, do isolated testing, create snapshots, return to documented snapshots if a problem arises, and install software that one may not want to install on the host macOS.

For example, I used a macOS VM for an article I wrote about NetBeans.
[How to Install NetBeans to Write and Debug HTML on Your Mac for Free, Part I]
[How to Install NetBeans to Write and Debug HTML on Your Mac for Free, Part II]
This project involved installing Java 8 in order to run NetBeans 8.2. This allowed me to have Java running only during the writing project.
Historically, when the BSD UNIX subsystem of macOS won't do, users of all types benefit from being able to run many different distributions of Linux as a VM. Here's a list of guest OSes that are supported.
What's New in PD14
Each year, in late August, Parallels introduces a new version for the Mac, in preparation for the impending release of the next version of macOS. Along the way, Parallels manages to introduce many new features that typically blur artificial, operational lines between macOS and Windows, improve launch times, optimize storage, and support the features of the forthcoming macOS in the fall.
This year, Parallels focused on these areas. From Parallels:
• Enhanced Storage Optimization. "Typically, virtual machines are large, taking anywhere from 15–100 GB of space or more. With two different storage mechanisms at work (Windows and Mac), newly engineered storage optimization that takes both Windows and Mac mechanisms into account can result in significant disk space savings. The new Free Up Disk Space dialog that suggests storage-saving actions now better handles multiple virtual machines. Newly created snapshots occupy up to 15 percent less disk space."
• Melting the Border between Windows and Mac. "Parallels Desktop 14 now enables customers to use Microsoft Ink to edit Microsoft Office for Windows documents on a Mac, including pressure-sensitive support in applications such as PowerPoint, Microsoft Edge, CorelDRAW, Fresh Paint, Leonardo, openCanvas and Photoshop for Windows. Many preconfigured Touch Bar setshave been added to Parallels Desktop 14."
• Mojave Ready. "Parallels Desktop 14 supports Dark Mode. Quick Look issued on Windows files now shows quick actions. Support for additional Mojave features, which are currently in development, will be tested, finalized and introduced around the forthcoming public release of Mojave. The Parallels Desktop 14 for Mac installation image, which is notarized by Apple, will be seen by users when it is installed on Mojave." Mojave will be supported in PD14 (and PD13) as a VM.
For more on notarizing, see Jason Snell's: "With Mojave, Apple makes changes inside and outside Mac App Store."
Mojave also introduces a new set of security measures for apps outside the Mac App Store. The new concept is called "notarizing" apps, which is a way for Apple to digitally mark an app release that's been signed by a registered Apple developer.
Finally, "Parallels Desktop 14 now features improved OpenGL support for enhanced graphics, with notable improvements in SketchUp 2017/2018, CTVox, DIALux 8 and OriginLab. All view modes have been improved in terms of speed and memory usage, which is especially important when working on multiple high-resolution external displays, including those of 5K resolutions."
Features of PD14
I've just touched the surface of PD14. To read more, see "What's New in Parallels Desktop 14 for Mac." Also, here's a quick-look chart.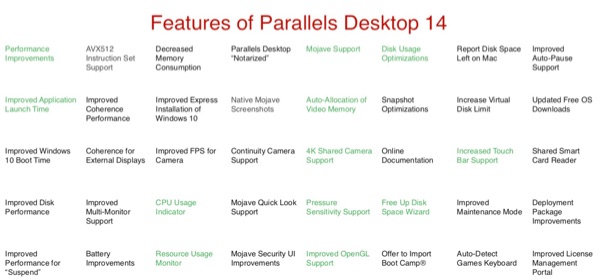 Pricing
Parallels Desktop is available now for Parallels Desktop subscribers as a free update. Parallels Desktop 14 is priced at US$99.99 for a perpetual license, or $79.99 as an annual subscription. Version 12 and 13 perpetual license holders can upgrade for $49.99.