The Mesh Wi-Fi Industrial Complex – Mac Geek Gab 749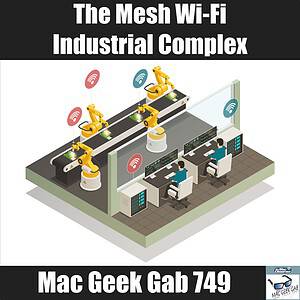 Note: Shownotes are complete!
Chapters/Timestamps/Stuff mentioned:
00:00:00 Mac Geek Gab 749 for Monday, February 18, 2019

00:02:00 QT-Paste URL in Safari Downloads Dropdown

00:04:08 Alan-QT-Large Red Circle

 Ctrl-Cmd-Space for Character Viewer

00:06:36 Greg-QT-High Quality Application Icon Art

Copy from Get Info, File | New from Clipboard into Preview

00:08:30 Lucas-QT-Keyboard Maestro Insert Text by Typing

00:11:01 SPONSOR: 

Jamf Now

. MGG listeners can start securing their business today by managing their first 3 devices for free! Add more starting at just two dollars a month, per device. Create your free account today at 

jamf.com/MGG

00:13:22 Dan-eero, now from Amazon

00:25:00 Russell-One Wi-Fi Network or Many?

00:35:03 Ian-Should I Upgrade My Router?

00:40:25 SPONSOR: 

Hair Club

– Visit 

HairClub.com/MGG

today for a free hair analysis AND a free take home hair care kit – all valued over three hundred dollars.

00:42:38 SPONSOR: 

Capterra

– Visit 

Capterra.com/MGG

for free, today, to find the right tools to make 2019 the year for your business.

00:44:19 Dan-Mixing Wi-Fi Brands?

00:50:30 Keith-UniFi in Bridge Mode
00:58:33 Eric-The security of PowerLine Adapters

01:06:10 This Week's

MGG Premium

Supporters:

Eliot G., Kevin S., Jim M., J. Richard F., Harry M., Mike P., David R., Tom M. Jr., Matthias S., Dmitry S., Drew T., Ari L., Michael P., Barry F., Bob L., Timmothy G., Jeff P., John D., Santiago M., John V.,

01:07:44 Alan-USB Stick with USB-C and USB-A

01:15:50 Andrew-The Amazing Hidden Purchases

App Store | Store | View My Account...

01:20:00

Home Page Keeps Resetting

01:25:44 MGG 749 Outtro

You're downloading today's show from CacheFly's network
February 20, 2019 2:30 EST AM
Brief mention of challenge of having network devices in a college dorm room.
I would think you can use the same clever workaround/hack I use when traveling in some hotels:
I bring a compact travel router with me (like TP-Link AC750) and setup my own network.  Most travel routers can "clone MAC address" so you just login initially with a laptop or iPhone and get through the hotspot/billing page and then clone the address if necessary.
I use it for two reasons - bypassing the hotels that want to charge a per device fee or if they have a low limit (like only 3 devices), and for connecting devices such as AppleTV or Amazon Echo Tap that don't work well (or at all) with hot spot authentication pages.
I also set the travel router to the same SSID as our home network.  This saves personal 'tech support' for my wife or family members as they just connect as easily as at home.
Sure, it may be a double-NAT configuration, but almost all the time it doesn't make any difference at all in throughput or access.
February 20, 2019 10:52 EST PM
Oh, very good thinking. Cloning the MAC would almost certainly work in that scenario. I like it! We'll share in the show.