At the "California Streaming" event, Apple introduced the newest flagship smartphone. The iPhone 13 is getting lots of love, with terrific performance and feature updates. All models of the iPhone 13 will enjoy greatly increased performance, graphics, camera capabilities, and battery life. Even better, the pricing for the iPhone 13 lineup remains the same as Apple's previous smartphone generation.
First, the iPhone 13 and iPhone 13 Mini
"People love iPhone, and we keep making iPhone better," said Tim Cook, before turning the floor over to Kaiann Drance. Drance, Apple's vice president of worldwide marketing, introduced us to the iPhone 13 and iPhone 13 Mini. The latest edition takes the features of the iPhone 12 and improves upon them.
First, the TrueDepth camera system, popularly known as the "notch," is 20% smaller. This provides you more room to enjoy your screen. The redesigned camera lenses are placed diagonally, and offer great improvements over the previous version.
Making iPhone Photography Lead the Industry Even More
The 12MP Wide camera lets in 47% more light 12MP than before. Apple has incorporated the Sensor Shift optical image stabilization, previously available only on the iPhone 12 Pro Max, across all models of the iPhone 13. All models also get Night Mode, for gorgeous photography in low-light conditions.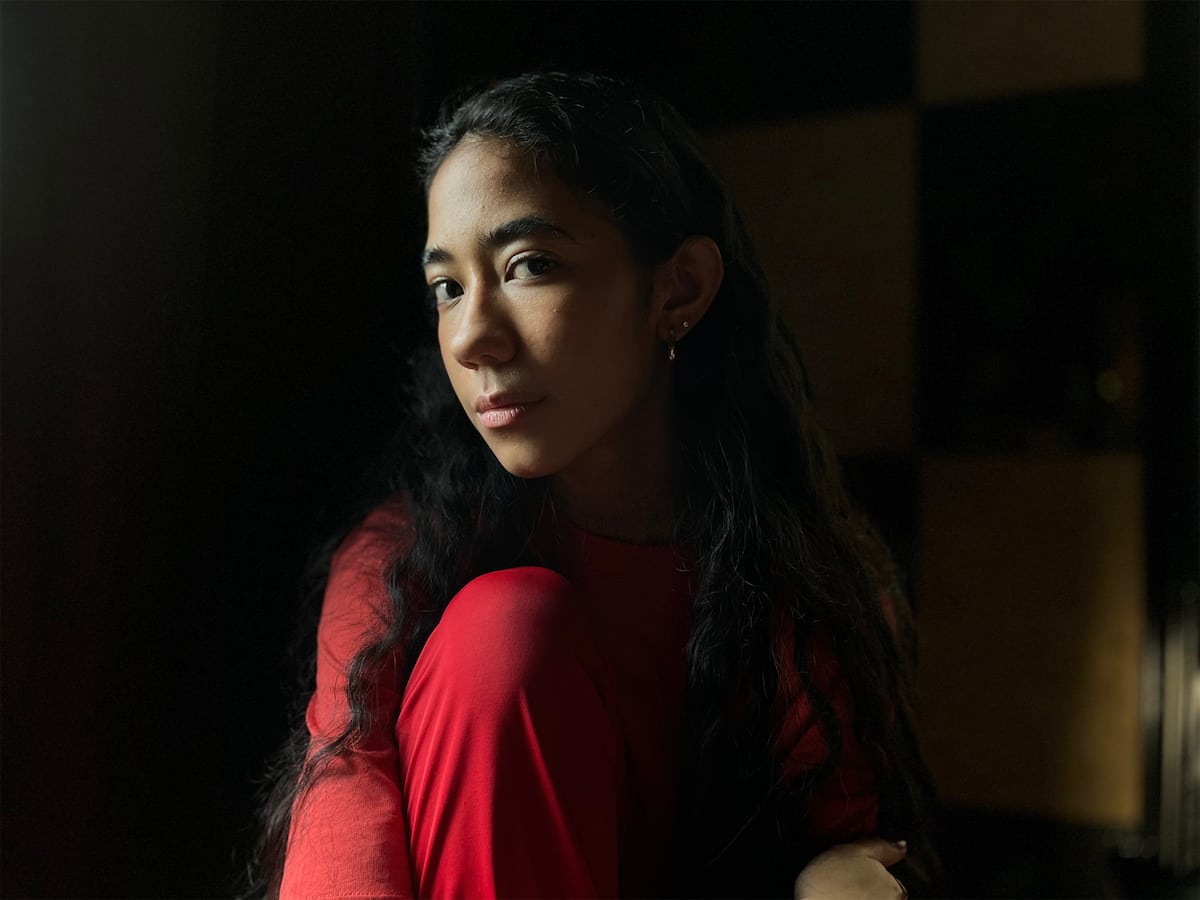 The iPhone 13 lineup also offers a new Cinematic Mode for video. A feature called rack focus allows you to quickly shift focus from near to far, or vice versa, smoothly. You tap to focus, then tap again to lock focus on a second area. You can record directly to Dolby Vision HDR for professional-quality video even before editing.
Performance and Battery Life Improvements
The improved Super Retina XDR OLED displays on the iPhone 13 and iPhone 13 Mini deliver a 28% brighter display with higher peak brightness for HDR and improved power efficiency. The screen size remains 5.4 inches for the iPhone 13 Mini and 6.1 inches for the iPhone 13. The reduced size of the TrueDepth camera system should provide some increase in screen real estate, though.
These devices utilize the new A15 Bionic chip, extending iPhone's lead over the competition. The 6-core CPU houses 15 billion transistors, and is 50% faster than its closest competitor. To keep it efficient, two of the cores are high-performance, while the other four are designed to maximize efficiency. The CPU is the fastest in any smartphone, and the graphics processing unit (GPU) ups the ante even further.
The iPhone 13 and iPhone 13 Mini both feature a 4-core GPU that performs 30% fster than any of the competitors. This allows for more lifelike visuals and lighting effects in graphics-intensive games. All of the advancements in the A15 Bionic, plus the new 16-core Neural Engine's ability to handle 15.8 trillion operations each second, empower developers to do even more in their apps. Apple offered, as an example, a virtual tennis lesson in SwingVision where the app actually analyzed the player's serve in a match. We also learned about Seek, and app that can quickly identify plants and animals entirely on-device, without sending any data over the Internet.
For the iPhone 13 lineup, Apple announced more 5G bands with availability on 200 carriers and in 60 countries and regions. The battery life on these phones remains exceptional, even with the greater processing power and performance. In fact, Apple estimates the iPhone 13 Mini will last 1.5 hours longer on a single charge; the iPhone 13 has an additional 2.5 hours of battery life. This is thanks to a bigger battery as well as improvements to iOS 15. The iPhone's Smart Data mode automatically shifts from 5G to LTE when the faster speeds aren't needed.
Colors, Sizes, and Pricing for the iPhone 13 and iPhone 13 Mini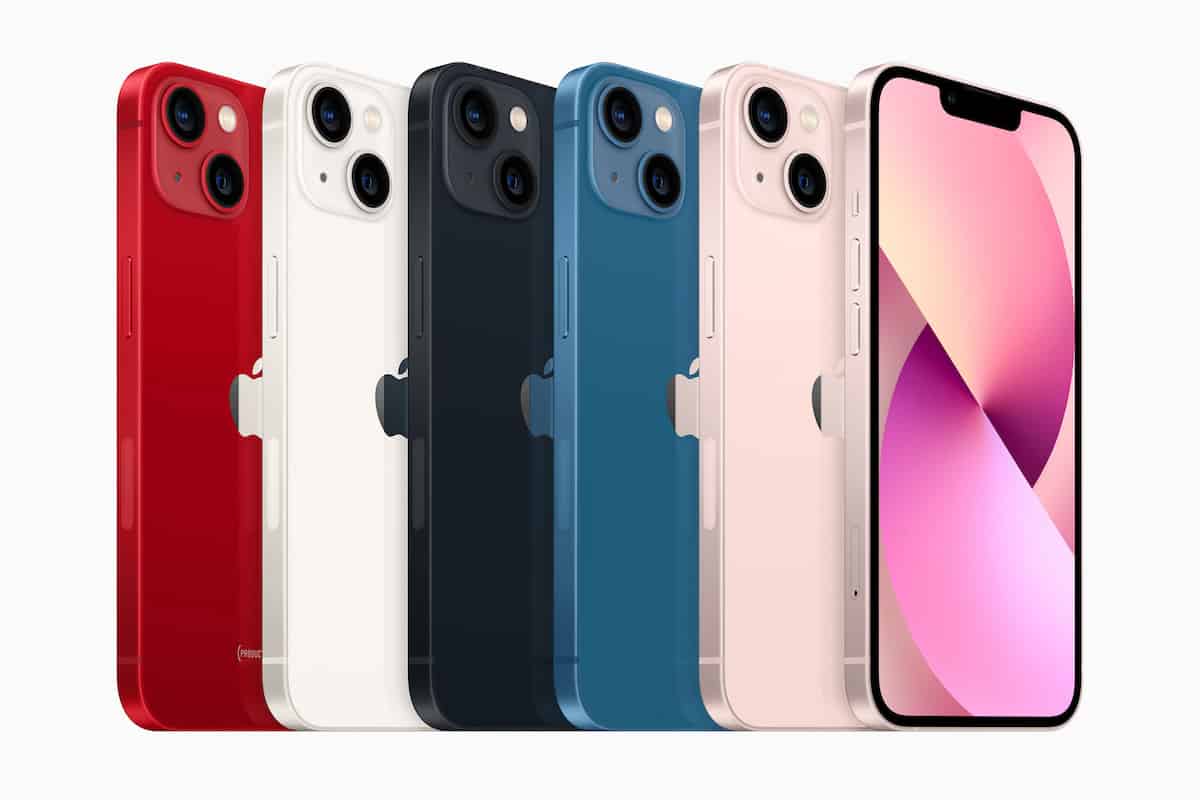 Despite rumors of higher prices for the iPhone 13 lineup, the iPhone 13 Mini still starts at $699. Starting price for the iPhone 13 is $799. Even better, the base models have twice the storage capacity, starting at 128GB. Both the iPhone 13 Mini and iPhone 13 are available in Pink, Blue, Midnight, Starlight, and (PRODUCT) RED.
The New iPhone 13 Pro and Pro Max
All of the improvements to the iPhone 13 and iPhone 13 Mini come to the Pro models, too. The iPhone 13 Pro and iPhone 13 Pro Max have some additional, breathtaking advances in performance and the camera system, though, including a 5-core GPU providing 50% faster graphics than any other smartphone and a new Super Retina XDR display.
The display now supports ProMotion, which will give you an adaptive refresh rate from 10Hz to 120Hz. That means the refresh rate automatically adjusts to what's happening on-screen, even increasing if you happen to start scrolling faster than you were before.
Even Stronger Photography and Videography Than the iPhone 12 Pro Max
With the all-new camera system in the iPhone 13 Pro and iPhone 13 Pro Max you now have a 77mm telephoto lens offering 3X optical zoom. The Ultra Wide and Wide lenses have larger apertures, allowing for more light to enter the camera without introducing noise to your pictures and videos.
New to the iPhone 13 Pro and iPhone 13 Pro Max is macro photography. You can capture, in stunning clarity and detail, the smallest features like the veins on a leaf or tiny water droplets on a mushroom.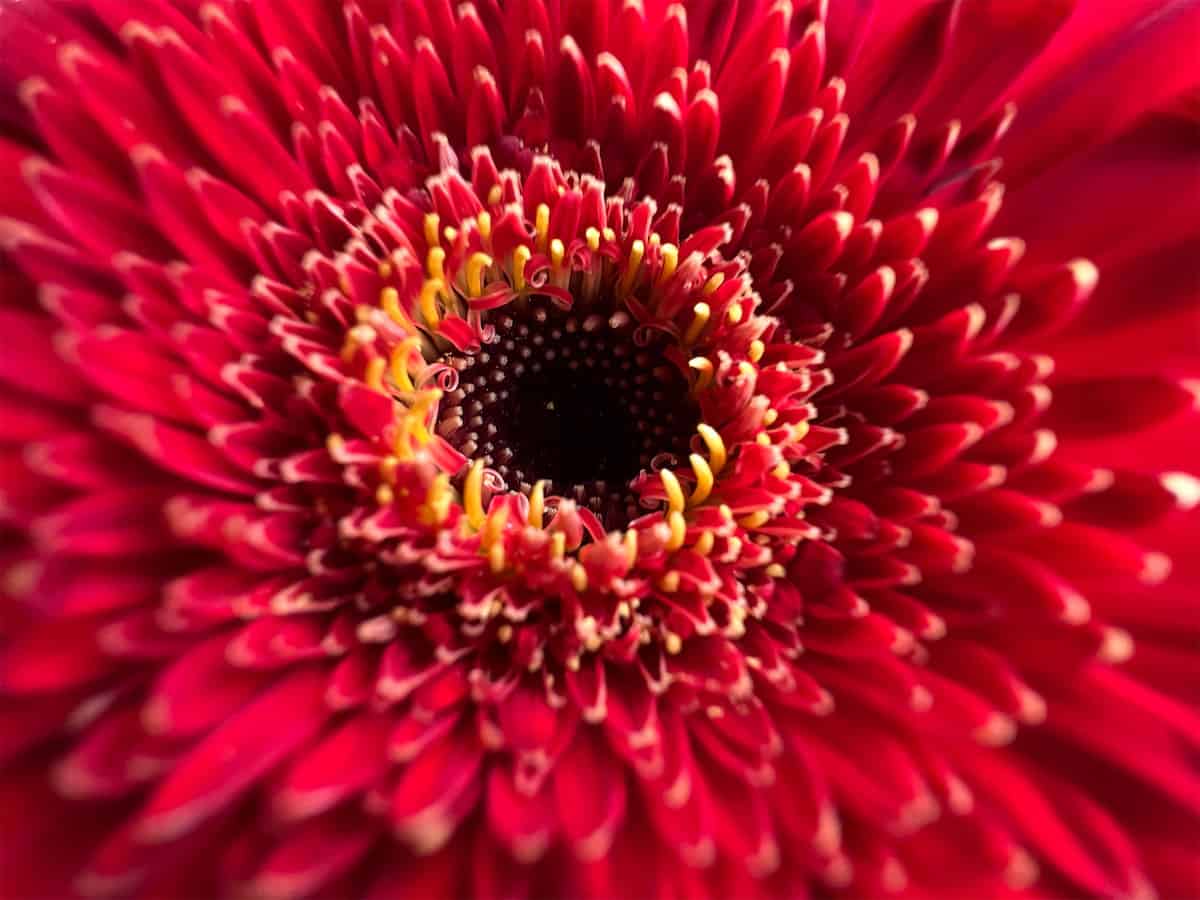 With Photographic Styles, iOS will apply your favorite local edits in real-time as you shoot your pictures. You begin with one of four presets, but then customize them according to your photographic aesthetics. These modes work across scenes and, completely unlike filters, intelligently appply the right adjustments to different parts of your photo. This makes sure skin tones and other important elements are preserved even as the rest of your picture is improved and enhanced.
Perhaps the best new feature of the iPhone 13 Pro and iPhone 13 Pro Max is the new Cinematic Mode in video recording. For the first time on a smartphone, even novice videographers can enjoy the powerful use of rack focus. This automatically changes focal points in your video and provides a gorgeous depth effect to your filmmaking. In Photos app andd iMovie for iOS, you can also adjust the bokeh levels, editing your depth-of-field even after recording. That's a first in smartphone videography.
Giving you even more power over your video recordings, the new camera system will allow you to record and edit in either Apple ProRes or Dolby Vision HDR right from your device.
Greg "Joz" Joswiak praised the advances:
The new pro camera system offers even more pro photography capabilities like improved telephoto zoom, macro photography, Photographic Styles, Cinematic mode, as well as ProRes and Dolby Vision video. The Super Retina XDR display with ProMotion is our best display ever; it intelligently responds to the content on your screen, offers fantastic graphics performance, and is perfect for any viewing experience.
Storage and Color Options for the iPhone 13 Pro and iPhone 13 Pro Max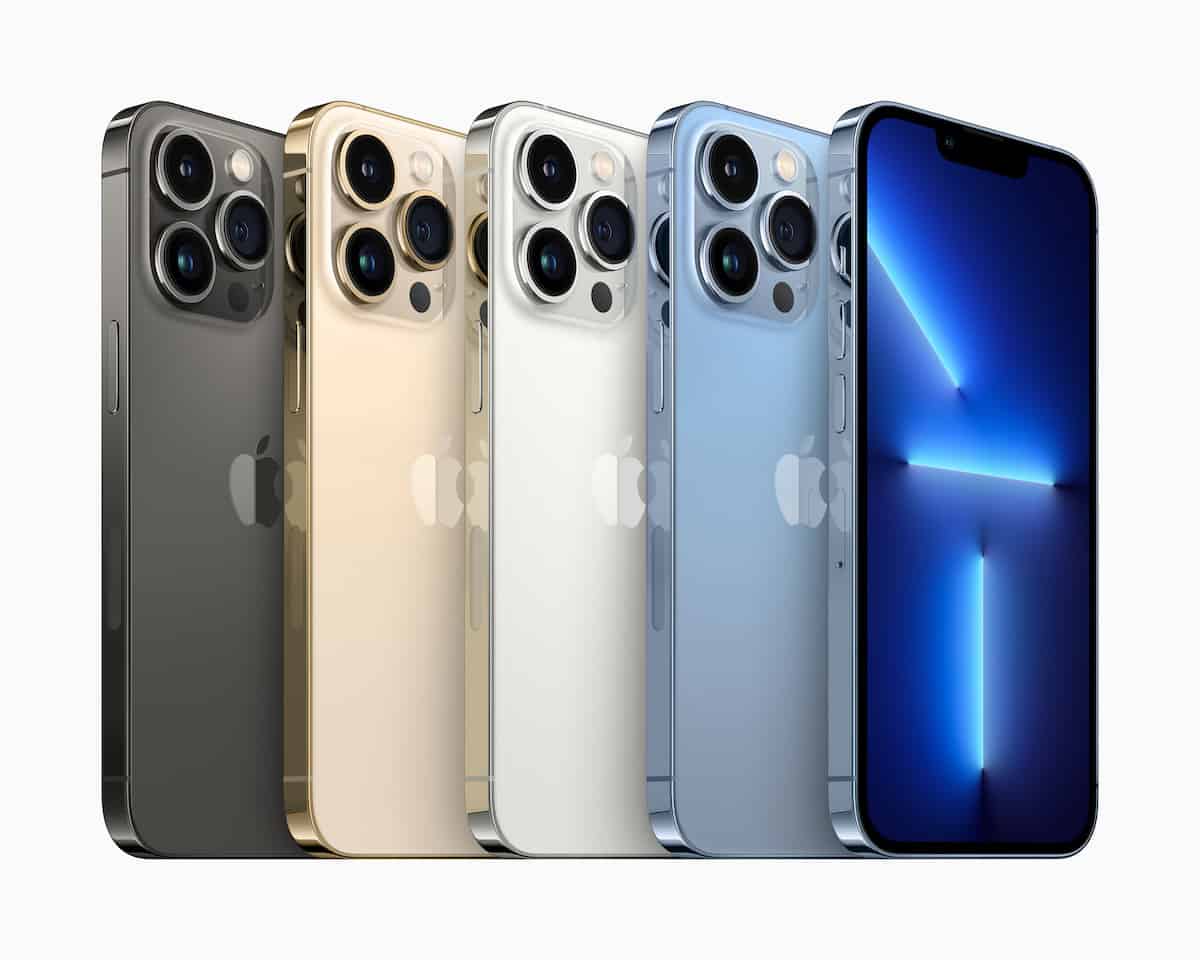 You can order your iPhone 13 Pro or iPhone 13 Pro Max in four colors: Graphite, Gold, Silver, and Sierra Blue. Pricing begins at $999 for the iPhone 13 Pro and $1,099 for the iPhone 13 Pro Max.
Siri Gets More Private
We've talked a lot about Apple and privacy lately, but Cupertino has made one improvement we should all be happy about. All of your interactions with Siri now remain on-device by default, a shift from how the personal assistant used to work.
Easier on the Environment
Apple maintained its commitment to improving our devices impact on the environment. The antenna lines on the iPhone 13 and iPhone 13 Mini are made from upcycled plastic water bottles. The magnets, like those in the MagSafe technology, use 100% recycled rare earth elements and the solder on the main logic board and battery management unit use 100% recycled tin. On top of that, the plating of the main logic board and wire within all cameras use 100% recycled gold. Going one step further, redesigned packaging eliminates the outer plastic wrap.
Changes and Improvements to Magsafe
All four models support MagSafe charging, and Apple announced a refresh to its catalog of MagSafe accessories. The new leather MagSafewallet supports Find My, so you can get a notification of the wallet's last known location if you misplace it. Other new MagSafe cases include leather and silicone variants, as well as a clear case.
Preorders Opening This Week
All iPhone 13 models will open for preorders on Friday, September 17 and begin shipping on September 24.