Apple Watch came out on top in J.D. Power's newest smartwatch satisfaction survey. The Apple device narrowly beat out the competition in overall points, but scored significantly higher in J.D. Power's Power Circle Ratings, as shown in the chart below.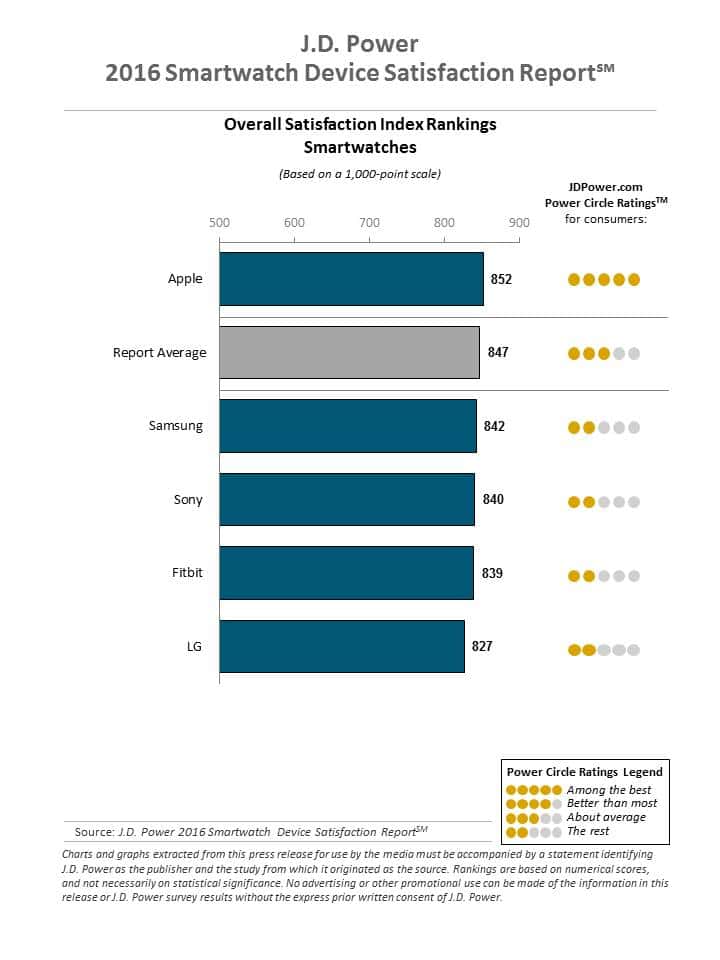 "Apple (852) ranks highest in customer satisfaction with smartwatches and performs particularly well in comfort, styling/appearance and ease of use," J.D. Power said in a statement.
Samsung, the runner-up in the survey, "[performed] well in customer service, display size and phone features."
Interestingly, the average score was 847, the middle distance between Apple and Samsung. That shows Apple's overall strength in smartwatch marketshare because its score was enough to overcome all of the other competitors and lift that average score.
J.D. Power also noted that, "Overall, 19% of smartwatch customers indicate having experienced one or more problems, with the most common being battery charge not lasting long enough/battery not charging (29%); difficulties customizing (23%); and broken charger (22%)."
The key takeaway for me is a continuation of the narrative that says Apple Watch took wearable computing mainstream. Pundits like me grouse that the device is missing killer functionality. But in the wild, it's the top-selling smartwatch and its owners like it more than owners of other devices.