Apple this week quietly extended its AppleCare+ program to the Mac, offering official coverage for accidental Mac damage for the first time. AppleCare+ was first introduced for the iPhone in October 2011. Unlike the original AppleCare plan, which only covered manufacturing or design defects over an extended periord, AppleCare+ added accidental damage protection to the mix, allowing customers to obtain repair service for accidental damage up to twice during the coverage period. Traditional warranty issues like defects or early failure were still covered for free during the coverage period, but customers would have to pay an additional fee (initially $49) each time they sought service for accidental damage.
AppleCare+ was eventually extended to the iPad, but only the traditional warranty-like AppleCare was available for Macs. That is, until this week. Users buying a Mac from Apple's online store will see a new "AppleCare+ for Mac" option.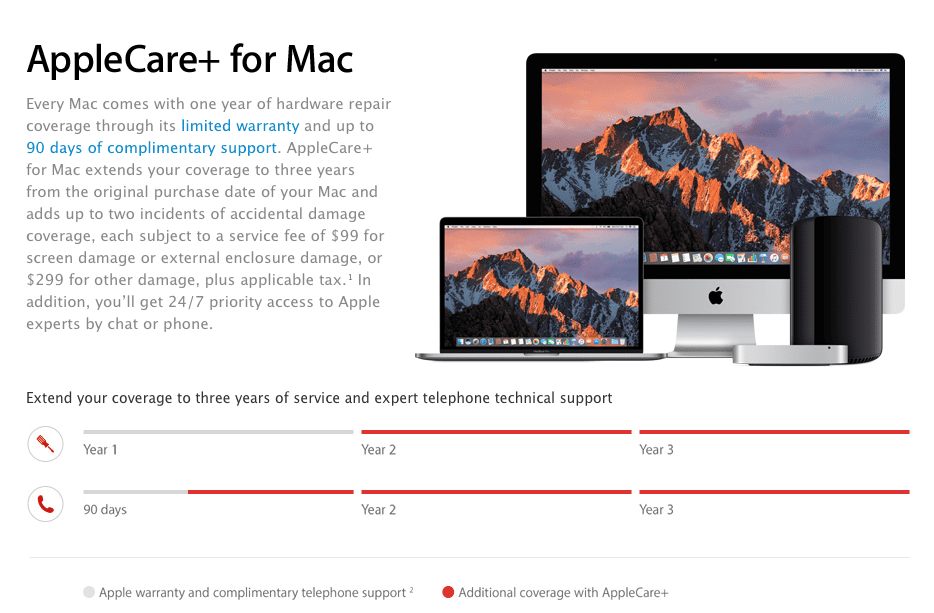 Just like it does for the iPhone and iPad, AppleCare+ for Mac covers all of the traditional defect-related issues you've come to expect, but now also includes coverage for up to two instances of accidental damage. As Macs are generally more complex and costly than Apple's mobile devices, the prices for AppleCare+ are unsurprisingly higher than the equivalent mobile plans.

The upfront AppleCare+ price ranges from $99 for an entry-level Mac mini to $379 for the 15-inch MacBook Pro with Touch Bar. If you need coverage for accidental damage, you'll pay $99 per incident for damage to the Mac's screen or external enclosure, or $299 for any other damage (presumably referring to the Mac's internal components).
AppleCare+ is certainly costly, and there are other third-party insurance options available, but the extension of the service to Macs gives users the ability to have their devices repaired directly by Apple technicians, and offers an opportunity accident-prone Mac users to avoid extremely costly repair bills.