One of the most powerful new features of Apple's APFS file system, used in High Sierra, is the snapshot. This is the ability to return a file system to a previous state, in time. Bombich Software has recently announced that version 5.1 of Carbon Copy Cloner (CCC) now offers extensive APFS snapshot support.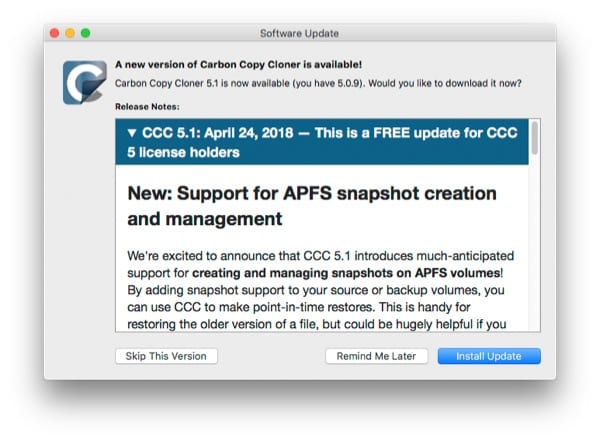 The update notice continues…
This is handy for restoring the older version of a file, but could be hugely helpful if you ever need to revert to a previous OS version after a problematic update. This is a true alternative to Time Machine that offers more flexibility for backup scheduling and snapshot retention. CCC starts with sensible defaults, but gives you all the flexibility you need to craft a backup strategy that's tuned to your specific needs.

If you're running macOS High Sierra and have any CCC backup tasks that specify an APFS-formatted volume as the source or destination, you can enable snapshot support on those volumes by selecting the volume in CCC's sidebar, then click on the button to turn on snapshot support. For future tasks, CCC will automatically enable snapshot support when you select an APFS-formatted volume as the source or destination. You can change that behavior in CCC's Preferences window…
You can read much more in the Bombich Software knowledge base last updated on May 3. The Mac Observer will have ongoing coverage of this important new capability in CCC.