It was announced Thursday that the long-awaited ECG app for Apple Watch Series 4 would be available as part of the watchOS 5.1.2 update. Getting the app itself set up is a team effort involving both the watch and the iPhone it's attached to in order to get things working. Here's how to get up and running:
Setup is a team effort
First, update to watchOS 5.1.2, which means putting your watch on a charger and waiting until it's at least 50% charged, then you can run the update from your iPhone like any other update. Then when you put your watch back on, you'll have a new app on your app screen, the ECG app: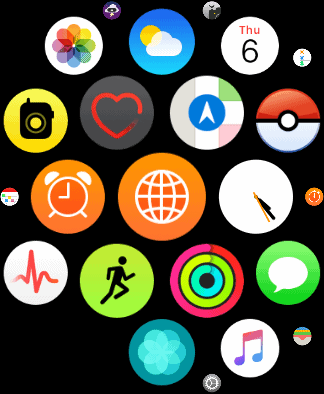 Tap on it, and you'll be prompted to walk through the setup on your iPhone in the Health app. Switch to your iPhone and launch the Health app, which will tell you what's new in Health (spoiler alert: It's the ECG app):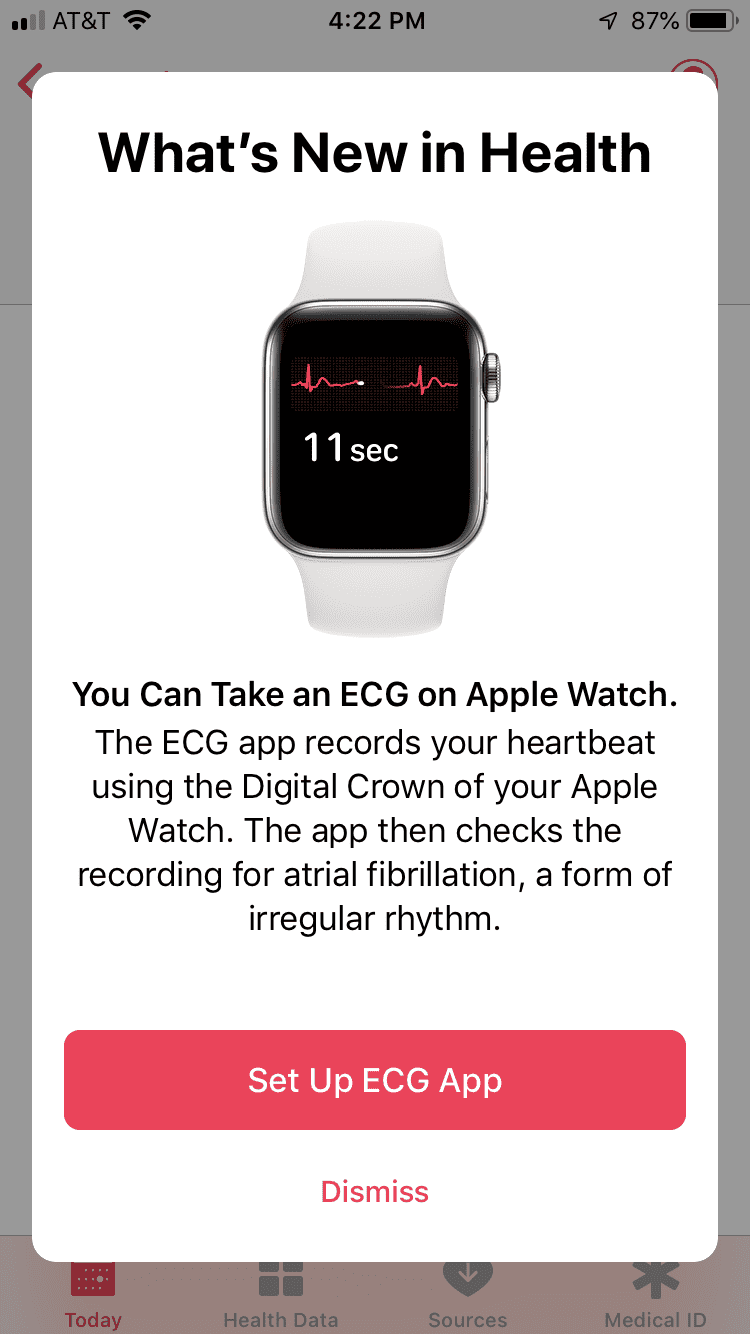 After a screen of info about how the ECG app works, and what sorts of results it can give you (Sinus rhythm, AFib, Low/High heart rate, or Inconclusive), there's a warning screen about what the ECG app can NOT do. That includes discovering a heart attack or stroke or other conditions.
Let's do this!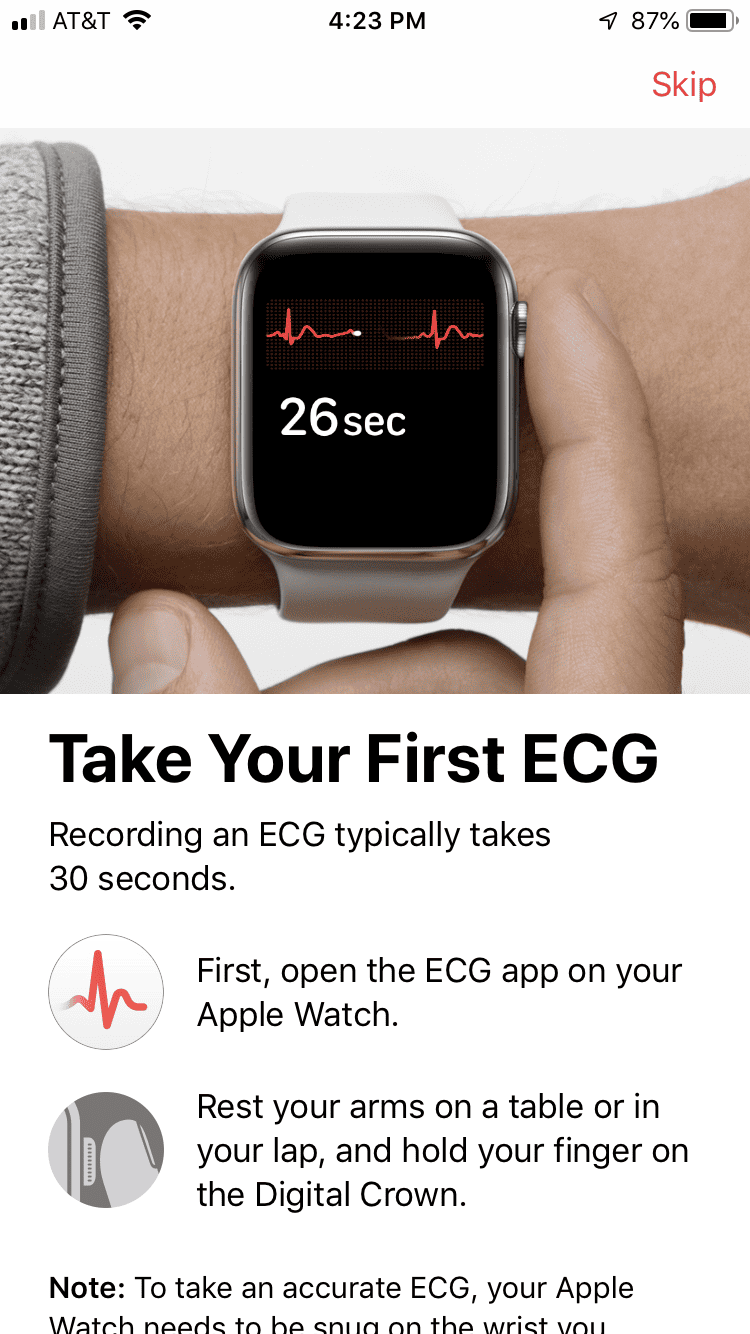 Your watch will also remind you it needs to be on the arm configured in settings, then you tap OK, and the countdown begins. It takes 30 seconds to measure, and all you have to do is hold your finger against the Digital Crown.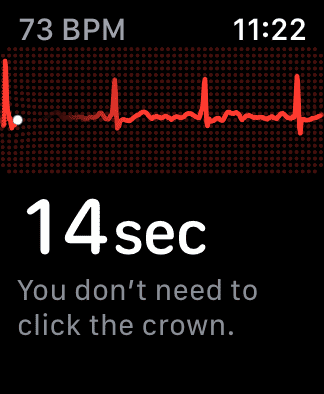 A nice added feature is the option at the end that allows you to add symptoms if you aren't feeling great. Plus each ECG is stored as part of the Health data on your iPhone, and you can create a PDF to give your doctor. Honestly I wish that was a feature of all the pieces of the Health app, because then recording all that data could be useful outside of your iPhone. I say this as a person who has tried to navigate the Health app while talking to a doctor. It was…not great.
New Permissions Alert
Then you get a new permissions screen: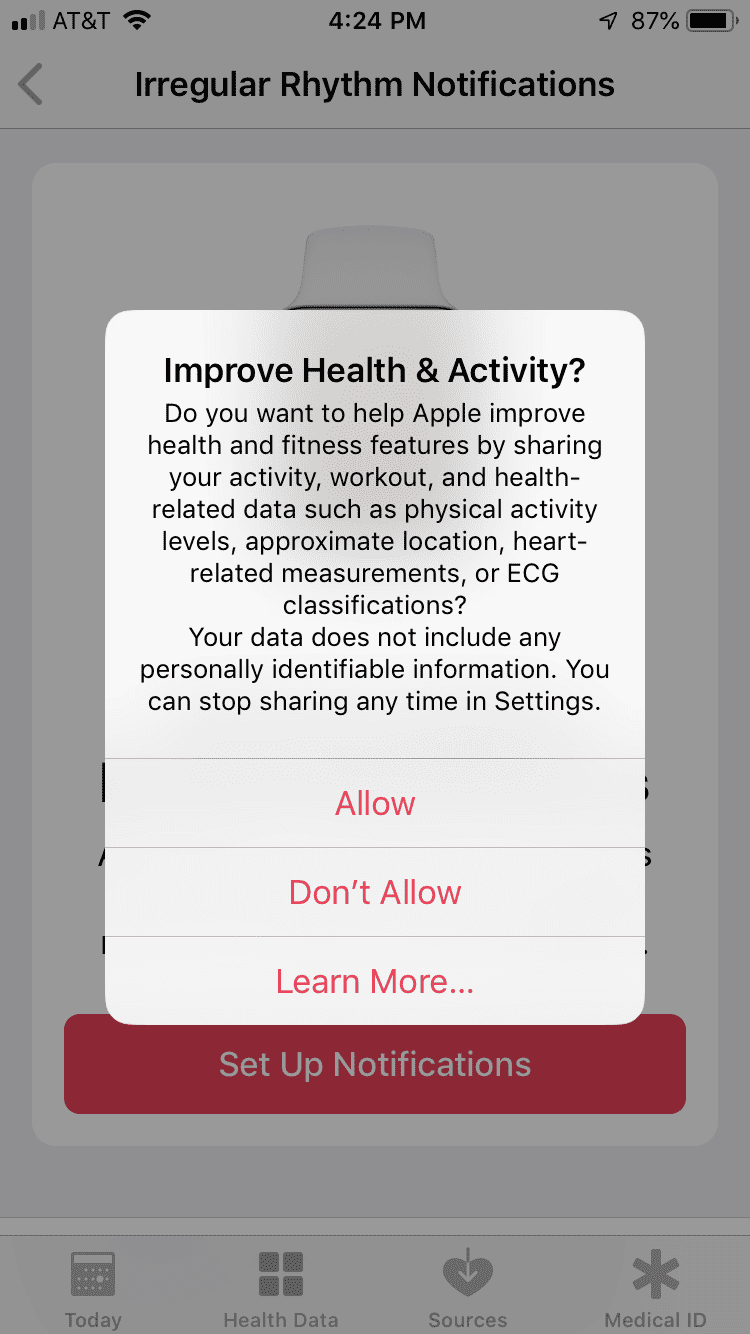 You can choose to share your health and fitness information with Apple, which includes the ECG data you just set up. What I'm not sure about is how this helps Apple, since it doesn't say what they want it for except to "improve health and fitness features." I did tap the Learn More button and got a page of information that basically says they want to use it to determine the effectiveness of these features, and that the data is anonymized, which sounds odd since they say up front it uses parameters you've entered into the Health app like age, height, weight, sex, and those new ECG recordings you just set up. I don't expect Apple to do anything untoward with this data, but I think it would be interesting to get some examples from Apple of how they use it to make things better.
In the home stretch of this setup you get a couple more notification options: One for Irregular Rhythm Notifications, and one for Atrial Fibrillation (AFib). Then you get more information about how your watch can't tell you you're having a heart attack and that it isn't constantly monitoring you for AFib. Then you're all set! If you'd like to hear a doctor explain a bit more about how and why this is an interesting thing for your watch to be able to do, Dr Sanjay Gupta has it covered in this video.