Apple Watch shipments fell sharply in the third quarter, primarily due to the timing of the company's "Series 2" revision, according to new data published today by IDC. Apple is estimated to have sold 1.1 million Apple Watch units in the third quarter of 2016, a 71 percent decline from the 3.9 million units the company sold in the same quarter last year.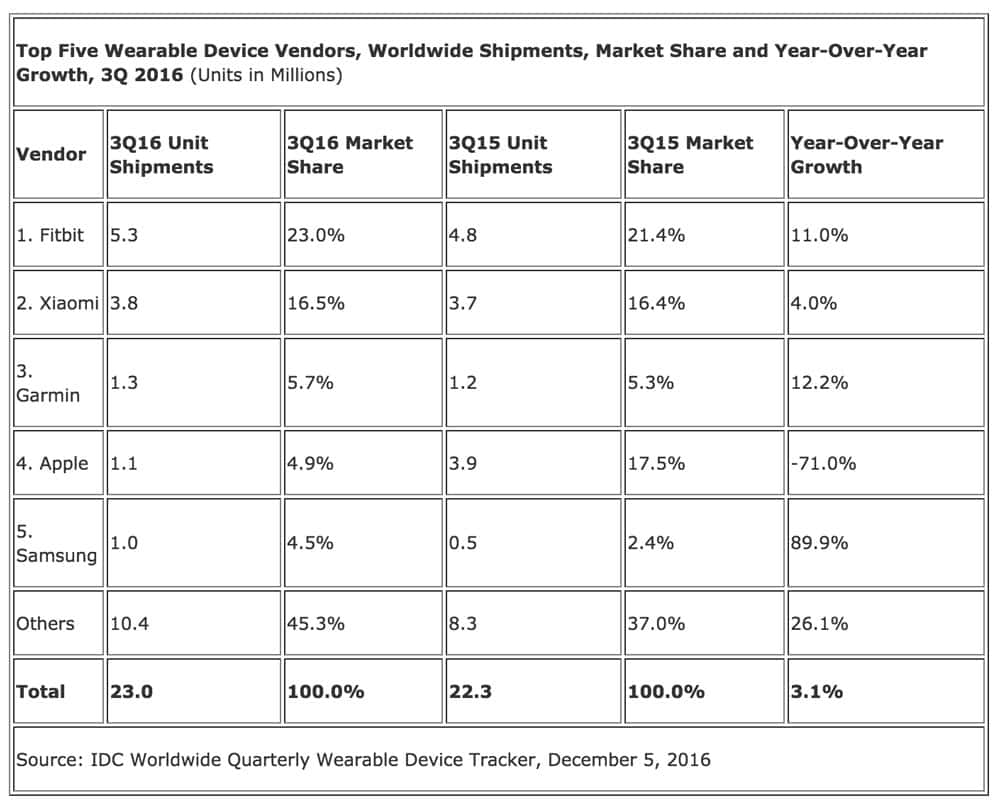 IDC attributes the decline in Apple Watch sales to an "aging lineup and unintuitive user interface." The first generation Apple Watch was released in April 2015, with Apple waiting until September 2016 to unveil the Apple Watch Series 2. With the product's release so late in the third quarter, the Series 2, which addressed many of the user interface concerns, didn't have time to significantly contribute to Apple's sales numbers.
The decline in Apple Watch sales came amidst modest growth for the wearables market overall. The entire market, which includes both smartwatches and fitness trackers from companies such as Fitbit, grew 3.1 percent year-over-year. Fitbit maintained its lead in the market, selling 5.3 million units for 23.0 percent market share, an 11 percent increase over last year. Xiaomi, Garmin, and Samsung also saw year-over-year growth in shipments.
With 1.1 million units sold during the quarter, Apple is in fourth place among wearable vendors. However, the company retains the number one spot when considering just smartwatches, beating out competitors Garmin, Samsung, Lenovo, and Pebble. Apple also sells products at higher prices than its competitors (Apple Watch starts at $269 while Fitbit products start at around $60).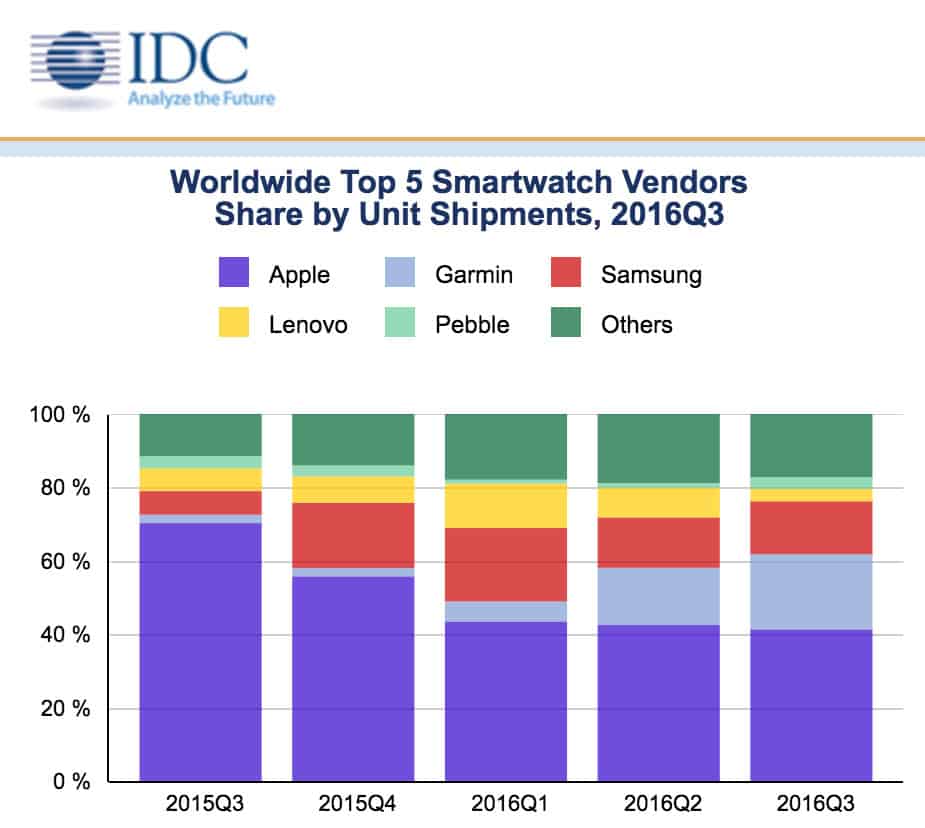 Despite this, IDC analyst Jitesh Ubrani expects the lower cost fitness-oriented wearables to continue to outpace the more complex smartwatch category:
It's still early days, but we're already seeing a notable shift in the market. Where smartwatches were once expected to take the lead, basic wearables now reign supreme. Simplicity is a driving factor and this is well reflected in the top vendor list as four out of five offer a simple, dedicated fitness device. Meanwhile, from a design perspective, many devices are focusing on fashion first while allowing the technology to blend in with the background.
However, IDC manager Ramon Llamas suggests that smartwatches may make a comeback in terms of marketshare, as consumers grow more accustomed to wearables and begin to demand greater functionality.