Apple's 2023 Wonderlust event unveiled the iPhone 15 series, including the iPhone 15 Pro and Pro Max. While some fans may be disappointed to learn that certain rumors did not come true, others may be pleased with what the Pro series offers. From a new Action button to adopting USB-C standards, there's a lot to like about the iPhone 15 Pro series. Let's take a look at everything Apple has to offer in its flagship smartphone.
Looking at the iPhone 15 Pro Series Design
The iPhone 15 Pro and Pro Max are available in 6.1-inch and 6.7-inch display sizes and feature a lightweight titanium design. A first for the iPhone series, the new design includes a premium alloy that is the same material used in spacecrafts. This means that not only does the 15 Pro series have the lightest phones available in the iPhone series, but they also have the highest strength-to-weight ratio.
In addition to the new titanium, both Pro models also feature a tough back-glass as well as a Ceramic Shield front, offering stellar protection. Each Pro series model also features a newly refined brush texture, contoured edges along with the thinnest borders available on an iPhone.
Even better, the new back glass is easily replaceable thanks to the aluminum frame and revolutionary new thermo-mechanical process. This new design helps focus on the Super Retina XRD display as well as the Always-On and ProMotion tech.
One of the most substantial changes to the iPhone 15 Pro series is the inclusion of a new Action button. Replacing the single-function switch on past iPhone iterations, the new button allows you to easily access certain features and apps. For example, the new Action button can help take a photo, or you can use it to access Accessibility features and shortcuts.
This new Action button is aided by the Dynamic Island, which gives visual cues to help the device launch the correct action. You are also able to press and hold the Action button, which can engage haptic feedback and help with enabling certain actions.
The Power of the A17 Pro Chip
The new iPhone 15 Pro and iPhone 15 Pro Max both take advantage of the A17 Pro, which also brings the industry's first 3-nanometer chip. In terms of the A17 Pro, microarchitectural and design improvements make the chip ten percent faster, and the Neural Engine of the A17 Pro is now two times faster.
The new six-core design of the GPU now means 20 percent faster speeds with better energy efficiency and performance. For gamers, the new A17 Pro also delivers hardware-accelerated ray tracing, which is four times faster than typical software-based ray tracing. This means the Pro series offers better and faster graphics, which can deliver better and more immersive gaming and AR experiences.
Lastly, the A17 Pro chip also features a dedicated AV1 decoder. This decoder provides a high-quality video experience that's more efficient and allows for a high-quality video experience when using streaming services. A new USB controller is also capable of enabling USB 3 speeds, which is a first for the iPhone. The new 15 Pro series is now capable of higher transfer speeds and 4K at 60 fps HRD video output.
New Photo Quality Thanks to the Pro Series Camera
The iPhone 15 Pro series also features a revamped camera. Thanks to the A17 Pro, the largest difference is that both the iPhone 15 Pro and Pro Max have the equivalent of seven pro lenses. Both feature a 48MP Main camera that now defaults to 24MP with super-high-resolution.
For the Pro series, the Main camera now offers 24 mm, 28 mm and 35 mm focal lengths. Three of the most popular lengths, you will be able to choose one of these as your default. Even better, the Main camera now supports 48MP HEIF images alongside 48MP ProRAW images.
In terms of the camera, the iPhone 15 Pro sports a 3x telephoto camera, while the Pro Max now has the longest optical zoom on an iPhone, sporting an amazing 5x at 120 mm. This is thanks to the tetraprism design along with an autofocus 3D sensor-soft module and optical image stabilization. This makes the new iPhone 15 Pro series great for action shots from a distance as well as close-ups.
Updates to Portraits
If you love taking portraits, the Pro series takes portrait photos that feature sharper details, brighter colors and performance that can handle low light. What's even better is that you will no longer have to switch to Portrait mode, as your iPhone will automatically capture depth information whenever you tap to focus, or there is a person or animal in the frame.
You will also be able to adjust the focus point after the photo is taken, giving you complete control of your shots.
Lastly, the Pro series cameras will also feature a better Night Mode thanks to the LiDAR Scanner and Photonic Engine, with the Scanner helping particularly during night shots. A new Smart HDR also helps you capture photos with better skin tones and brighter highlights and colors.
The A17 Pro also brings improvements to Action mode and low-light video. You will also be able to get better transfer speeds thanks to an optional USB 3 cable.
Apple Finally Adopts USB-C for iPhone 15
In another iPhone first, both the Pro and Pro Max will be sporting USB-C connectivity, which the base iPhone 15 models also support. Another cool new feature is that you will be able to charge your AirPods or Apple Watch directly from your iPhone thanks to this USB-C connection.
Additionally, both the Pro and Pro Max feature the Ultra Wideband chip, now in its second generation. With the ability for two iPhones featuring the chip to connect at over three times the range, you can now take better advantage of Precision Finding. This feature makes things such as Find My more precise, which can allow two iPhone users to easily find each other, even in a place with a crowd.
Both models will also feature Wi-Fi 6E, and are also the first iPhones to support Thread, which can help with integrating the Home app. Both also feature MagSafe and Qi2 wireless charging, boosted sound quality in phone calls and eSim support for more than 295 carriers.
Roadside Assistance and the iPhone 15 Pro Series
New safety features are also integral to the iPhone 15 Pro series, including new improvements to Emergency SOS via satellite and Crash Detection. However, both the Pro and Pro Max include Roadside Assistance via satellite.
This feature making its debut in the U.S., it can be extremely helpful when you need help and don't have access to Wi-Fi or cellular. If you're in a critical situation, your iPhone will now ask you a series of questions to assess your situation and send that information to AAA via satellite.
If you get an iPhone 15 Pro or Pro Max, you will have access to Roadside Assistance via satellite for two years for free. Your AAA membership will determine services, though some services are available to those who are not a member.
iOS 17 and a Commitment to the Environment
Of course, both the iPhone 15 Pro and Pro Max include iOS 17, which we here at TMO have covered extensively. Of course, new features include updates to Messages, Contact Posters, Live Voicemail and more. Those with a compatible iPhone will begin receiving iOS 17 Sept. 18 as a free software update.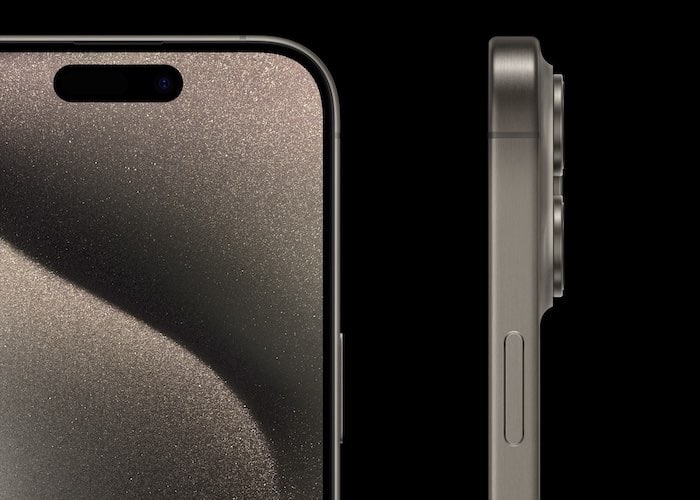 With Apple committing to being entirely carbon-neutral by 2030, both the iPhone 15 Pro and Pro Max use more recycled content than previous generations. This includes a 100 percent recycled aluminum substructure and cobalt within the battery. Both phones in the series also include recycled rare earth elementals within the magnets and recycled gold within the USB-C connector.
Apple is also removing plastic from its packaging, and the iPhone 15 Pro series will be 99.9 percent fiber. The company is also eliminating leather from its accessories, opting instead for FiveWoven Cases and FineWoven Wallets featuring MagSafe, which are made from a "durable and elegant" microtwill.
Pricing and Availability
In terms of pricing and availability, the iPhone 15 Pro and Pro Max come in white titanium, black titanium, blue titanium and neutral blue titanium. The iPhone 15 Pro starts at $999 whereas the Pro Max starts at $1,199. The Pro is available in 128GB, 256GB, 512GB and 1TB storage, and the Pro Max comes in 256GB, 512GB and 1TB.
Preorders for the iPhone 15 Pro and Pro Max start Friday, Sept. 15, and availability begins Friday, Sept. 22. U.S. customers may get the iPhone 15 for free after a trade-in that qualifies with certain carriers. Users may also receive trade-in bonuses when trading in an iPhone 11 or newer through the Apple Online Store.
Conclusion
For me, the move to USB-C makes the iPhone 15 something special. The new iPhone 14 Pro series offers an innovative design and a new CPU that is sure to get gamers excited. Of course, the iPhone 15 and iPhone 15 Plus also include a wealth of new features, and there's a lot of information regarding the Apple Watch Series 9 and Apple Watch Ultra 2. Be sure to let us know what you think in the comments.