Apple unveiled iOS 17 at the WWDC 2023. It has a ton of new and useful features. You get Contact Posters for incoming calls, can easily share contact details using NameDrop, several changes to the Messages app, and a lot more. We expect the public beta of iOS 17 to go live in the next month while the public release will probably be scheduled after the iPhone 15 series launch.
1. Personalized Contact Posters
Are you familiar with iOS 16 Lock Screen Customizations? Well, the Contact Posters feature sports the same design. It allows you to set an image or the contacts memoji and customize the text (contact name). You can even use Depth Effect for these posters.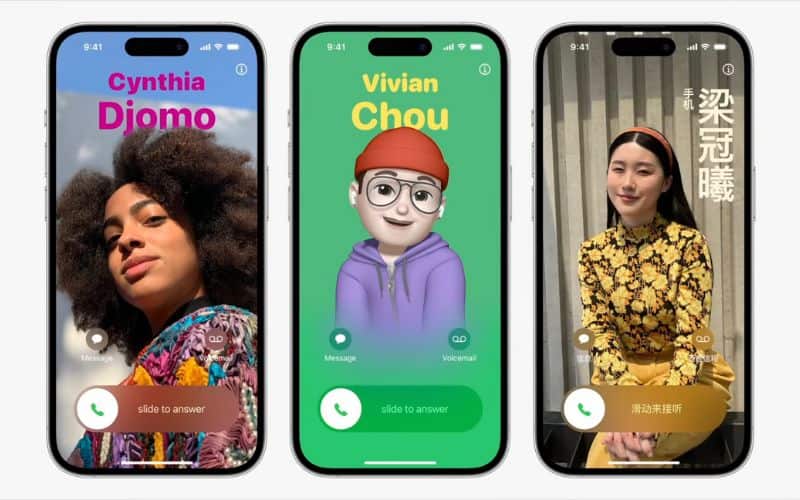 Moreover, the Contact Posters feature is not exclusive to the native Phone app. Apple has promised that this feature will be integrated with third-party VoIP apps. So, we're expecting the ability to create Contact Poster for WhatsApp, etc.
2. Live Voicemail feature added to iOS 17
Another change to the Phone app is the addition of a Live Voicemail feature. This feature transcribes the voicemail in real time and displays the message on your iPhone's screen. So now, you can read the voicemail as the person is recording it and decide if you want to reply or ignore it. A very handy feature that allows you to pick or ignore calls based on urgency. It will also help you ignore spam callers.
3. FaceTime – Voicemail Feature
Voicemail allows the caller to record a short message which the recipient can later listen to. With iOS 17, Apple is adding the voicemail feature to FaceTime calls. So, if someone isn't available at the moment, you can record and leave a video message on FaceTime. I suppose you'll also get the option to leave audio messages.
4. New features to the Messages app
The Messages app gets several new features with iOS 17. To begin with, you can easily search for particular messages in the Messages app using Search filters. Moving to conversations within the Messages app, there's a new catch-up arrow at the top right that will navigate you to where you left off the conversation.
Also, in-line replying is easy and fast with the new Swipe to reply feature. All you have to do is swipe on the text bubble and directly reply to the message. At times we can't listen to audio messages because we do not have access to our earphones, etc. With iOS 17, the Messages app will automatically transcribe audio messages so that you can read the text without listening to it.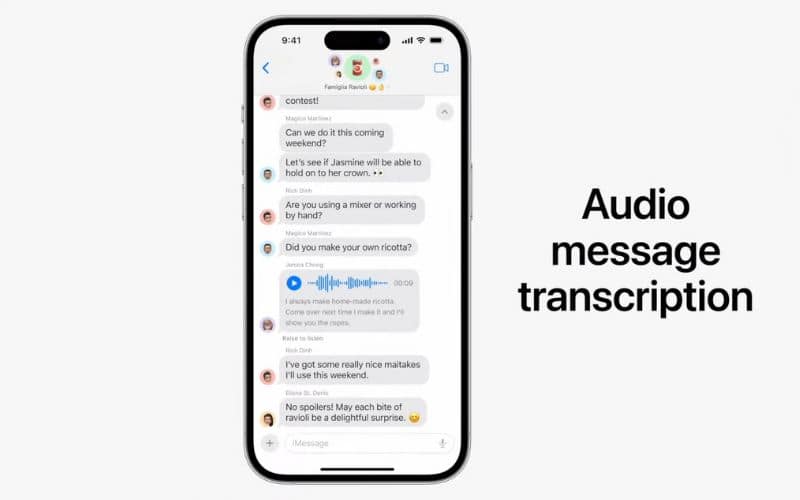 Even Location sharing in Messages receives an update with iOS 17. A new Inline location feature automatically keeps updating the shared location directly within the conversation. For further reading, check out how to send photos using the updated Messages feature in iOS 17 Beta 6.
5. Check In feature Added to iOS 17
Another extremely useful feature added to the Messages app with iOS 17 is Check In. It allows you to share with your family member or friend if you've reached your destination safely and on time. Once you create a Check In in the Messages app and share it with your friend, they'll be notified when you reach the destination.
Additionally, it will also notify the user if there's a delay. You have the option to add time or end the Check In altogether. However, in case you aren't making any progress at all, certain details like your location, battery level, and cellular service status will be automatically shared with the selected contact.
6. Emoji Stickers
For some of us, stickers are a big part of how we interact with our friends or respond to texts. They perform the same functions as emojis but are more personalized. And, with iOS 17, you get the option to create emoji stickers and Live Stickers. All you have to do is pick the subject from a Live Photo and add it to Stickers.
You can react to messages by using the peel and stick feature which allows you to just drag and drop an emoji, live, or any other sticker on a text bubble to react to it. If that wasn't enough, you can even rotate and resize the sticker. To top it off, you can also add effects to Live Stickers which will reflect light, etc., when you tilt your iPhone.
All these stickers are added system-wide and are not restricted to the Messages app. It allows you to use these custom stickers on any third-party apps that allow the use of stickers.
7. AirDrop is Now Better
With iOS 17, you can AirDrop files by simply bringing two iPhones together. Just place the devices nearby and you can start sharing files with each other. And if you need to step out of the AirDrop range, the transfer will continue over the Internet. You don't have to compromise on quality or security.
Using the same gestures you can activate SharePlay and share music with your friends, watch the same YouTube video or a movie on Disney, or even play games together. Just bring your devices together and get going.
8. iOS 17 NameDrop Feature Makes Sharing Contacts Easier
Another addition to AirDrop is NameDrop. Since forever, sharing contacts has always been a pain as you have to dictate your number and the other person has to type it down. This changes with iOS 17 and the introduction of NameDrop.
Now, to share your contact details with another person, all you have to do is bring your iPhone closer to the other person's iPhone (it even works with an iPhone and an Apple Watch) and both your devices will display each other's Contact Posters. You can choose what contact details you want to share and share them with just a tap.
9. Improved Autocorrect in iOS 17
iOS 17 brings improvements to the Keyboard and Dictation. The keyboard now uses a transformer language model which has better word prediction. This in turn improves Autocorrects accuracy. And this machine learning model runs every single time you type anything on your iPhone thanks to Apple Silicon.
Then we have Inline predictions which appear as you type and all you have to do is tap the spacebar to complete these words or sentences on your iPhone. All of this will adapt based on the words and phrases you use which personalizes the overall experience. Even Dictation works on a new ML model that improves its accuracy.
10. New Journal app
Many people enjoy journaling daily as it is said to improve the person's well-being. To enhance this experience, Apple is adding a new Journal app with iOS 17. This app offers personalized suggestions that help with journal entries. These suggestions are based on recent activities, photos, places, workouts, etc. And you can schedule notifications that help remind you to add entries to your journal and cultivate this habit.
11. StandBy Display feature in iOS 17
The StandBy feature in iOS 17 transforms your iPhone's display into a new full-screen experience that has glanceable information which is designed to be viewed from a distance. Whenever you plug in your iPhone for charging and place it in landscape orientation, the StandBy feature will kick in and display the time, favorites photos, widgets, etc.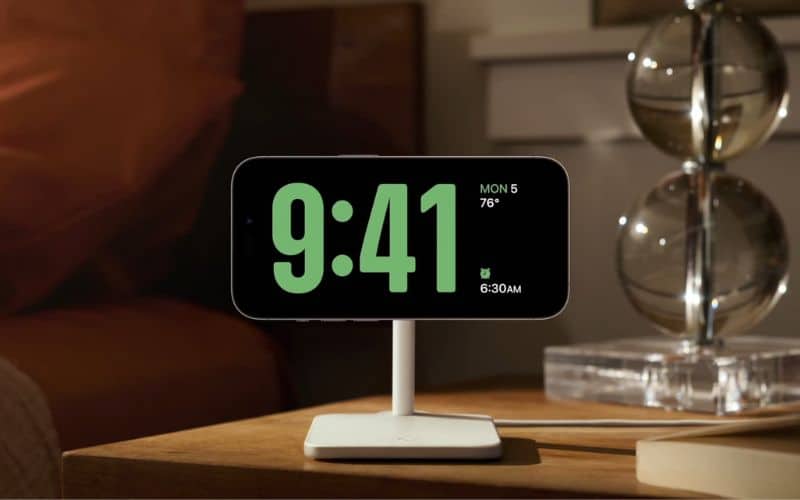 The StandBy feature also displays Live Activities, incoming calls, notifications, etc. To bring up StandBy, you just need to tap on the display. And, if you have an iPhone 14 Pro the StandBy feature will be always available thanks to its Always on Display. Do note that your iPhone needs to be charging and in landscape mode for this to work.
12. Updates to Siri in iOS 17
With iOS 17, you no longer need to say "Hey Siri" to activate the voice assistant. Now, just say "Siri" to activate the assistant. And, you can give multiple commands to Siri once it is activated without the need to repeat the activation catchphrase.
13. Improvements to the Photos App
Thanks to improved machine learning algorithms in iOS 17, the People album in the Photos app recognizes and sorts people more accurately. And it can even recognize cats, dogs, and other pets in general that are a part of your family.
Which is your favourite iOS 17 feature? Let us know in the comments below.