Apple has pulled the wraps from the M2 Ultra Chip at the WWDC 2023. The Apple M2 Ultra is touted as the most powerful chip out of Apple's stable. M2 Ultra will be available with the new Mac Studio and Mac Pro. The latest chipset is created using the 5nm manufacturing process. It features other novelties like the Ultrafusion technology that bridges two M2 chipsets, Advanced Unified Memory architecture and more.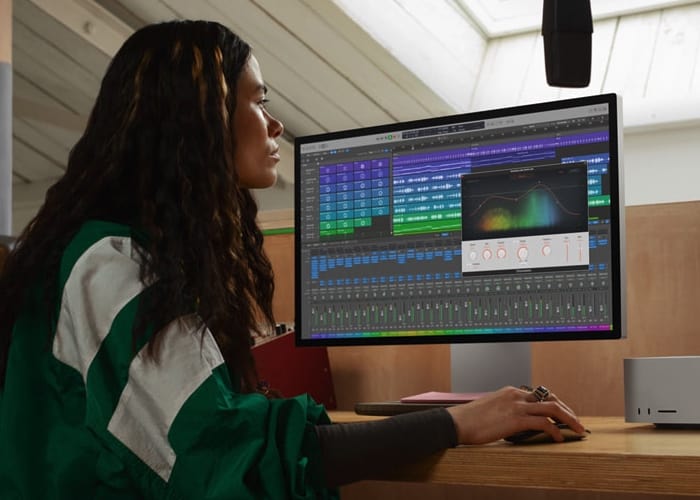 Let us take a closer look at all that Apple M2 Ultra offers.
1. Ultrafusion Technology
Last year Apple introduced Ultrafusion Technology with the M1 Ultra. Like before, the Ultrafusion connects two M2 chipsets with a silicon interposer. In other words, the 2.5TB/s of low-latency interprocessor binds the two chipsets. With the help of advanced architecture, the M2 Ultra appears as a single chipset.
2. Apple M2 Ultra Features and Specifications
A chipset is only as good as its performance and efficiency. Well, the M2 Ultra seems to fare exceedingly well in both departments (at least on paper.) The M2 Ultra comprises 16- high-performance cores and eight- efficiency cores. As a result, it is 20 percent faster than its predecessor, the M1 Ultra. Apple says those using post-production tools like DaVinci Resolve may witness 50 percent faster video processing speeds.
The M2 Ultra is available in either 60 or 76-core GPU. As opposed to the 64-core on the M1 Ultra. In summary, Apple's latest chip offers significantly faster video processing compared to M1 Ultra.
3. Advanced Unified Memory Architecture
Apple's unified memory architecture eliminates the need to transfer identical data between GPU and processor. Instead, all the components of SoC access the memory from the same place. The arrangement helps scale up power when required. The M2 Ultra offers a staggering 800GB/s of system memory bandwidth. Furthermore, the full specced 192GB of unified memory can handle the most complex workflow with relative ease.
4. Machine Learning & Other Capabilities
Apple has put in some serious efforts to accelerate machine learning. The M2 Ultra has a 32-Neural Engine capable of 31.6 trillion operations/sec. Putting things into perspective, it is 40 percent faster than the M1 Ultra.
The media engine is responsible for processing high res video streams. The M2 Ultra boasts hardware-enabled H.264, ProRes encode, and HEVC. Thus the M2 Ultra is perfectly capable of playing up to 22 streams of 8K ProRes video.
The new Mac Studio and Mac Pro powered by M2 Ultra support up to six Pro Display XDR.
5. Faster and Greener
Despite its computing prowess, the M2 Ultra doesn't weigh down on mother earth. Apple's latest chipset is manufactured in a 100 percent carbon-neutral facility and boasts industry-leading efficiency.
6. Apple M2 Ultra Release date
As mentioned earlier, the M2 Ultra will be available on Mac Studio and Mac Pro. However, you must opt for a higher configuration to get your hands on M2 Ultra. Since Apple has already announced both devices, you can get an M2 Ultra-powered machine soon.
We have noticed a trend when it comes to Apple Silicon chips. The M1 was released first, followed by M1 Ultra a year later. Apple has done the same with M2. The M2 Ultra concludes the M2 lineup, and hopefully, next year, we will see the M3.