Apple has offered a preview of macOS Sonoma, the next iteration of its globally renowned desktop operating system. The system boasts an array of fresh features aiming to enhance the overall Mac experience. The innovations range from interactive widgets on the desktop to significant enhancements to Safari. There are also a host of new video conferencing capabilities.
Apple's senior vice president of Software Engineering, Craig Federighi, highlighted the new enhancements, stating:
macOS is the heart of the Mac, and with Sonoma, we're making it even more delightful and productive to use. We think users are going to love macOS Sonoma and the new ways it enables them to personalize with widgets and stunning new screen savers, see new levels of gaming performance, and gain powerful productivity for video conferencing and browsing with Safari.
Widgets Make Their Way to Your Desktop
The updated operating system allows users to place widgets directly on the desktop. This provides you with a more personalized and dynamic user experience.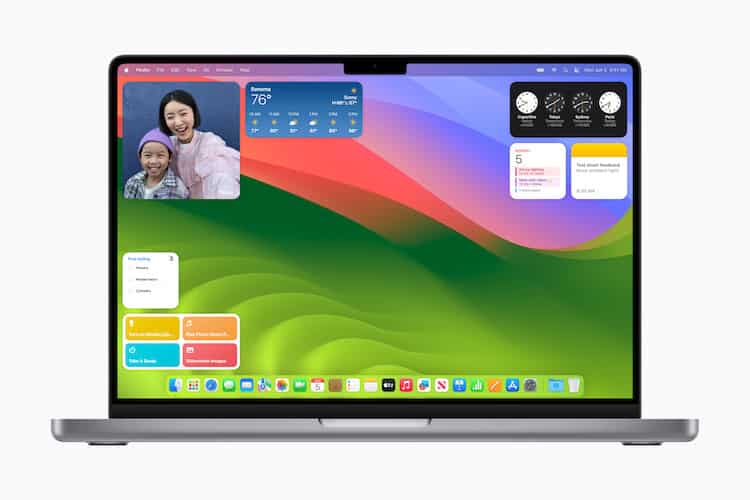 These widgets integrate seamlessly with desktop wallpapers, enabling users to maintain focus on their tasks. They'll even fade into the background while you work, allowing you to stay focused.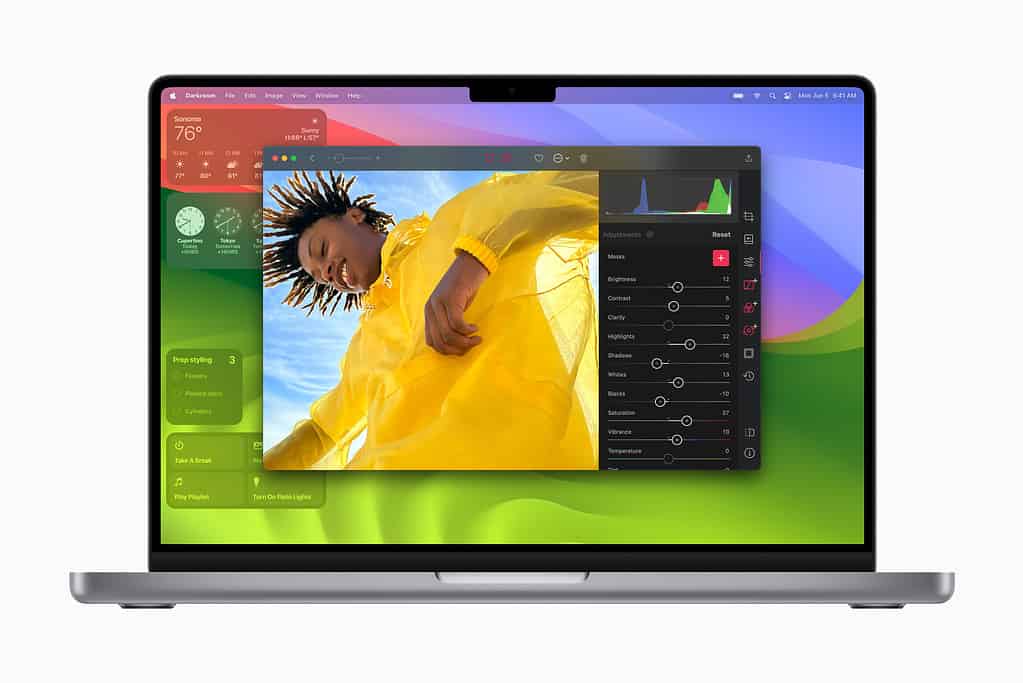 Furthermore, the system's Continuity feature allows users to access a wide range of iPhone widgets directly on their Mac. Even better, widgets in macOS Sonoma are interactive, so you can check items off your to-do list without changing apps.
Revolutionizing Video Conferencing on the Mac
Video conferencing sees a substantial upgrade with macOS Sonoma. Features such as Presenter Overlay and Reactions have been added. These amplify user presence and facilitate more engaging communication during video calls.
The Screen Sharing picker has also been improved, simplifying the process of sharing apps during video calls. All you have to do is click the green button in the top left corner of the app, and choose to share it in your call.
Enhancements to Gaming on macOS
Apple silicon now powers an impressive range of Macs, offering high-level graphics performance to users. These devices, numbering in the tens of millions, can handle demanding games with remarkable performance, visuals, and extended battery life.
Developers are leveraging Metal 3, a graphics programming interface, to bring a host of new games to the Mac. These titles include Death Stranding Director's Cut, Stray, Fort Solis, World of Warcraft: Dragonflight, Humankind, Resident Evil Village: Winters' Expansion, The Medium, Elex II, Firmament, SnowRunner, Disney Dreamlight Valley, No Man's Sky, Dragonheir: Silent Gods, and Layers of Fear.
Helping Developers More Easily Bring Their Games to Mac
Metal's new game porting toolkit has simplified the process of transferring games from other platforms to Mac. This toolkit minimizes the initial work period and allows developers to test the compatibility of their existing games on Mac within a few days.
It eases the conversion of the game's shaders and graphics code to make the most of Apple silicon performance, significantly cutting down development time.
Improving Your Experience as a Gamer
A new macOS Sonoma feature, Game Mode, enhances player experience when every millisecond counts. This mode provides an optimized gaming experience by prioritizing games on the CPU and GPU for smoother and consistent frame rates.
It further improves gaming on Mac by significantly reducing audio latency with AirPods and input latency with popular gaming controllers, such as those from Xbox and PlayStation, by doubling the Bluetooth sampling rate.
Game Mode is compatible with any game, including all recent and upcoming Mac games.
Making Screensavers More Immersive and Gorgeous
MacOS Sonoma also showcases a variety of exquisite screen savers, presenting slow-motion video footage from several global destinations. These include the panoramic cityscape of Hong Kong, the majestic sandstone buttes in Arizona's Monument Valley, and the verdant rolling hills of Northern California's Sonoma.
These vibrant graphical and photographic screen savers enhance user experience by alternating between themes of Landscape, Earth, Underwater, or Cityscape.
The login prompt is now conveniently located at the bottom of the screen to make way for the new screen savers, which flawlessly transition into the desktop backdrop.
Productivity Becomes More Productive in macOS Sonoma, Even for Creative Professionals Working Remotely
macOS Sonoma also introduces a high-performance mode in the Screen Sharing app for remote and hybrid workflows. This new feature allows professionals to remotely access their content creation workflows, such as editing in Final Cut Pro or animating 3D assets in Maya, with increased responsiveness and lower latency.
This new mode leverages the advanced media engine in Apple silicon and supports up to two virtual displays. It also provides support for reference color, allowing remote color workflows never possible before without dedicated hardware and specialized software.
Making the Mac Even More Accessible
Once again, Apple is expanding on its accessibility features in macOS, providing a range of tools for customers with various disabilities. For instance, Made for iPhone hearing devices can now connect to Macs for calls and media consumption.
Non-speaking users can use Live Speech to vocalize their typed thoughts during calls. Other accessibility features have also been added to assist users with cognitive, physical, motor disabilities, and those with low vision.
Other New Features Coming in macOS Sonoma
Additional enhancements in macOS Sonoma include smarter PDF functionalities, hands-free Siri activation, and the ability to share a group of passwords securely. The Messages app has been upgraded, and intelligent grocery lists have been added to the Reminders app.
There have also been improvements to the autocorrect feature and speech recognition within the Keyboard app. To round off the updates, the Privacy and Safety features have been augmented to protect children better and prevent unexpected exposure to sensitive content.
Availability and Frequently Asked Questions
When will macOS Sonoma become available?
Apple has already the first developer beta of macOS available, with a public beta scheduled for July 2023. The full release to the general public probably won't happen until fall 2023, however.
Do the enhancements in macOS Sonoma this mean the Mac will finally become a better gaming platform?
Yes and no. It's still up to developers to bring their AAA titles to the Mac. However, Apple's efforts to make porting games to macOS will, hopefully, create the draw many of us hope for
Will I be able to use my iPhone widgets on macOS Sonoma?
In many cases, yes, thanks to Continuity. Apple stated that users will be able to "enjoy the vast ecosystem of iPhone widgets." That means most, if not all, of your iPhone widgets should be available to macOS Sonoma.
Is Apple making any improvements to its Safari web browser in Sonoma?
Most certainly. The tech giant says the browser will be faster than ever, and is adding new privacy features. Among those is the ability to lock tabs opened in Private Browsing mode. When you aren't using the tab, it automatically locks to protect your privacy.

Apple is also adding situational profiles to the browser, allowing you to have separate logins, extensions, and plugins for home, work, or other usage.
Will I be able to run macOS Sonoma on my Mac?
Apple has confirmed compatibility of macOS Sonoma with the following computers:

MacBook Pro: 2018 and later
MacBook Air: 2018 and later
Mac mini: 2018 and later
iMac: 2019 and later
iMac Pro: 2017
Mac Studio: 2022 and later
Mac Pro: 2019 and later
We will continue to update you on changes in macOS Sonoma, including dedicated walkthroughs of many of the new features as they become available.