In the much-awaited announcement on September 12, Apple unveiled the iPhone 15 and iPhone 15 Plus, finally putting to rest months of speculations surrounding their groundbreaking features. While the iPhone 15 Pro models boast the crème de la crème of these innovations, justifying their premium price point, the standard iPhone 15 models haven't been left behind and bring with them a series of notable enhancements. Follow along to uncover all the details Apple revealed during its Wonderlust 2023 event.
Official Models and Variants for the iPhone 15 Series
Apple has revealed its roadmap for the year, launching four unique iPhone 15 models, mirroring the four-model approach they took with the iPhone 14 series. Within the roster, there are two 6.1-inch variants: the standard iPhone 15 and the more premium iPhone 15 Pro. For those preferring larger screens, the 6.7-inch category offers the iPhone 15 Plus and the high-end iPhone 15 Pro Max.
Environmental Commitment
Apple is deeply committed to the environment, setting an ambitious target of achieving carbon neutrality by 2030. This involves refining manufacturing methods to be more eco-friendly and sustainable. A cornerstone of this initiative is the use of recycled materials.
From cobalt in batteries to copper in vital components, and the integration of recycled aluminum in enclosures to the use of rare earth elements and gold, Apple is embracing sustainability at every turn.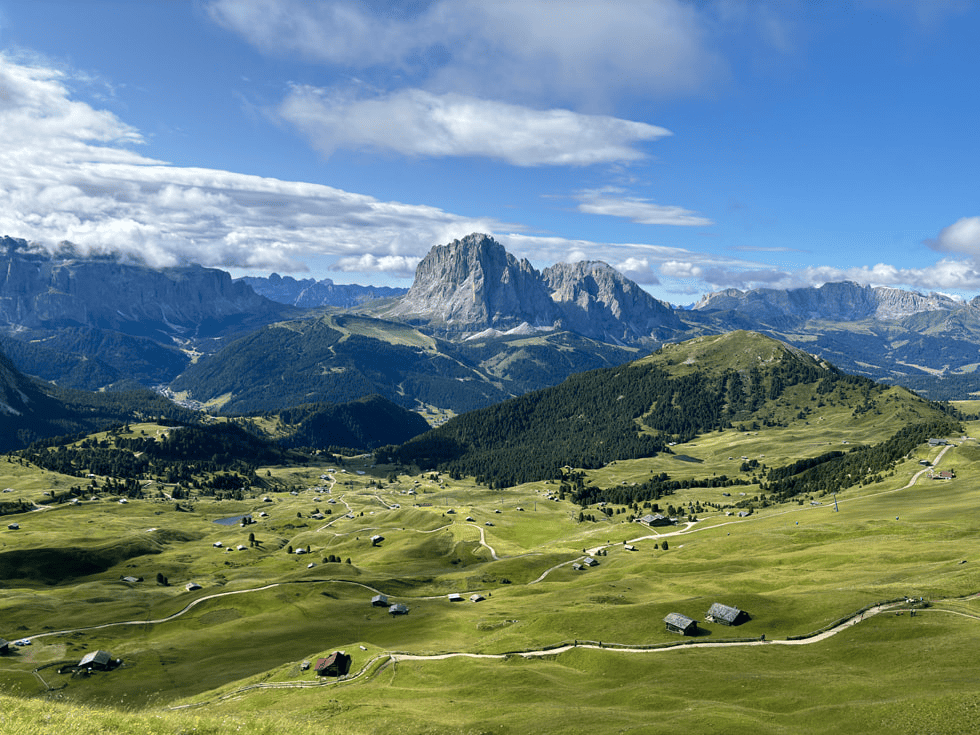 Their dedication doesn't stop at the product level. The company is proudly transitioning to packaging that's 99% fiber-based, with an ultimate goal to phase out plastic entirely by 2025.
Moving away from traditional materials, Apple has also made a conscientious decision to cease the use of leather in its products. In its place, Apple introduces the FineWoven Cases and Wallets, crafted from a luxurious micro twill. Notably, this material boasts 68% post-consumer recycled content, underscoring Apple's unwavering commitment to the planet.
Design & Display
Apple has just unveiled the design of the iPhone 15 models, which bear a notable similarity to the iPhone 14 range. A prominent transformation is the introduction of the pill-and-hole design, effectively phasing out the familiar notch in lieu of the Dynamic Island, a feature once unique to the iPhone 14 Pro.
Notably, while the Dynamic Island is a highlight of the standard iPhone 15 models, they will not support ProMotion or the Always-On Display feature. Apple has reserved these functionalities for the Pro lineup.
The iPhone 15 and iPhone 15 Plus boast a cutting-edge Super Retina XDR OLED display, setting new standards in visual clarity and brilliance. What truly sets these models apart is their impressive peak brightness. The iPhone 15 boasts an HDR peak brightness of 1600 nits, with an outdoor peak of 2000 nits, doubling the brightness of the iPhone 14.
Water and dust-resistant design and industry-leading durability features enhance longevity and value.
Color Options and Enclosure
Regarding color choices, Apple has introduced a lively spectrum for the iPhone 15 series, including five amazing colors. Enthusiasts can enjoy colors like light pink, blue, green, and yellow, along with the traditional black.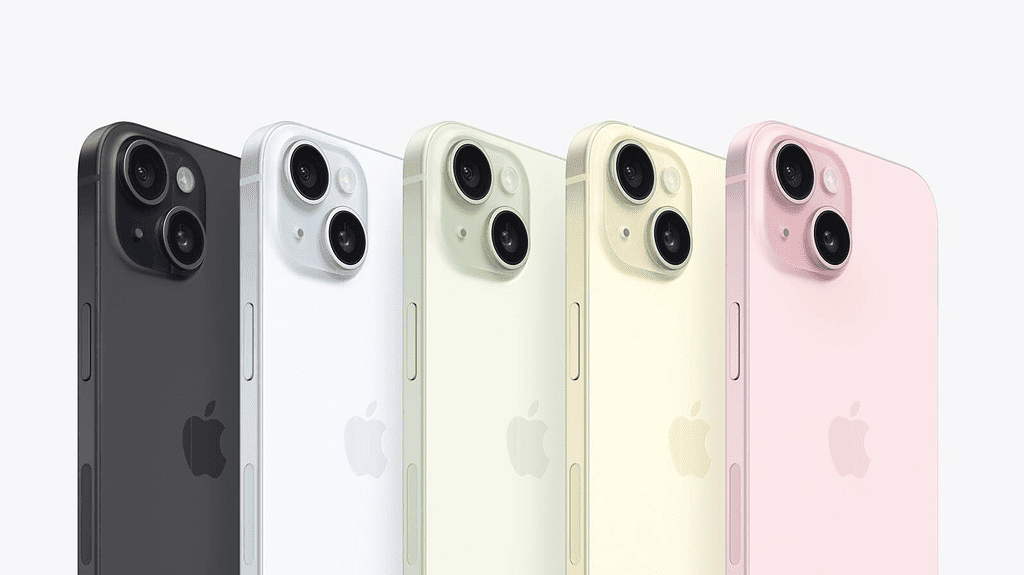 Constructed from aerospace-quality aluminum, the color is deeply integrated into the very core of the back glass. This new material underwent a specialized dual-ion exchange process and was refined using nano-crystalline particles, culminating in an etched matte finish.
The front is safeguarded by a Ceramic Shield. Environmentally conscious, the enclosure uses 75% recycled aluminum, while the battery incorporates 100% recycled cobalt. Both the main logic board and the MagSafe charger are crafted with 100% recycled copper foil.
USB-C Transition
Moving further, Apple showcased a pivotal design overhaul for the iPhone 15 range by transitioning from the Lightning port to the USB-C one. This adaptation falls in line with the latest European mandates requiring smartphones to adopt USB-C ports.
As a result of this transition, devices like the Mac, iPhone, and iPad will harmoniously adopt the USB-C standard for charging, creating a unified charging system for Apple enthusiasts.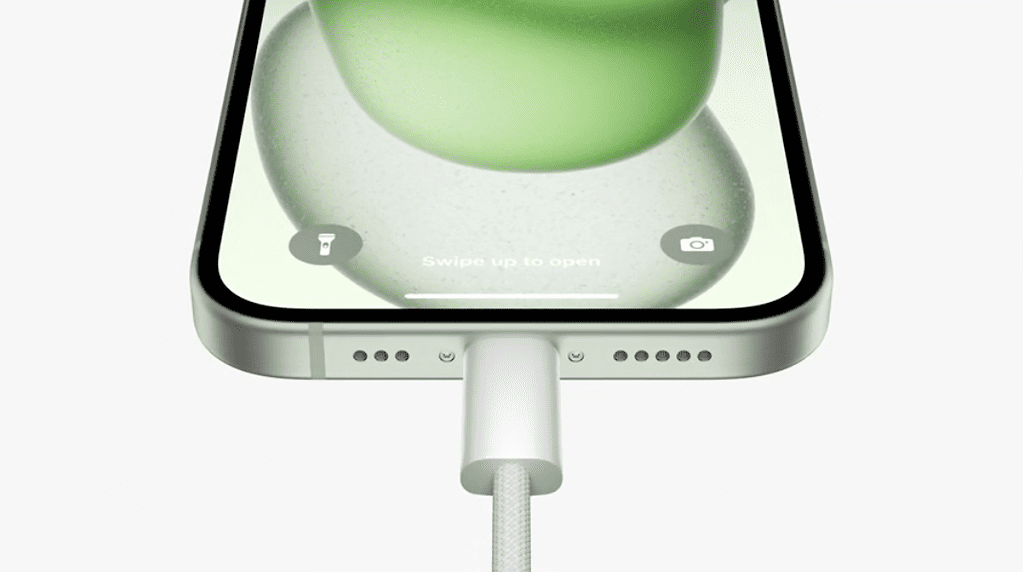 The standard models of iPhone 15 continue with USB 2.0 speeds, comparable to Lightning's speed, while the Pro versions are poised to leverage greater benefits.
In terms of accessory compatibility, iPhone 15 and iPhone 15 Plus solely support USB-C accessories that bear Apple's Made for iPhone (MFi) stamp. This MFi seal for USB-C is designed to limit advanced features like quick charging and accelerated data transfers strictly to products certified by Apple.
This unified cable is versatile enough to power the Mac, iPad, iPhone, and the newly updated AirPods Pro 2nd Generation with its USB-C connector.
Furthermore, both devices are accompanied by a color-matched braided USB-C to USB-C cable, a departure from the customary white design. These cables are designed to seamlessly match the distinct color palette of each iPhone 15 model.
To cap it off, Apple has highlighted that the included USB-C cables for iPhone 15 offer a generous 1.5 meters in length, a 50% increase from the usual one-meter length. Coupled with the braided texture, this design decision augments the cable's resilience.
Battery Enhancements
The iPhone 15 offers a battery that lasts all day, while the iPhone 15 Plus comes equipped with an even larger battery for extended usage.
Apple has introduced a cutting-edge OLED display driver chip for the iPhone 15 series, built using a 28nm process. This technological leap is designed to reduce power consumption, extending battery lifespan for all variants.
Apple didn't stop there, unveiling an innovative "stacked" battery configuration for their latest phones. This design cleverly increases battery storage without necessitating extra room within the handset.
On the charging front, all iPhone 15 versions are equipped to work with both MagSafe and the newly introduced Qi2 standard. Additionally, there's a new line of FineWoven accessories designed to produce fewer carbon emissions. Such compatibility ensures 15W charging capabilities, even when using non-MagSafe third-party chargers.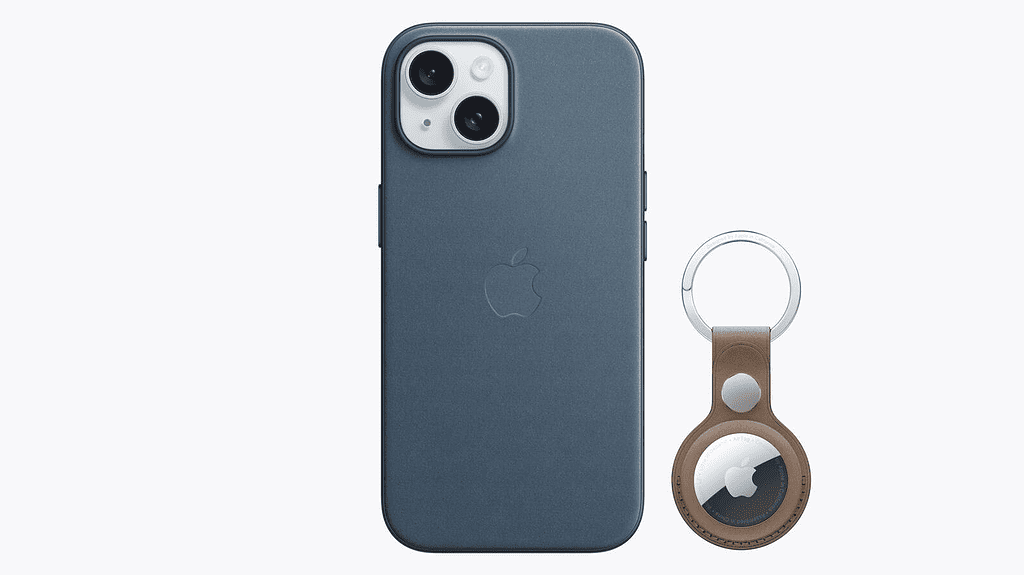 Furthermore, every iPhone 15 variant boasts upgraded charging rates, allowing for speeds reaching up to 35W, promising swift charging sessions when paired with appropriate power sources.
Camera Upgrades
The iPhone 15 and iPhone 15 Plus are both equipped with a 48-megapixel camera, a feature first debuted in the iPhone 14 Pro and iPhone 14 Pro Max. This quad-pixel sensor boasts 100% focus pixels, enhancing clarity and precision. Additionally, the iPhone 15 is designed with a hybrid lens, combining both glass and plastic elements, providing an f/1.6 aperture.
New Smart HDR offers better renderings of skin tones and other elements, available for the 48MP Main camera, Ultra Wide camera, and TrueDepth front camera.
Furthermore, the 48MP camera provides 2x zoom capabilities, delivering zoomed-in shots that maintain optical excellence. Three optical-quality zoom levels are available (0.5x, 1x, 2x).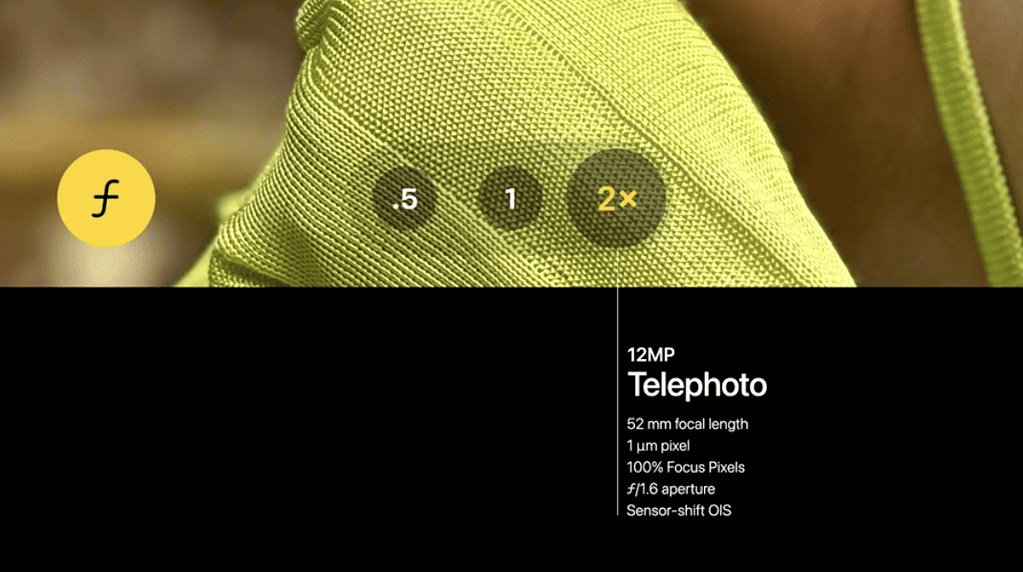 Portrait Mode
Next-generation portraits with better detail, color, and low-light performance. Users can take portraits without switching to Portrait mode and adjust the focus post-capture.
The iPhone 15 introduces a revolutionary approach to portrait photography, eliminating shutter lag entirely. Through advanced machine learning capabilities, the device now intelligently auto-detects the optimal moments to engage portrait mode.
In an unprecedented move, the iPhone 15 allows users to retrospectively adjust the focus on subjects even after the photo has been taken, amplifying post-capture editing possibilities.
Night Mode
Furthermore, there are major advancements in the device's low-light photography, promising clearer and brighter shots in dim settings. Smart HDR also allows you to catch the sky and subject simultaneously.
Audio Enhancements
The call audio quality has seen enhancements, utilizing a sophisticated machine-learning model that emphasizes your voice. Opt for Voice Isolation for crisp and clear communication. As they say, "It's a daily-use feature.
Additionally, the models offer eSIM support with global carriers.
Roadside Assistance via Satelite
There are moments when a call fails because you're in a remote location. However, Emergency SOS and Find My via Satellite are expanding to additional countries.
While Emergency SOS is tailored for urgent scenarios, the upcoming Roadside Assistance via Satellite feature enables connections to roadside help providers.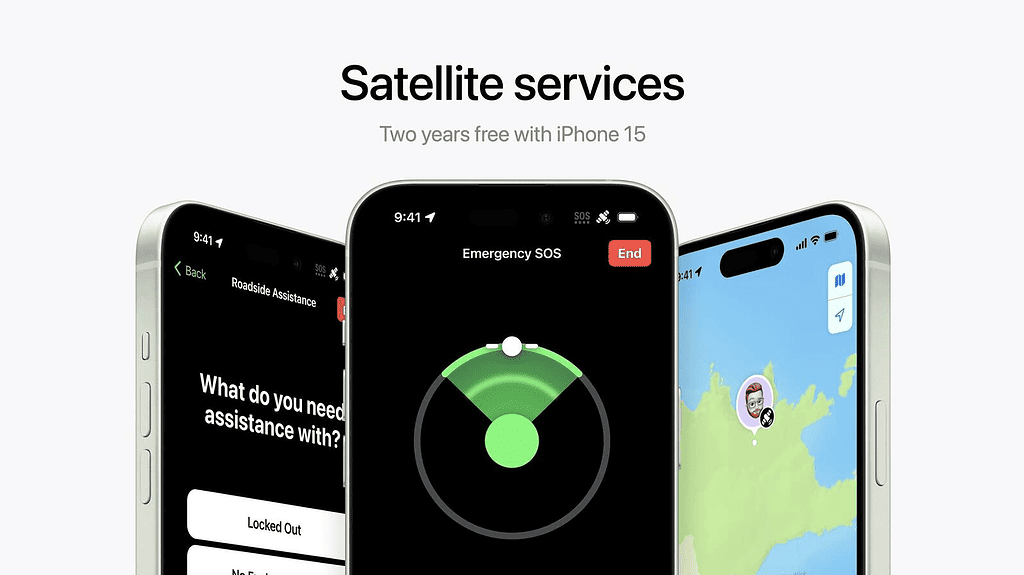 This feature will debut in the US in partnership with AAA, and the roadside services will be covered by AAA members. For iPhone 15 users, these satellite services come complimentary for the first two years.
A-Series Chips & RAM
At the heart of the iPhone 15 and iPhone 15 Plus lies the advanced 4-nanometer A16 Bionic chip. Both these devices are fitted with 6GB RAM, preserving the RAM configuration from the iPhone 14 and 14 Plus.
| | |
| --- | --- |
| | A16 |
| CPU Cores | 6 (2 high-performance cores and 4 high-efficiency cores) |
| GPU Cores | 5 + 16-core Neural Engine |
| Clock Speed | 3.46GHz |
| RAM | 6GB LPDDR5 |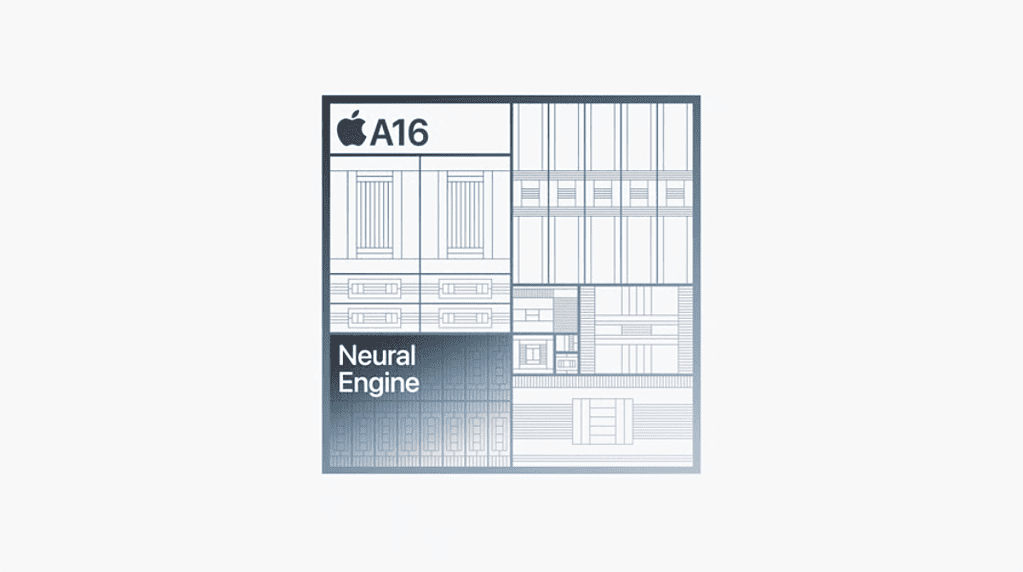 Ultra Wideband
Mirroring advancements in the Apple Watch 9, the iPhone 15 lineup features the latest U2 UWB (Ultra Wideband) chip, designed for fluid integration with the Vision Pro headset and precision in AirTag tracking.
This enhancement permits connections with other devices harboring the same chip from a distance thrice as long. Additionally, the precision finding feature has been refined, enabling users to locate friends with guided directions and specified distances.
Pricing and Availability
Good news for those mindful of their wallets! The iPhone 15 is priced from $799 for the 128GB variant, while the iPhone 15 Plus begins at $899 for the same storage capacity. Additionally, US service providers are extending offers of up to $800 off when you trade-in.
And for those who decide to invest in the iPhone 15 models, Apple sweetens the deal by offering three complimentary months of both Apple Arcade and Apple Fitness+ with a new subscription.
Pre-orders begin on Friday, September 15, while the official release is set for Friday, September 22.
Extra Highlights
Apple is unveiling a range of accessories to complement its devices, including the elegantly designed FineWoven Wallet and Case, each priced at $59.
In addition, they offer an assortment of other cases, catering to diverse tastes and budgets.
Come September 18, Apple enthusiasts can eagerly anticipate the release of iOS 17, available as a complimentary update.
Enhancing its cloud services, iCloud+ is introducing expansive storage plans, featuring options of 6TB and 12TB.
Wrapping Up
Apple showcased its expertise in innovation and design with the official unveiling of the iPhone 15 series. From adopting the sleek Dynamic Island to transitioning to the USB-C standard, the iPhone 15 series epitomizes the perfect blend of form and function. Stay tuned for more updates! For further reading, explore the key features of the iPhone 15 Pro and Pro Max.