A new photo of what appears to be the next iPhone hit the internet on Monday showing what we've already heard from rumors, like a new camera and redesigned antenna lines. In fact, the biggest surprise in this shot is how clear the photo is.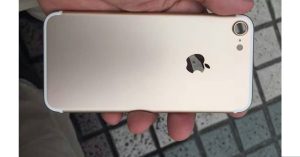 The photo comes courtesy of Nowhereelse.fr and shows what looks like the next version of the 4.7-inch iPhone model, presumably the iPhone 7. The pic shows a substantially larger camera lens, which is a sign of improved optics but not necessarily a higher megapixel count. Some reports claim the 5.5-inch iPhone model will sport dual rear-facing cameras.
The antenna lines on the next iPhone will reportedly run along the top and bottom edges of the device, just like the Nowhereelse.fr. The antennas on current iPhone models run across the back of the device.
Also expected, but not visible in the photo, is audio out over the Lightning port. Rumors claim Apple is removing the 3.5mm headphone jack and will support Bluetooth audio as well as adapters via the Lightning port.
The new iPhone models will also likely sport new processors, and will come in 32GB, 128GB, and 256GB configurations. Some reports claim Apple will ditch the physical home button in favor of a touch sensitive ring that may include Force Touch feedback to simulate an actual button.
Apple isn't talking about the new models yet, although based on the company's history they'll most likely ship this fall along side the release of iOS 10. In past years, Apple released its iOS upgrades a few days ahead of new iPhones hitting store shelves, and there's a good chance that means September. Until then, expect to see more photos of the new models leak.