The legendary macOS text editor from Bare Bones Software, BBEdit, is now a 64-bit application.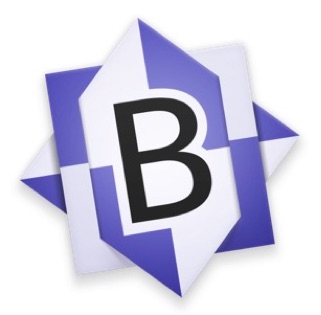 On February 6th, Bare Bones released BBEdit 12.1. It's available immediately for download. Bare Bones notes that "You must have a BBEdit 12 serial number to use this version. Customers with any version of BBEdit prior to 12.0 will need to purchase an upgrade."
BBEdit 12.1 requires macOS 10.11.6 or later and is compatible with macOS 10.13 High Sierra. The latest version of High Sierra, 10.13.3, is recommended.
A free trial is available. Regarding the free trial, Bare Bones notes:
… BBEdit has a 30-day evaluation period. During that period, all of BBEdit's features are available. When it ends, you can still use BBEdit — with no nag screens or unsolicited interruptions, for free, forever — and with a feature set which incorporates all of TextWrangler's features and then some.
Because TextWrangler has been discontinued, the unpaid version of BBEdit with a reduced feature set essentially becomes the replacement.
Downloading
It's been reported that upgrading from 12.0 to 12.1 from within the 12.0 app is not working as of this writing. But it's always easy to download the .dmg file from the Bare Bones website.
64-bit Apps
Apple has been encouraging developers to move their macOS apps to 64-bit. See, for example, "PSA: All Apps Submitted to Mac App Store Must be 64-bit Starting January 31." That article explained…
Developers need to make sure the apps and updates they submit to Apple's Mac App Store are 64-bit starting on January 31st, 2018. Apps that are currently 32-bit must be updated with 64-bit support by June 2018.
Release Notes
The operation of BBEdit 12.1 should be fundamentally the same as the 32-bit version before it, version 12.0. However, the Release Notes cite significant improvements. Here's a quick summary. (Be sure to check the full Release Notes.)
Beginning with this version, you can open documents that are much larger than was previously possible. In the Before Time, documents whose in-memory size (about twice the on-disk size) exceeded roughly 1.5GB would fail to open and report an out-of-memory error, as would documents whose internal structure required generation of large quantities of syntax coloring and/or code folding information (such as complicated XML documents).

Beginning with this version, you can perform many large-scale operations on very large files without running out of memory or needing to clear Undo state.

BBEdit is now built as a 64-bit application. This works around various reported bugs in the OS and has other beneficial side effects: the application starts more quickly on a "cold" launch; 64-bit color pickers and contextual-menu plug-ins are now available; and our customers are even more handsome and athletic than before.

Support for the Touch Bar has been added to various windows (applicable only to computers that have a Touch Bar, of course):
Apple plans to drop support for 32-bit macOS apps in 2019, so it's not too early to start thinking about converting all your macOS apps to 64-bit. To assist with the cataloging of which of your apps remain 32-bit, see this tip that explains the process.
BBEdit has been a stellar text editor for the Mac for decades. The move to 64-bit ensures that it will remain so for the foreseeable future.  For more background, check out this interview with Rich Siegel, the founder and president of Bare Bones Software.