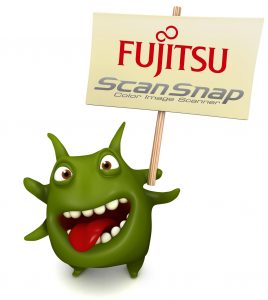 Fujitsu updated ScanSnap users Friday on Sierra compatibility, warning of data loss in "specific circumstances." This is an escalation from an earlier advisory that ScanSnap users should not update to macOS 10.12 Sierra.
In a blog post, Fujitsu said:
We have discovered critical problems with ScanSnap applications running on macOS Sierra which may lead to irreversible data loss in the scanned PDF file in very specific circumstances. We are working with Apple and our engineers to rectify this problem as quickly as possible.
Fujitsu also said its investigation into this issue found the following:
PDF scans made in the Black & White (B&W) format that are subsequently modified in macOS Sierra may be unexpectedly converted into the Color format, increasing their file size.
Black & White scanning in the A3 paper-size format (double-letter) using the "Excellent" image quality mode (1200 dpi resolution for B&W) and merged together using the Carrier sheet or other merging or book correction features in ScanSnap may be saved as blank pages.
When images are exported to an application through Quick Menu on macOS Sierra, the images may be displayed as blank pages on the preview screen of the application.
Some pages may be deleted when Merge Pages feature in ScanSnap Organizer is carried out.
When duplex scanning is performed on business cards, data on the back side of the scanned cards are not imported to CardMinder.
In its original advisory, Fujitsu said the issue involves the PDF rendering engine in macOS Sierra, and that solving the problem was its "highest priority." Friday's post was part of those efforts.
There's a Q&A for ScanSnap users posted in Friday's post, too.