New Geekbench results published this weekend suggest that a significant performance bump for the MacBook Pro may be imminent. The results appear to show a MacBook Pro model "14,3" sporting an Intel Core i7-8750H processor, the latest generation of Intel's mobile "Coffee Lake" platform.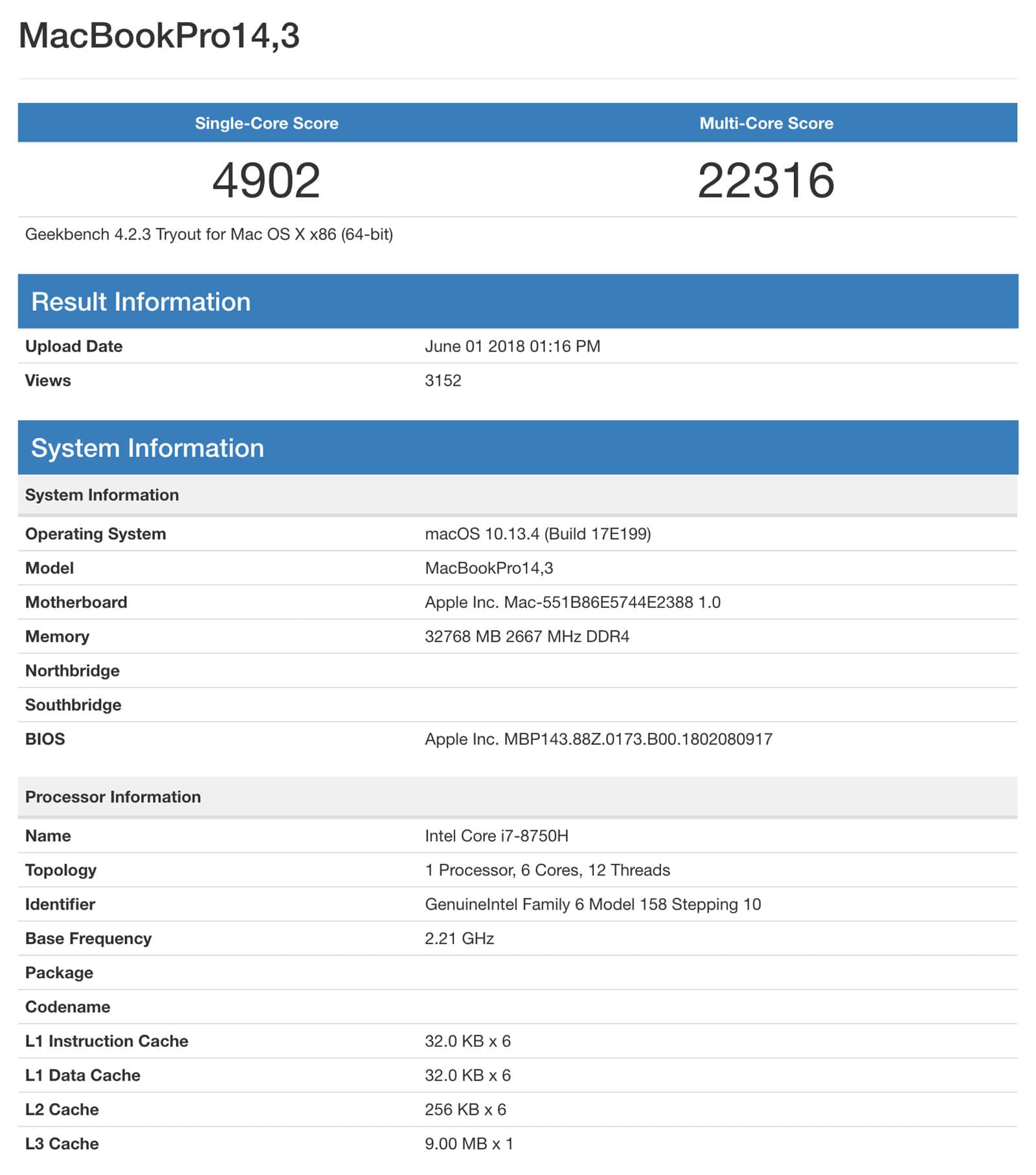 The processor features 6 cores and 12 threads with base and boost clocks of 2.2GHz and 4.1GHz, respectively. This compares to the current MacBook Pro's top-end processor option, the "Kaby Lake" i7-7920HQ, with 4 cores and 8 threads clocked at 3.1GHz base and 4.1GHz boost. Also of note, the alleged 6-core MacBook Pro features 32GB of DDR4 memory, compared to a maximum of 16GB of DDR4 in the current MacBook Pro lineup.
These upgrades result in a single core Geekbench score of 4902 and a multi core score of 22316. The Geekbench score table shows that the average single and multi core scores for the current top-end MacBook Pro are 4627 and 15575, respectively. This means that the potential new MacBook Pro could offer performance improvements of up to 6 percent in single core workloads and 43 percent in multi core workloads.
Absent similar upgrades to the iMac, the inclusion of the i7-8750H processor would also give the MacBook Pro superior multi core performance to all Macs except for the iMac Pro and 8-core+ variants of the 2013 Mac Pro.
Additional MacBook Upgrades?
It is unknown if any potential WWDC upgrades to the MacBook Pro will include design changes in addition to the internal hardware. The current MacBook Pro, first released in October 2016 with a minor spec bump in June 2017, has received harsh criticism for what many allege to be a faulty keyboard design that results in frequent failure during normal operating conditions.
Other MacBook models that could see updates this week include the 12-inch MacBook, which was most recently update during last year's WWDC, and the MacBook Air which, although it received a minor spec bump alongside its counterparts last year, has not seen a significant upgrade since 2015.
Article featured image via Shutterstock.