The October released Logitech CRAFT keyboard for PCs and Macs has more than the usual features for a keyboard, and most are good.

Introduction
As a writer, I have an abiding interest in keyboards. I've mostly used Apple keyboards with my headless Macs because I like their layout, Mac focus, design and key feel. For awhile, a few years ago, I experimented with a Matias Tactile Pro, but I found it too noisy and the key throw was too long. That slowed down my typing. So I've been with the Apple Aluminum keyboards ever since. They have about a 2 mm throw.
When Logitech told me about this new CRAFT keyboard, I was intrigued. I asked if the key throw was short, and they affirmed it is. (1.8 mm). So I asked if I could review one. So why is this keyboard worth looking at?
Features
The glitziest feature is the Keyboard Crown, a built in dial on the upper left that works in simple ways be default and can also be programmed to work with various Adobe and Microsoft apps. More on that later.
What I was after, however, was a short-throw keyboard with black keys and backlighting. The backlighting is "smart" in that it sets its level according to the ambient light, but can be overridden with function keys.
I've been using this keyboard for several weeks and have typed, perhaps, 10,000 words, and I like it a lot, based on the backlit, short-throw keys. The feel is just about the same as my beloved Apple Aluminum keyboard (wired), and the action is pleasant. Each key has a hemispherical indentation to give it a nice feel, and the scissor mechanism action is soft but crisp. No problem there, and that's 90 percent of any keyboard review.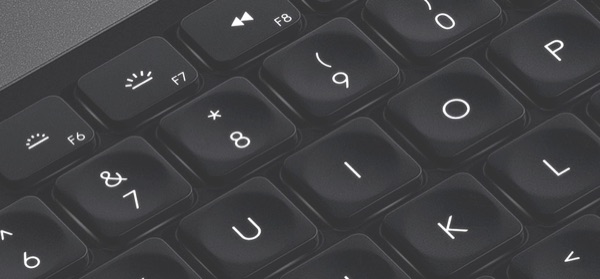 The lithium polymer battery has good capacity. Logitech says,"the battery will fully charge in three hours. The battery will last one week when used for two hours a day with backlighting enabled and up to three months if backlighting is disabled." It connects and charges with cable that's USB-A on one end (for your computer or hub) but USB-C on the keyboard itself. I think that's preferable to the traditional microUSB.
Another feature I liked is the option to use either Bluetooth LE or the Logitech Unifying receiver. I use that with my Logitech MX anywhere mouse, previously reviewed. However, my Thunderbolt 2 dock (OWC) was out of ports, so I used Bluetooth with my Mac Pro, and it worked very well.
Requirements for the Unifying receiver: Windows 7 and above, macOS 10.11 and above. For Bluetooth low energy: Windows 8 and above, macOS 10.12 and above.
These are some of the general features that are nice. However, I have some complaints.
Things I Didn't Like
I realize that it's an engineering decision, but I would have liked to have a USB-A port on the keyboard itself to charge my Logitech mouse. That detracts from the keyboard battery life, but has the advantage of saving a USB-A port on your Mac or hub. It's a nit.
Logitech explained: "We designed Craft to be the best wireless keyboard. To offer a great experience with a USB-A port on the keyboard to recharge other devices, Craft would have needed to be corded."
Another nit is the lack of an angle adjustment for the keyboard itself. But the angle out of the box was perfect for me—and I think most anyone else.
Logitech explained: "We optimized every aspect of Craft to ensure we offer the best typing experience. The key shape, their finish, the key travel, etc… and the tilt angle, which is, from our experience and user testing, the optimal angle on Craft."
More annoying was the fact that the traditional F13, F14, and F15 function keys are allocated instead to Bluetooth operation. I previously explained how I use these keys in "OS X: How to Change Desktop Spaces With Just One Key, Not Two." Logitech explained "…the F13, F14 and F15 keys are dedicated to Easy-Switch and cannot be customized. However all the other keys on the F-Row can be customized." I worked around this by assigning the F1 and F2 brightness keys—which don't work with my HP display anyway.
A major annoyance is the dual design for both PC and Mac. This clutters the keyboard and ruins the Apple customer's sense of aesthetics. It makes the keyboard look busy and feel confusing. It's not something that's easy to get used to.
Worse, the OPT and CMD keys are so close and so labeled that it's hard to tell where the two keys start and end. It requires a lot of practice to overcome. In other words, trying to be both a Mac and PC keyboard clutters one into visual and tactile confusion.
Keyboard Crown
I don't use any Adobe products and only rarely Microsoft Office, so I didn't have a chance to work with this feature. Here are the currently supported products (from the Logitech support page.)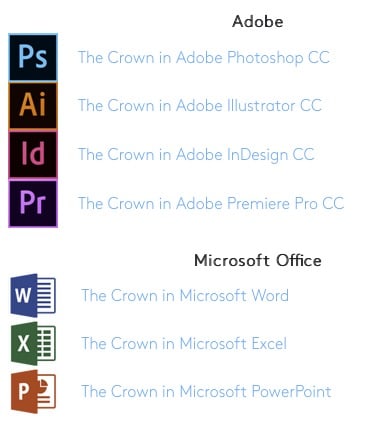 For example, here's how the Crown works with Adobe Illustrator.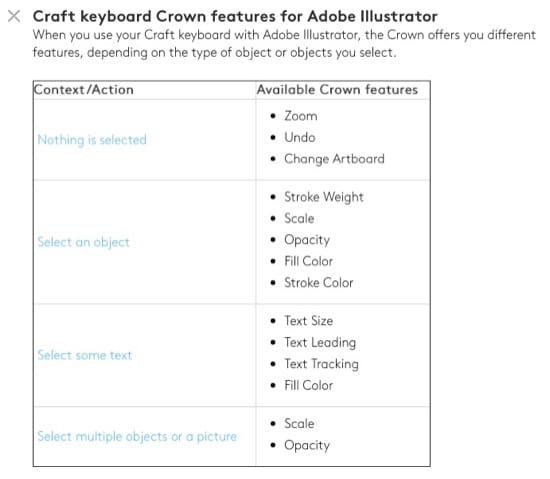 Support
There is a one year limited warranty. You can read about it here.
The keyboard is managed by the Logitech Options Preference Pane. I've had good luck with that managing my Logitech mouse. Logitech Options version 6.7.1030 has High Sierra support.
Logitech's support page for this product is very good.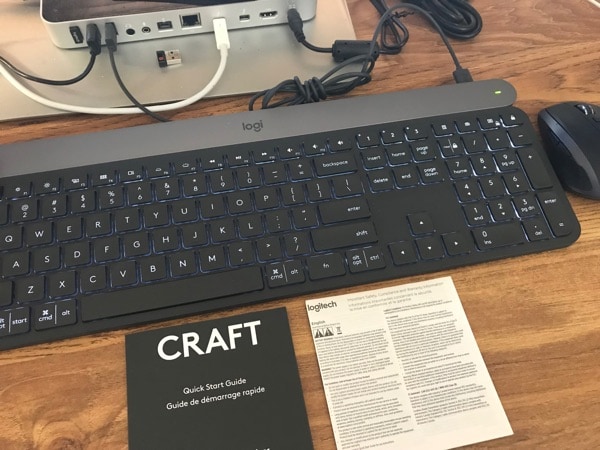 Summary
This is an expensive keyboard (US$199.99) that's aimed at technical professionals. However, I"m not convinced that the keyboard Crown and the backlit keys justify the added price over a conventional (or Apple) keyboard. One has to really need these features. Hopefully, as a tech professional, one can absorb the price and fully exploit the Crown.
Personally, I love the backlit keys with their feel, smooth action and short throw, and I may yet deploy this keyboard for everyday writing.
However, for the average Mac user, it seems like vast overkill, and an Apple Magic Keyboard with Numeric Keypad ($129), is probably all that's ever needed. But that keyboard's battery is rated for only one month, not three.
Bottom line: great feel, great keyboard (almost) for the writer, backlit keys, lots of modern features, but marred by its dual PC/Mac nature and high price.