The Everlast notebook by Rocketbook is a reusable notebook. It marries digital technology with the physical world by letting you upload handwritten notes to the cloud. If you fill the notebook up, just wash the ink away.
[6 iPad Note Apps for Typing and Handwriting]
First Look
I don't handwrite my notes often—okay, never. I'm left-handed, and fellow left-handers know the agony of smudged ink and stained hands. That's why I'm starting this review with a caveat: If you're a left-hander, you might not like this notebook. The ink takes 15 seconds to absorb into the page.
The pages are made of plastic, hence the reusable nature of the notebook. You can also only use pens or markers from Pilot FriXion with the notebook. I'm not sure why, but I think it's a popular brand.
So the pen by itself can turn any notebook into a reusable one. Or use a pencil. The difference is the ease of washing the ink away, instead of painstakingly erasing each page. I bring this up because Rocketbook portrays the notebook as being more environmentally friendly than old-fashioned paper notebooks. However, trees are a renewable resource and plastic is not.
Reusable Notebook
As to the notebook itself, it's in the bullet journal style, with a grid of dots instead of traditional lines. I prefer lines, but the grid makes it great for diagrams, especially symmetrical ones. There are only 36 pages so it's good that you can reuse it.
The reusable notebook that Rocketbook sent me is the Executive size, coming in at 6″ x 8.8″ (15.24cm x 22.4cm). When you open it, you'll see a table of contents containing seven symbols. Each symbol can be a category of note. For example, the bell could be school notes, while the star could be your journal.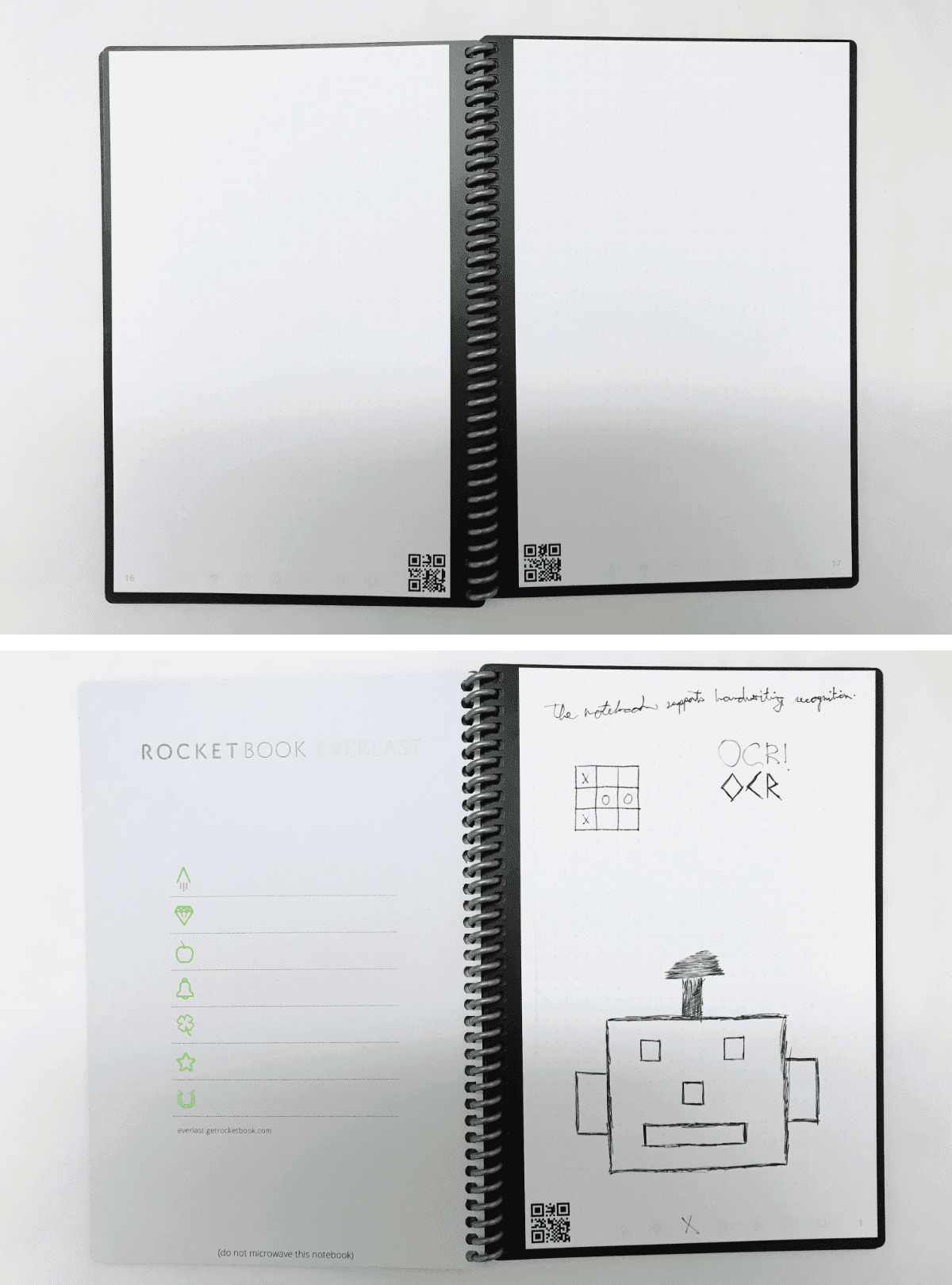 You'll also see those symbols at the bottom of each page, along with a QR code. After writing, mark the symbol you want for that page. When you scan the page with the Rocketbook app, it will be automatically categorized.
Washing the ink off is quick. A microfiber cloth comes in the box. Just wet the cloth and wash the ink off the page. Or do what I did and hold it under running water. The force of the water itself takes off much of the ink.
Page 2: Cloud Services, App, Conclusion