Apple's AirTag tracking device has been around for quite some time now. While some users find it useful, there have been several reports about the AirTag being used for tracking people without consent. But as of today, the positive still outweighs the negative if you're going to balance the AirTag's value. It truly can help you find and locate things you attach it to. However, there may be times when an AirTag malfunctions. It may suddenly stop showing up in the Find My app on your iPhone, for example. However, don't worry, because there are various fixes that you can do. Allow me to walk you through troubleshooting tips to help an AirTag that does not show up in Find My, well, show up again. We'll learn together the answers to two questions being asked by many AirTag users: "Why isn't my AirTag showing in Find My?" and "Why isn't my AirTag showing up on Find My iPhone?"
The Problem of the AirTag Not Showing Up in Find My Began After iOS 15
Several users started noticing that their AirTags were not showing up in the Find My app on iPhone after updating to iOS 15. For those unaware, the whereabouts of an AirTag can only be viewed on the Find My app on iPhone. There may be some bugs with the iOS update that prevented the AirTag from showing up in Find My. However, Apple has not acknowledged this issue as far as I can remember. So, if you encounter it, read along so that you will know to fix the issue.
Restart Your Device to Make AirTag Show Up in Find My
Since the AirTag is connected to your iPhone, the only way that you can reset it is by restarting your iPhone. Hopefully, by doing so, it will show up again in Find My. So, there's no harm in doing so.
Use Another iPhone to Check if Other Items Are Still Visible in Find My
You can use your other Apple devices, such as your Mac or iPad, to check if other items associated with Find My are still visible. If they are visible but your AirTag is not, then the problem lies with the AirTag and not the device using Find My to locate it. If that's the case, you may resolve the issue by resetting some settings.
Update Your iPhone to the Latest iOS Version
Unlike other Apple devices, you can't force update your AirTag's firmware. Therefore, updating your iPhone to the latest iOS version could make it show up again in Find My. That's because Apple may have rolled out updates with the Find My app that address the issue at hand.
Reset Location & Privacy on Your iPhone
Occasionally, an iPhone will be unable to connect to an AirTag because of problems with Location Services on the handset. The only way to cure this particular issue is by resetting the Location & Privacy settings on your iPhone.
Time needed: 1 minute
To reset your iPhone's Location & Privacy settings, follow these steps.
Tap Settings > General > Transfer or Reset iPhone > Reset.

Tap Reset Location & Privacy.

Enter your passcode, then tap Reset Settings.
Change Your AirTag's Battery
Another reason why your AirTag may not appear up in Find My is a low or depleted battery. Unfortunately, since you currently can't find it on Find My, you have no way of checking the battery status. So, the next time your AirTag shows up again in Find My, be sure to check if the battery needs to be replaced. You can check the battery status by following the steps below.
Open Find My.
Click the Items tab, then tap the AirTag.
If your AirTag's battery is running low, there will be an alert next to the indicator. This alert will say, "Low Battery."
If your AirTag's battery needs to be replaced, you can follow our directions to replace it and ensure the new one works.
Manually Reset Your AirTag
In case you're not aware, you can manually reset your AirTag by simply removing its battery. If you have successfully replaced the battery, you can easily reset your AirTag manually as well. Try removing the battery and placing it back again at least four times to completely reset your AirTag. After resetting, you need to set it up again on your iPhone.
Place your AirTag near your iPhone.
Tap Connect when it appears on your iPhone's screen.
Tap Finish once the setup process is done.
Hopefully, after manually resetting your device, it will show up again in Find My. If not, the next tip might solve the problem.
Update Your AirTag's Firmware
Unfortunately, up to now, Apple has not yet come up with a way for AirTag owners to force update the accessory's firmware. It's still done over the air through iOS updates on a connected iPhone. So the trick here is that when Apple announces firmware updates for AirTag, make sure to bring it he tracker near your iPhone and wait for the update to be rolled out to the device. You can check the firmware version of your AirTag by following the steps below.
Open the Find My app on your iPhone.
Tap the Items tab.
Select your AirTag.
Tap your AirTag's name.

You can see your AirTag's serial number and current firmware version. Check if it's the same as the version that Apple just rolled out.
Check Location Settings on Your iPhone
Most of the time, users may overlook the fact that Location Services on their devices are disabled. If that's the case, you won't see your AirTag showing up in Find My. So, make sure Location Services is turned on. On your iPhone simply go to Settings > Privacy & Security > Location Services > Find My > While Using the App.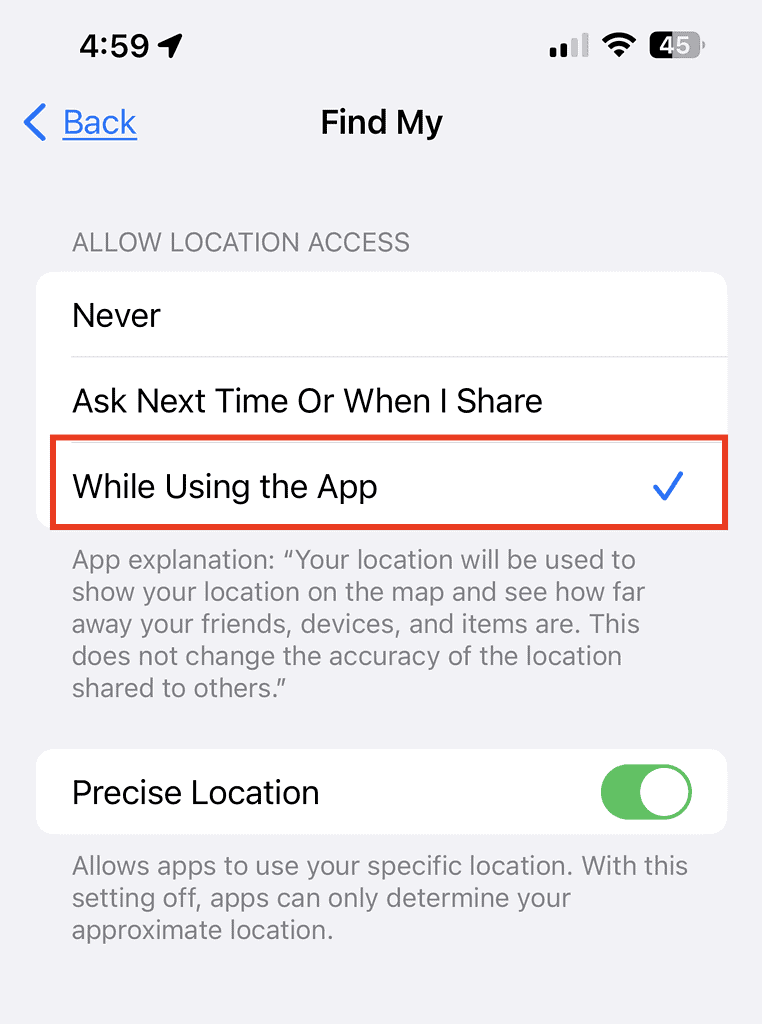 And for those who are asking the question, "How do I make my AirTag discoverable?" Well, this is your answer. You simply have to enable Location Services on your iPhone.
Final Words: Hopefully AirTag Will Not Disappear From Find My
As mentioned, the issue of the AirTag not showing up in Find My started after iOS 15. Hopefully, Apple has fixed this in iOS 16. So, if your iPhone is still running iOS 15, it's probably high time to update. Otherwise, hopefully one of the troubleshooting methods above resolves the issue.
One last note that could solve the problem is to make sure that you have two-factor authentication enabled for your Apple ID. This is required for AirTag to function properly. You can enable two-factor authentication by following the steps below.
On your iPhone or iPad:
Go to Settings, then tap your name.
Tap Password & Security, then check if Two-Factor Authentication is toggled on. If not, toggle it on.
Tap Continue, then follow the onscreen instructions.
On your Mac:
Click Apple Menu > System Settings (or System Preferences).
Click your Apple ID > Password & Security.
Turn on Two-Factor Authentication, then follow the onscreen instructions.