Having issues where you simply cannot connect to the App Store? Worry not, as there's likely a solution. For iPhone users, having access to the App Store is a crucial feature of the device. Being able to download a world of games and applications is not only great, but being able to update the apps you already have is a downright necessity. By good luck, reconnecting to the App Store can be quite simple. Let's have a look. 
I'm going to take a look at some of the things users can do to reconnect to the Apple App Store. More often than not, the solution can be quite simple. For the majority of issues, a quick setting-toggle or reconfiguration is going to do the trick. I'm also going to briefly explain why these issues can arise. Not having access to the App Store can be a major detriment, so if you're unable to connect, these steps should get you back where you need to be. 
Why is My Apple App Store Not Working?
One of the first things a user might want to do is make sure that the App Store is actually online. By visiting Apple's official System Status page, you can ensure that the App Store is currently operational. This website is also a great place to check to see if other Apple services are currently active. Keeping this one in your bookmarks can also be quite handy.
Checking Connections
You may also want to check your own internet connection, and ensure it is in proper working order. See if any of your other devices are having issues connecting. You can also try other websites to see if there are any connection issues. Concerning your iPhone, try disconnecting from the Wi-Fi and reconnecting. Conversely, you can also try resetting your router.
I would also recommend enabling and disabling Airplane Mode and see if that helps in any way. Users are able to disable this mode from Control Center, or you can easily access it from the Settings menu. You can also inspect your cellular connection through Settings > Cellular, and ensure that you have a good cellular connection. There's also the idea that you can scroll down through the Cellular settings to see that the App Store has specific permissions in the Cellular Data category.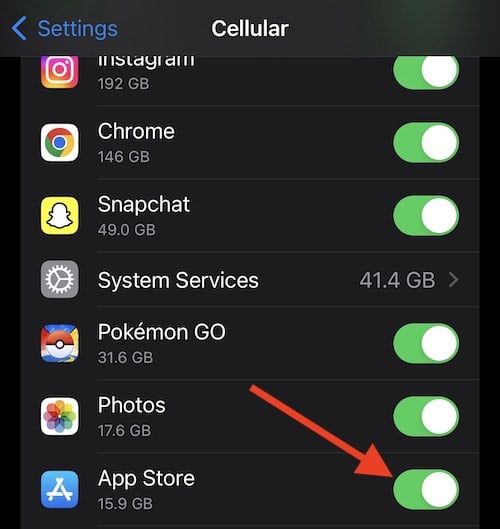 Why Does My iPhone Keep Saying Can't Connect to App Store?Stay Up to Date
When it comes to accessing the App Store, making sure that your device is up to date is crucial. While it is possible that you can go for periods of time without updating your operating system and still receive access, more often than not, this is one of the quickest ways to ensure that you are unable to connect. Of course, checking for an update on your iPhone is as easy as going to Settings > General > Software Update and looking to see if one is available.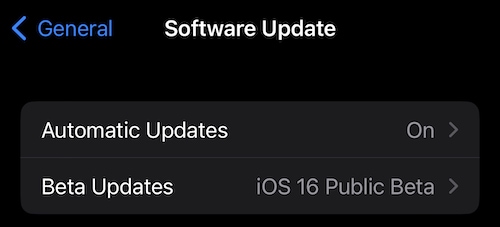 Sign Out of Apple ID
For some folks online, signing out of their Apple ID and then signing back in can solve certain issues associated with App Store connectivity. However, make sure that you know your Apple ID password before signing out. I'd suggest trying to sign into the official iCloud website to ensure this process goes smoothly. 
Time needed: 1 minute
To sign out of your Apple ID on iPhone, follow these steps:
Go to Settings.
Click [Your Name] at the top.
Scroll to the bottom and select Sign Out. 
You can then return to Settings to sign back in to your Apple ID. 
Check Time Date and Location Settings 
Users should also ensure that their date, time and location settings are accurate and enabled. Even by Apple's recommendations, users should ensure that they have the Date and Time set correctly on their iPhone to help certain services, such as the App Store, connect. Your device needs to be in-sync with the time zone for your location in order for the App Store to properly connect. Fortunately, all you need to do is go to Settings > General > Date & Time and ensure that Set Automatically is enabled.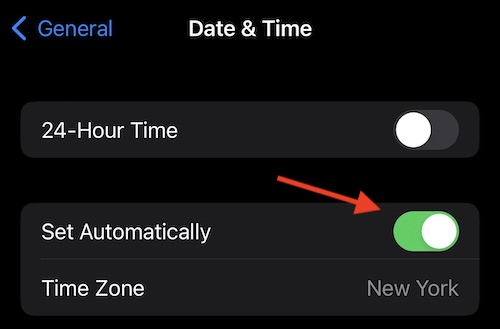 It may also be a good idea to turn on Location Services. This may help the App Store be more operational. Users simply need to go to Settings > Privacy & Security on their iPhone and ensure that Location Services is on. 
Stay Connected
Concerning the App Store, I would argue that the most important thing is ensuring that all of your apps are up to date. Not only does keeping things current potentially ensure that mishaps such as not being able to connect to the App Store can often be avoided. Making sure that your apps are up to date is also a great way to ensure an additional level of security on your device. Always do your best to ensure that your apps and your operating system are as current as they can be.
Getting back to a proper connection is important, but there may be other things users want to know about the App Store as well. Consider this: did you know you can accidentally delete the App Store from your iPhone? There's a solution, of course. It's also good to remember that you can always request a refund on purchases made in the App Store as well. A happy iPhone user is typically one that gets the most out of their device, which means having access to the things they need most. In this case, the App Store is essential.