Subscribing to Apple's iCloud service allows you to back up your data, including photos you've taken using your iPhone. It's worth noting that your iCloud is tied to your Apple ID, which you would rarely delete. Compared with your iPhone, which you continuously upgrade depending on your needs or desires. Therefore, storing your photos in iCloud seems more practical than leaving them on your iPhone's storage. That's one reason you may want to delete photos from your iPhone regularly. Unfortunately, doing so usually means deleting those images from your iCloud account, too. Let's learn how to delete photos from your iPhone but not iCloud.
Easiest Way to Delete Photos from iPhone But Not iCloud
There's one really easy way to delete iPhone photos without deleting them from your iCloud account. That's to simply turn off syncing Photos with iCloud.
Time needed: 1 minute.
To disable syncing your iPhone photos with iCloud, follow these steps.
Go to Settings.
Tap Your Name (Apple ID) > iCloud.

Tap on Photos and toggle off Sync this iPhone.



You should note that if the Optimized iPhone Storage is enabled, you'll be asked to choose if you want to Remove from iPhone or Download Photos & Videos. Either option will keep the original copies of the photos intact, even if you delete them from your iPhone.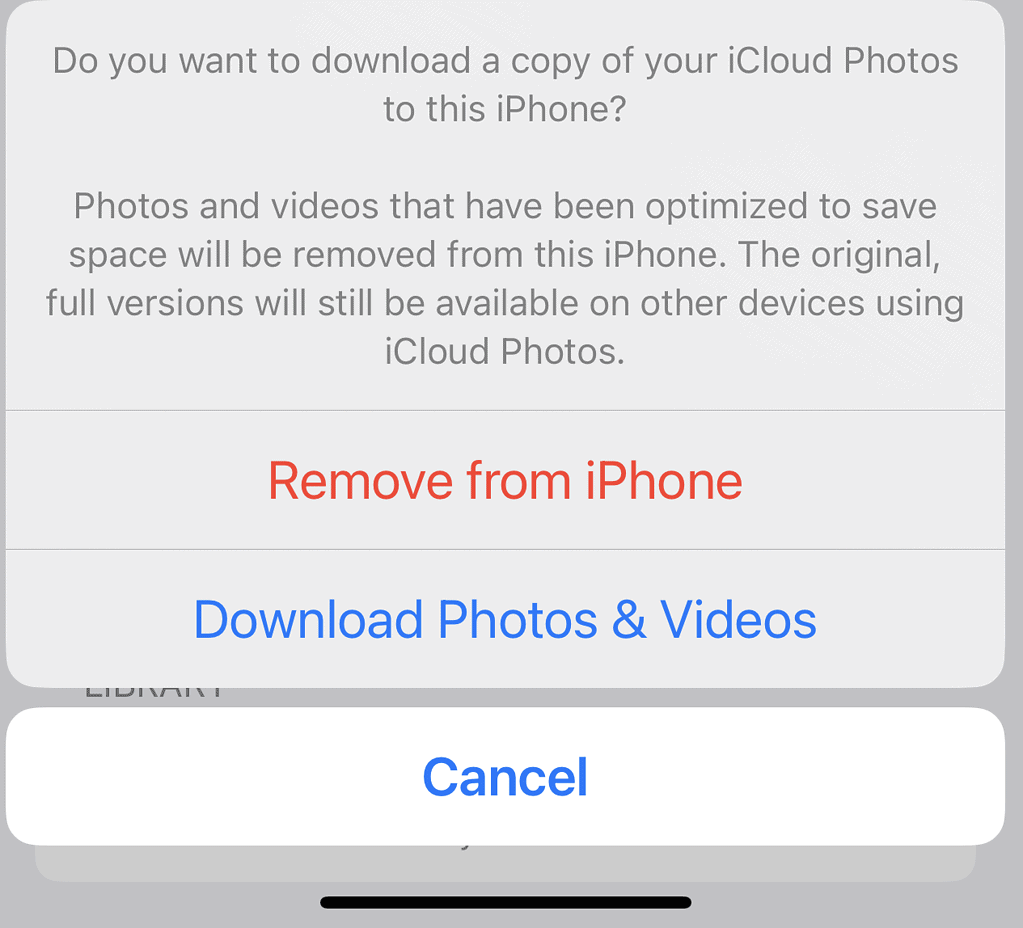 Now that iCloud Photo backup is disabled, you can start deleting photos on your iPhone.
Use a Different iCloud Account
This workaround is advisable if you want to keep a copy of all your previous photos in iCloud. On the other hand, you also want to continuously sync your iPhone photos to an iCloud account of some sort. The downside here is that when you delete photos from your iPhone you will delete them also from this particular iCloud account. In addition, if you have a large number of photos and continuously take more, you'll be paying for two iCloud accounts. Still, it's a good option if you don't mind the cost.
In this case, when you sign out of your current account, you will be asked which data, including photos, you would like to remain on your iPhone. If all your current photos are safely and securely stored on your original iCloud account, you can opt to delete them from your iPhone. That way, when you sign in to a new iCloud account, you can start syncing your iPhone storing the new photos.
Transfer iPhone Photos to a Computer
Another route you can take to allow you to delete photos from your iPhone is to transfer them to a computer. You can use third-party software such as FoneTool or AnyTrans to perform this task. Once you've transferred your photos, you can delete them from your iPhone. Once you've deleted the photos from your iPhone, you can upload the saved photos to your iCloud account by signing in to iCloud.com.
Use Alternative Cloud Storage to Back Up Your Photos
Finally, another way of preserving your photos when you delete them from your iPhone is to use an alternative cloud storage solution. This could be Dropbox, Google Photos, or Microsoft One Drive, among others. By using any of these cloud storage solutions, you can be sure that your photos are safely stored even when you delete the copies from your iPhone. This workaround will also save you more iCloud storage that you can use for other purposes.