Apple TV is a popular gadget that allows you to stream content from a variety of devices to your television. Nevertheless, you may encounter situations in which the volume controls on your Apple TV Siri remote no longer function. It can get pretty frustrating, just like with any other tech bugs. But, with the appropriate solutions, you can repair practically anything. Follow along as I will explain why this problem could occur and how to resolve it.
Why Is My Apple TV Remote Volume Button Not Working?
There are several possible reasons why your Apple TV remote volume button may not work, such as:
The remote's battery level is low.
The IR sensor on your Apple TV or remote is dirty or damaged.
The remote is too far from your Apple TV or obstacles are blocking the signal.
The connection between your remote and your Apple TV is faulty.
The software on your Apple TV or remote is outdated or corrupted.
The HDMI-CEC feature on your TV or sound system is disabled or not supported.
Below, we will address all the possible causes for you to successfully troubleshoot the remote.
How Do I Get My Remote to Control the Volume?
In order for your Apple TV remote to function properly, you need to set up the volume control on your Apple TV. Here's how to do it:
Select one of the following options.

Auto: This option will detect the best way to control the volume based on your configuration.
IR: This option will control the volume of your TV or sound system using infrared signals.
CEC: This option will control the level of your sound system via HDMI-CEC signals.
How Do I Get My Apple TV Remote to Work with the Volume?
Restart your Apple TV Siri Remote
Time needed: 1 minute.
This can help resolve any minor glitches or connection issues. Moreover, you should also restart your Apple TV.
To restart your Apple TV, unplug it from the power outlet for at least six seconds and then plug it back in.
To restart your remote, press and hold the Control Center + Volume Down buttons for five seconds, until the status light on your Apple TV turns off and then back on again.

Release the buttons then wait for a Connection Lost notification to display on your TV.
Your remote will restart and hopefully fix your volume control issues. After the Connected notification displays, test your remote.
Check the Battery Level
The remote comes with an internal battery that can be charged, and it is recommended that you charge it a few times per year. When the remote's battery life is too low, a notification will show up on your TV, telling you that it's time to charge it. However, it is possible that the remote's battery is low but not low enough to trigger the notification.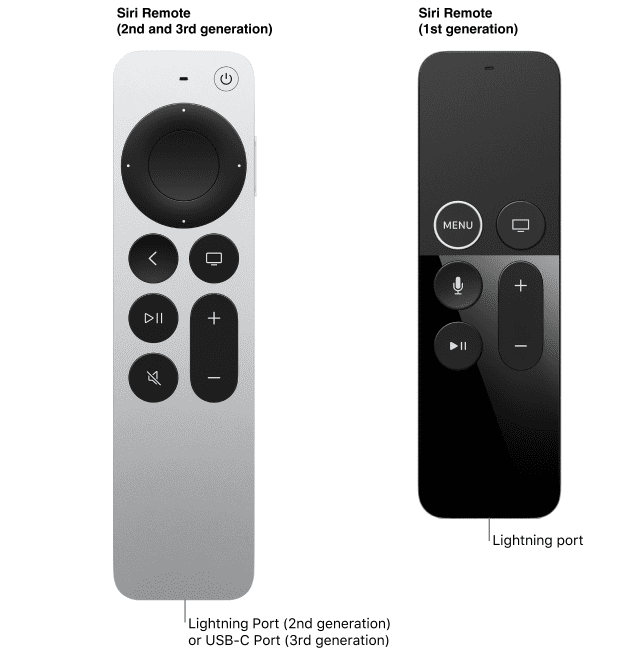 On the Apple TV, go to Settings > Remotes and Devices > Remote in order to see the current level of the remote's battery. If it needs to be charged, you can do so by connecting one end of a Lightning cable to the Apple TV Siri Remote, and attaching the other end of the cable to a USB port on a computer or to the USB power adapter that came with an Apple device. The remote will charge fully in around three hours.
Clean the IR Sensor on Your Apple TV and Remote
The infrared (IR) sensor receives and sends infrared signals to regulate the volume of the TV or sound system. There is a possibility that the signal transmission could be disrupted if the IR sensor is dirty or covered with dust. Use a soft cloth and gently wipe the infrared sensor in order to clean it.
Moreover, if the remote is too far away from the Apple TV or objects are obstructing the signal, it may not operate as planned. The remote should be used within 20 feet (approximately 6 meters) of the Apple TV, and anything that gets in the way of the remote and the front of the Apple TV, receiver, and sound bar should be moved.
Pair the Siri Remote with Apple TV
If the remote is not properly paired or connected to the Apple TV, it may not function as expected. The remote may be linked to the Apple TV again by keeping it three inches away and pointing it towards Apple TV. Then, for five seconds, press and hold the Back or Menu + Volume Up buttons. If prompted, place the remote on top of the Apple TV to finish the pairing.
Enable HDMI-CEC
HDMI-CEC is a function that allows HDMI-connected devices to interact and control one another. Apple TV supports HDMI-CEC, but you need to select the CEC option when setting the volume control of your Apple TV. To do this, go to Settings > Remotes and Devices > Volume Control and select CEC.
Update Your Apple TV
Select Download and Install if the option is available.
Your Apple TV will automatically restart after the software update has been successfully installed.
Why Can't I Hear the Volume on My Apple TV?
This can be due to a few issues that don't concern your remote. We suggest that you restart your Apple TV and verify that all of the HDMI cable connections are secure.
It's also possible that the issue is not with your Apple TV. Thus, you should turn off and unplug any external audio systems that are now connected to the Apple TV, and wait anywhere from thirty seconds to one minute. Reconnect your systems afterward. If you're trying to play the sound through your HomePod, but it doesn't work, we recommend checking our article on this issue. Furthermore, if you are having trouble with your Apple TV content being zoomed in when you do not want it to be, you can refer to our dedicated guide to fix it in no time.