Did you know you can view your friend's location with an Apple Watch? Not only that, but you can also setup notifications so that you can know when your friends are leaving or returning from somewhere. Additionally, you can also let your friends know where you are in thanks to the Apple Watch. Finding the whereabouts of your friends is rather easy if they are sharing their location, and I'm going to show you a few tips and tricks as well.
Taking a look at the Find People app, I'm going to explain what it is, and how to get the most out of it in thanks to your Apple Watch. This guide can be especially useful for parents or guardians, who may need to keep more details on those that they are watching, Of course, this feature does entail that all of those involved give permission to show their location, so there is no need to worry about an outside source viewing this information.
Using the Find People App on Apple Watch
One feature available on Apple devices is the Find People app, which helps users find those that matter most to them, while also being able to share your location to them in real-time. This can be a tremendous time-saver for those that need to know the location of their friends in a hurry.
If any family or friends use an Apple device, such as an iPhone, iPad, iPod touch, Apple Watch SE or Apple Watch Series 4 or later, they will the able to share their location. Additionally, friends with these devices will also appear on a on a map, which allows users to quickly view the location of their friends and family.
Users are also able to setup notifications to alert them when a family member leaves or arrives from various locations. This can be super useful for those that are on vacation together, or for parents and guardians who are looking after younger folks.
When it comes to using the Find People app, here are a few tips and tricks for getting started. Use this guide to find your friends, or let your friends know your location.
Add Friends on the Find People App
Of course, before you begin, you will need to have friends within the Find People app. This is likely to avoid giving your location away to someone whom you do not want to have it, while also ensuring that the list itself isn't cluttered.
To Add a Friend to the Find People App, follow these steps.
Time needed: 1 minute
Add friends on the Find People app.
Go to to the Find People app on your Watch.

Scroll down and choose Share My Location.

Tap either the Dictation, Contacts or Keypad button to select a friend.

Choose an email address or phone number.
You will then have an option to choose how long you will share your location.

You can either share for an hour, until the end of the day or indefinitely.

If you want to stop sharing you location with a friend, from the Find People screen, tap your friend's name and then select Stop Sharing.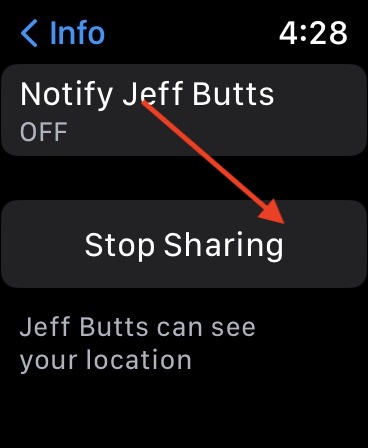 To stop sharing your location with everyone, from your Apple Watch, go to Settings > Privacy & Security > Location Services and turn off Share my Location.
Concerning Find People, your friend will receive a notification when you begin sharing your location. Your friends or family will also have the option to share their location as well. Once they agree to share, users will be able to see their friends and family either in a list or on a map within the Find My app on iPhone, iPad, iPod touch and Mac. You can also use the Find People app on the Apple Watch.
Locate Your Friends on Your Apple Watch
If you would like to use the Find People app on your Apple Watch to locate individuals that are sharing their location, follow these steps.
From your Apple Watch, open the Find People App.
You will see a list of friends as well as their approximate location and distance from you.
Users can implement the Digital Crown to scroll through their list of friends.
Tapping on a friend will provide details of their location as well as their approximate address.
You can also ask for their location from this screen.

Tapping < in the top-left corner will take you back to your friends list.
Additionally, users can also utilize Siri to locate their friends. Simply asking a question like "Hey, Siri, where's Thom?" will provide an answer.
Notify Friends of Your Departure or Arrival
Of course, you can also let your friends know when you have left somewhere or if you have arrived somewhere.
To do this, follow these steps:
Open the Find People app from your Watch
Select a friend, then after scrolling down, select Notify [friend's name].
From the next screen, turn on Notify [friend's name].
You should then select the option to notify your friend when you leave or arrive to your location.

Receive a Notification About a Friend's Departure or Arrival
In addition to sending notifications for your own travels, you can also receive notifications from your friends concerning their whereabouts.
Open the Find People app on your Watch.
Select your friend and scroll down to select Notify Me.
With Notify Me on, choose to be notified when your friend leaves a location or arrives to a new location.
Conclusion: View a Friend's Location with Apple Watch
Thanks to the Find People app on the Apple Watch, navigating the location of your friends is easier than ever. Whether you are traveling unknown lands together, and just need to find a common ground to meet up, or you are all meeting at a new restaurant later, use this feature to receive or send notifications about you or your friend's whereabouts.
There's a lot of reasons people use the Apple Watch, whether to gain access to a variety of health monitoring features, or to get access to certain safety features like Crash and Fall Detection, there's plenty of other ways to get the most out of the device as well. Following these steps, try out alerting your friends to your location using your device, or see if your friends will tell you where they are. Either way, the Find People feature can be extraordinarily useful for users.