Some Vizio television owners may have an issue with AirPlay not showing up on their TV. Fortunately, there's a couple of solutions users can try, with some getting a bit more detailed than others. If you are having issues with AirPlay not showing up on your Vizio TV, continue reading as I walk you through several different solutions.
Introduced way back in 2010, Apple AirPlay was originally a new iteration of AirTunes. Arriving with iOS 4.2, AirPlay now allows users to stream both audio and video from one device to another. While there are some Vizio TVs that support this feature, not all of them do. I will be sure to list what devices work with AirPlay before diving into the issue.
If AirPlay is not working for your Vizio TV, try some of the suggestions at the top of the list first. Working through some of the easier solutions may provide a quicker resolution than going through some of the more complicated steps that will arrive at the end.
Ensure Your Devices Feature AirPlay and HomeKit Support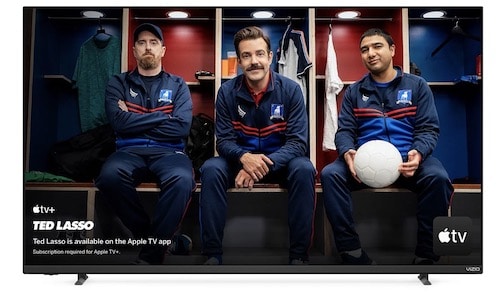 Before starting, ensure that you have an Apple device capable of supporting AirPlay on your TV. The following Apple devices feature this support:
iPhone X, iPhone 6/6 Plus and later.
iPhone SE, iPhone 5S, iPad Pro.
12.9-, 10.5- and 9.7-inch iPad Air and later.
iPad fifth-generation and later.
iPad mini 2 and later.
Sixth-generation iPod touch.
Any Mac running macOS Mojave 10.14.5 or higher.
When it comes to Vizio TVs, the follow devices are supported:
Vizio OLED (2020)
Vizio P-Series Quantum X (2019, 2020)
Vizio P-Series Quantum (2018, 2019, 2020)
Vizio P-Series (2016, 2017, 2018)
Vizio M-Series Quantum (2019, 2020)
Vizio M-Series (2016, 2017, 2018)
Vizio E-Series (2016, 2017, and 2018 UHD models)
Vizio V-Series (2019, 2020)
Vizio D-Series (2018, 2019)
Quick Solutions
Once you are sure that your devices are capable of supporting AirPlay, try out some of the following solutions before diving into some of the more complicated solutions.
Users should make sure that their TV has AirPlay 2 and HomeKit enabled.
Check to see if these features are enabled by checking the Apple AirPlay 2 and HomeKit Release Information for their device.
Try unplugging your TV, leaving it unplugged for a minute, and then plugging it back in.
While the TV is unplugged, hold the power button on the TV for 30 seconds. This will drain any residual power in the TV, as well as perform a soft reset.
Check for updates on your Vizio TV and make sure that is it up to date.
You can check this by going to hitting the Menu button on your Vizio remote and going to System > Check for Updates. Your television will inform you whether it is up to date or needs an update.
You should also ensure that your Apple device is fully up to date.
Go to Settings > General > Software Update to ensure that you do not need an update for your iPhone or iPad.

For Macs, you can check for updates under Apple > System Settings > General > Software Update from the Menu Bar.

Check your SmartCast Home and ensure that the AirPlay icon is visible. If there is one, the icon will be viewable in the upper-right corner next to the cast icon.
Ensure that both your TV and your Apple device are on the same Network name.
Ensure AirPlay is Enabled on Your Vizio Television
Users should also ensure that the AirPlay option is enabled on their TV. To ensure this, simply follow these steps:
Go to your SmartCast Home by pressing either the V button or Home button on your Vizio TV remote.
From the top of the screen, select the Extras menu.
Select the AirPlay option. Check to make sure that is set to On.
Reset Paired Devices on Your TV
You can also attempt to reset your paired devices. This will disconnect all the devices from your television, so again, be sure to try other solutions before going to this one.
Hit the Home or V button on your Vizio remote to go to SmartCast Home.
From the Menu, go to Extras.
Scroll down to Apple Airplay.
Choose Require Code option and then select Reset Paired Devices.
You will then need to reconnect your Apple Device.
Perform a Factory Reset on Your TV
As a last resort, users can also try factory resetting their TV. As this will bring everything back to the factory defaults, I would only recommend going this route if no other alternatives work. Once you perform a factory reset, you will need to download all of your apps again as well as re-sign into them.
To perform a factory reset on your Vizio TV, follow these steps:
Time needed: 2 minutes.
Perform a factory reset on your Vizio TV.
Click the Menu button on your remote.
Select System.
Choose Reset & Admin, then go to Reset TV to Factory Defaults.

Your TV may ask you for a code. The default code is typically "0000" if you did not set one.
It will take your TV a few minutes to restore itself and then reconnect. Users can also reset their TV without using the remote. Users will need access to the power button on their TV. With the TV on, simply hold down the volume down and source buttons simultaneously, your TV will then inform you to press and hold the input button. You will then press and hold the input button for 10 seconds.
Conclusion: Fix AirPlay Not Showing Up on a Vizio TV
Getting AirPlay to work again may take a couple of tries, though unplugging and soft resetting the TV may be the easiest option. Just remember to cover all of your bases before performing a factory reset on your TV. If the problem continues to persists, you can also try contacting Apple Support.
AirPlay can be incredibly useful for users, but only when it is functioning properly. Following these steps, users will hopefully find a solution that works for them, so that they can get back to streaming the content they enjoy in thanks to AirPlay.