Forgetting passwords is bound to happen to anybody. But when it comes to the password you use on your electronic devices such as an iPad, you can't just reset it manually like you would normally on the web. For instance, if you forgot the password of your Gmail account, there are ways that you can reset it and then log in again.
That's not the case with electronic devices such as your iPhone or iPad. If you forget your password on your iPad, you will have to do some special procedures to regain control of your iPad. This quick guide is especially for anybody asking, "How can I unlock my iPad if I forgot the password?"
Read along to find out how to unlock iPad without password using your Windows PC and iTunes, the Find My app, or third-party software.
Is it Possible to Unlock an iPad without Apple ID and Password?
Yes, you can unlock your iPad if you've forgotten your password. There are four known ways that you can do so. However, you should note that some of the ways recommended below do require a PC with iTunes installed. If you still have those, hopefully, you have synched your iPad with iTunes before.
How to Unlock iPad Without a Password Using iTunes
Remember the times when iTunes used to be our go-to solution for almost any issues we encountered with our iPhone or iPad? At some point in time, that changed when Apple decided to integrate iTunes with the Music, TV, and Podcast apps. Also before, users would back up and restore their iPhone or iPad through iTunes, now it can be done without the need for iTunes.
Still, there are many users especially those who haven't gone to the Mac side, so they use their Windows PCs plus iTunes to manage their iPhones or iPad. Lucky for them, those are necessary for one of the ways by which you can unlock your iPad if you forgot your password.
See below the steps to unlock your iPad via iTunes
Connect your iPad to your PC, then open iTunes.
Click on the Device icon, then click Summary.
Click Restore iPad.
Your iPad will be reset to factory settings, erasing all of its data, including your password.
Restore your iPad using a previously saved backup.
How to Unlock iPad Without Its Password in Recovery Mode
Now, what if you have never synced your iPad with iTunes before you forgot your password? Or if you found a lost iPad, can you unlock it? Yes, you can. And that is by way of putting the iPad into recovery mode. Follow the steps below to do so.
Press and Hold the Home and Power buttons simultaneously until you see the message Connect to iTunes.
Connect your iPad to your Windows PC or laptop.
iTunes will display the message, iTunes has detected iPad in recovery mode.
Click Okay > Restore.
How to Unlock iPad Without Password Using the Find My App
If you don't have a Windows PC or laptop with iTunes, there is another way for you to unlock your iPad if you forgot the password. That is using the Find My app. Hopefully, you've enabled this on your iPad before you forgot your password and you have also created an iCloud.com account.
You can do all of this just by logging into your iCloud account using your iPhone's browser.
Time needed: 1 minute
Follow the steps below to unlock your iPad through iCloud.
Go to iCloud.com and log in to your account.

Click Find My.

Click All Devices.

Select your iPad, then click Erase iPad.
Alternatively, you can simply open the Find My app on your iPhone. Navigate to Devices, then select your iPad. From there you can tap on Erase This Device.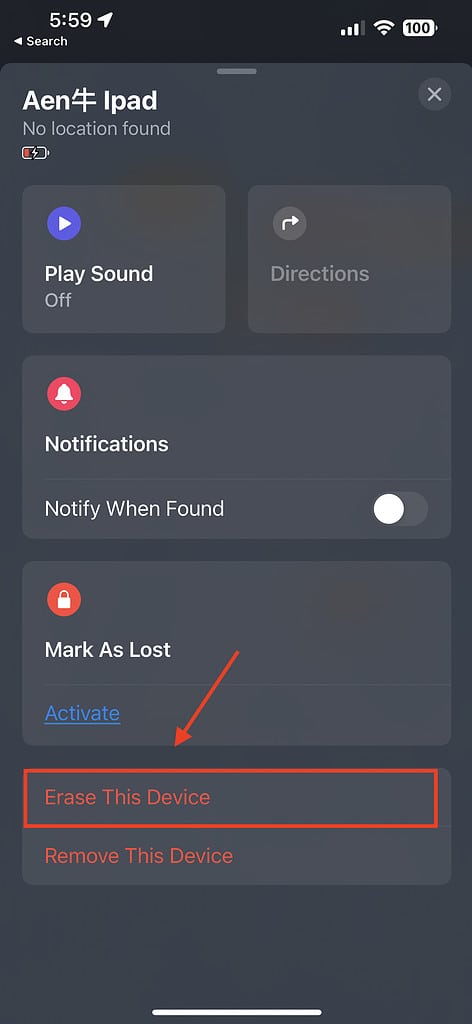 How to Unlock Your iPad Without Password Using Third-Party Software
If any of the three options above don't work for your iPad, you can try another step. Using third-party software is probably the fastest way to unlock your iPad without a password. You just need to download the software and connect your iPad to your PC using a USB-C cable.
It should be noted that using this software will factory reset your iPad, so you'll need to restore your last backup to regain your existing content. Two such solutions are PassFab and 4uKey. 4uKey is available to download for free, while PassFab offers a free trial and a paid version.