A commonly asked question is whether it's okay to use AirPods on a plane. In short, yes, you can. The Federal Aviation Administration (FAA) approved the carrying of portable electronic devices on a plane in 2013. AirPods are considered a portable electronic device, hence you can carry them with you on a plane. But can you use your AirPods on a plane? Yes, but read along for some minor guidelines on how to use them.
Are AirPods Considered Electronics by the TSA?
If this is your first time bringing your AirPods on a plane you might wonder whether they are considered electronics by the Transportation Security Administration (TSA). Due to the wireless nature of AirPods, they are considered electronic devices. To be more specific though, AirPods are considered portable electronic devices. And since they are not as big or bigger than a regular mobile phone, they can stay inside your carry-on bag during TSA screening.
How to Use AirPods on a Plane
Some airlines prohibit the use of AirPods during takeoff and landing. That's because it may interfere with vital communication signals and cause errors during those procedures. Once the plane is in flight, you can turn on your iPhone but must put it in Airplane mode. While it is okay to use your iPhone and other electronic devices while in flight, the cellular service must be turned off.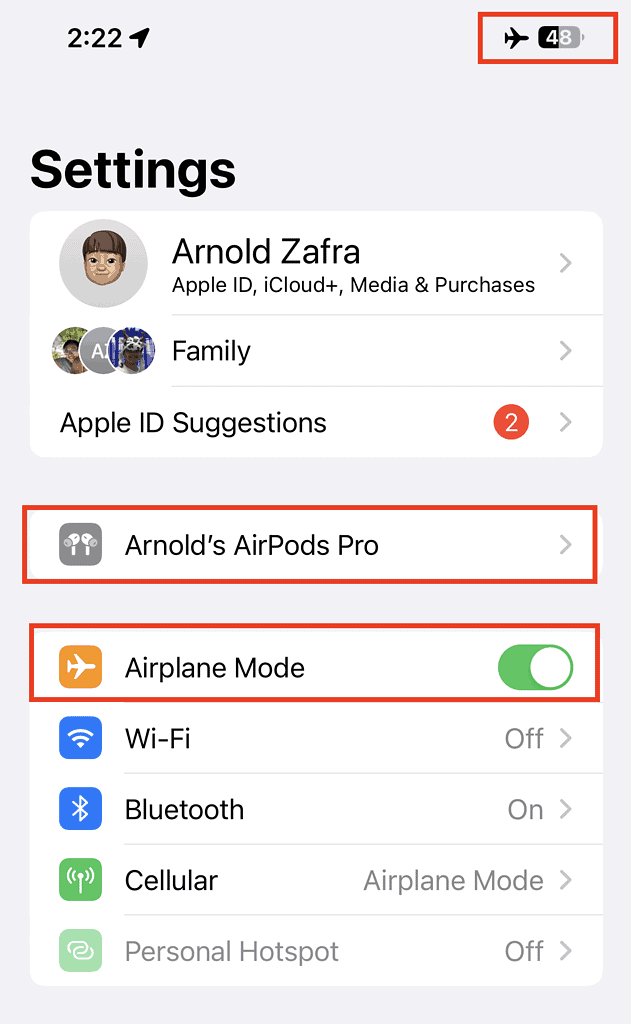 So, can you use Bluetooth on a plane? Yes, you can. Even if your iPhone is in Airplane Mode, you can use it, paired it with your AirPods, and listen to your favorite music or podcasts. Remember, though, that the content needs to already be downloaded to your iPhone. You can't stream media since, as mentioned, your iPhone must remain in Airplane Mode.
Can You Use AirPods with Airline Inflight Entertainment Systems?
Another question often asked is "can I use my AirPods Pro on a plane, more specifically with the airline's inflight entertainment system?" Unfortunately, most airlines don't allow passengers to use their wireless earbuds on planes with inflight systems. This could be to minimize the use of wireless technology during flight.
Instead, airlines provide 3.5mm headphones for passengers to use. So far, American Airlines, Lufthansa, Southwest Air, and Delta Airlines don't allow passengers to use their AirPods or any wireless earphones with their inflight entertainment systems. Feel free to leave us a comment if you know of an airline that does allow this.
If you're interested in learning how to use the Live Listen feature with AirPods or Beats, check out our dedicated guide.
Final Words
I've had my AirPods while on a plane several times before. I prefer to indulge myself of the media content I've downloaded, rather of the airline's inflight entertainment. I've seen many other passengers use their AirPods while on a plane, as well.
One reason is that AirPods are more portable and will not disturb you with dangling wires and a heavier load on your head if you fall asleep during your flight. It's a good thing that airlines allow using AirdPods on their flights. Hopefully, more new technology will come soon to allow AirPods to be used with airlines' inflight entertainment systems as well.