While your Mac and macOS are great productivity tools, there are still some essential features lacking. Apple probably knows this; that's why it's made some efforts to address the shortcoming. One of the features I'm referring to is window management on Mac. While many users may find the Stage Manager as a baby step towards making the Mac a multi-tasking powerhouse, many users think there's still a lot more to be desired from the tool.
Fortunately for Mac users, there are several great third-party Mac window management tools that could serve as viable alternatives. Let me give you a rundown of the best macOS window management tools to help you decide which one to use for your Mac.
What is Windows Management Tool
Window management tools or apps allow you to organize the app windows on your Mac's screen. To do so, they often allow you to assign keyboard shortcuts to various windows. Whatever tool you select should not only let you open multiple windows at the same time, but also allow you to seamlessly switch between. Thankfully, most of the macOS windows management tools that I've looked into so far deliver when it comes to these functions.
Remember, There's Stage Manager for Mac
Although the introduction of Stage Manager in macOS Ventura may seem like Apple's little stride towards establishing a windows management tool for Mac, its main purpose is different. Specifically, Stage Manager aims to enable you to organize multiple windows of open apps on your Mac. What Stage Manager does is park other app windows while keeping one in the center of the Mac screen. To enable you to switch between app windows, you simply click on their thumbnails on the left side of your screen. For that purpose, Stage Manager is a pretty good feature.
But when it comes to windows management, Stage Manager is as not as seamless as third-party software. Below, I list four such utilities available from the Mac App Store.
Magnet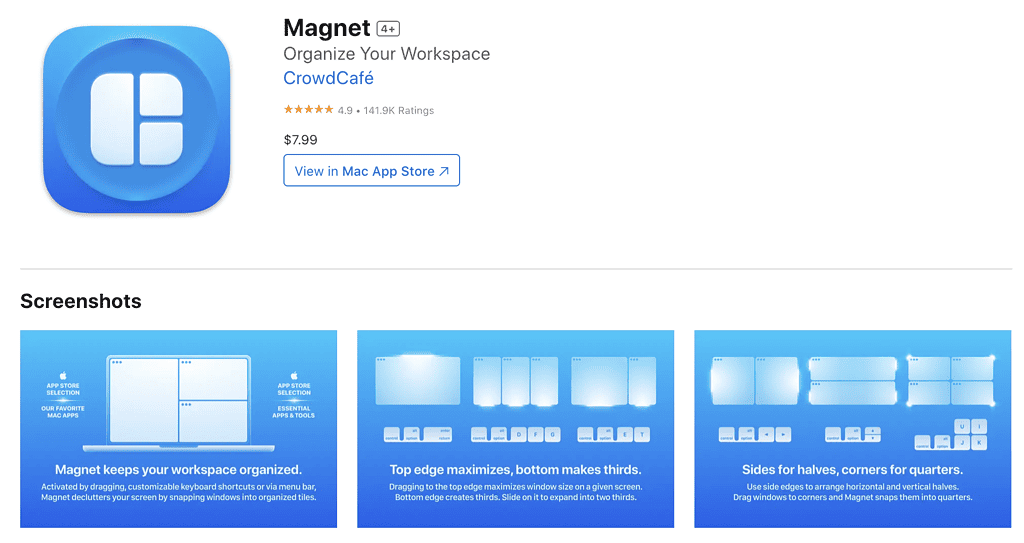 Magnet is one of the most popular windows management apps for Mac. It's not surprising, because the app has so many features that will help you better manage apps and transform your Mac screen into a clean and minimal workspace. The app lets you pick and drag windows from the corner of the screen and snap them to fill up a quarter of the screen.
Magnet also allows you to easily adjust the size of open app windows using keyboard shortcuts. Not minding its price, Magnet could easily be the best macOS windows management tool available right now.
Availability: $7.99
Pros
Offers three methods to organize your app windows — drag and drop, keyboard shortcuts, and apps menu.
Cons
I couldn't think of a single con for this app, except maybe for its price. Although it's actually less expensive than some of the other apps listed here.
BetterSnapTool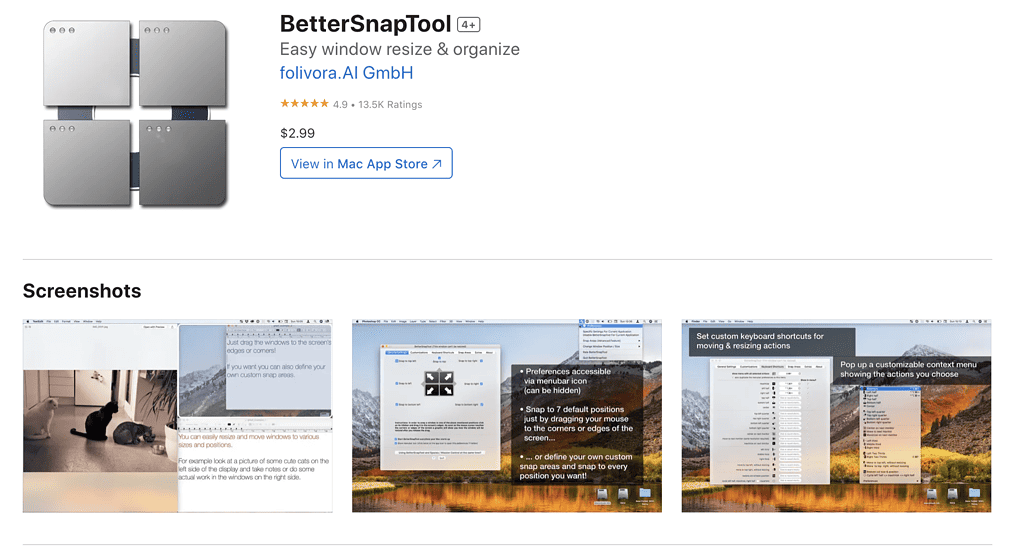 BetterSnapTool is probably the most feature-packed macOS windows management tool on this list. The app lets you manage app window positions and sizes by simply dragging them to one of the screen corners of your Mac. You can also drag your apps to the top, left, or right side of your Mac's screen.
BetterSnapTool also allows you to easily maximize app windows and assign custom keyboard shortcuts for quickly moving and resizing your windows. One nice feature of BetterSnapTool is that you can create your own, custom snap areas anywhere on the Mac screen.
Availability: $2.99
Pros
A custom snap area is a plus.
Keyboard shortcuts.
Works best with macOS Ventura.
Cons
Moom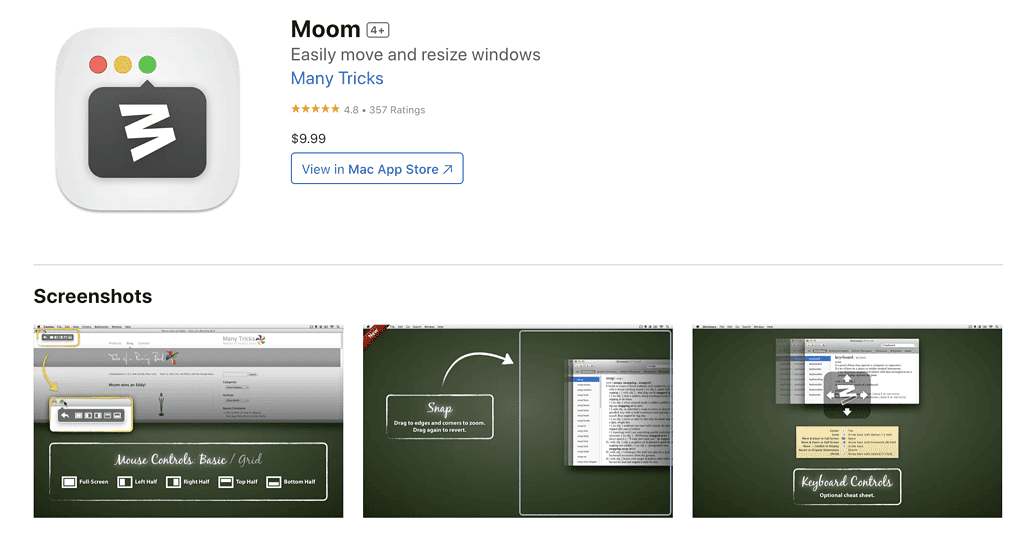 Moom is a user-friendly and unobtrusive macOS window management tool that lets you easily move and resize app windows on your Mac. One notable feature of Moom is that it comes with pre-defined templates and intuitive mouse gestures that you can quickly use to organize your app windows.
This functionality comes in addition to the usual way of managing them via keyboard shortcuts. Another feature worth noting is that Moom seamlessly integrates with the macOS interface. Moom accomplishes this by way of integrating its menu to the zoom button of opened app windows on your Mac.
Availability: $9.99
Pros
Intuitive mouse gestures and keyboard shortcuts.
Complements macOS pretty well.
Cons
Absence of option to save custom window position and dimensions for opened apps.
Divvy — Window Manager for Mac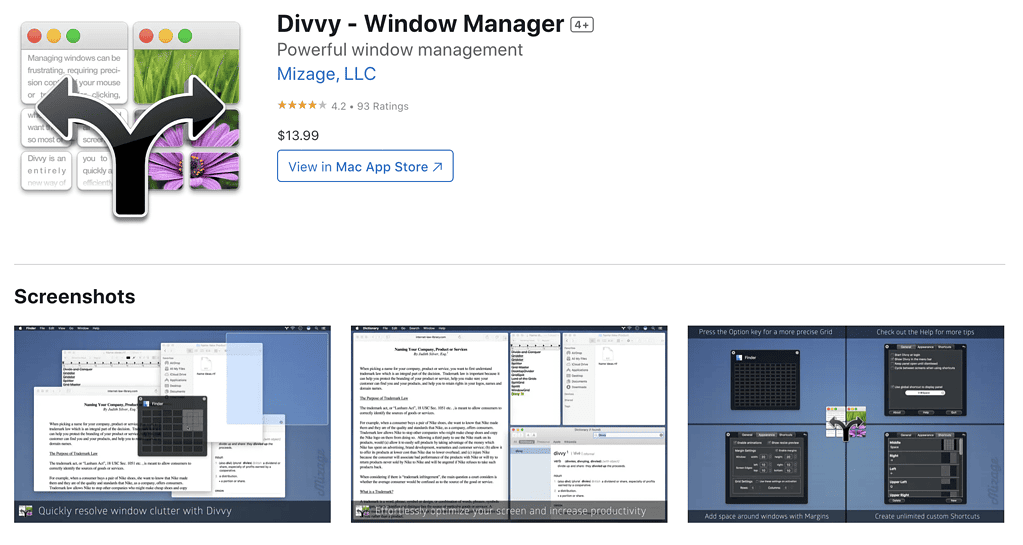 Another easy-to-use macOS window manager tool is Divvy. Right off the bat, it gives you a 4 x 4 grid where you can easily place app windows. It allows you to organize multiple windows squarely side-by-side and move the windows anywhere with a few clicks.
With its simple interface and features, Divvy will work best if your need for a windows manager for your Mac is not as complicated as the needs of some business users.
Availability: $13.99
Pros
Windows sizing options.
Drag and drop functionality.
Easy learning curve.
Cons
Shortcut functionality is weak.
Tends to slow down when in use.
Final Words: Does macOS Have Its Own Windows Management Tool?
If using third-party windows management tools is not an option for you, there are other options readily available on your Mac. Yes, Mac does have a window manager, sort of. You can use Split View, but this will only limit you to displaying two app windows on your Mac's screen. Also, as previously mentioned, there's Stage Manager for Mac, introduced with macOS Ventura. The limitation is pretty obvious; you can't use Stage Manager if your Mac is running an earlier version of macOS.
Still, for those who can use Stage Manager, you probably know by now that it's pretty good at doing what it's supposed to do: provide a simple app window management feature for Mac to allow you to better multitask.
Finally, there's the option to create multiple desktops in Mission Control on your Mac. This allows you to create "spaces" where you can set apps to always open. It's a pretty simple, yet efficient, way of multitasking with Mac apps.