Audio recording is an essential part of enjoying our multimedia experience. You may have captured, edited, and produced an excellent video but it becomes a failure if the accompanying audio is of poor quality. Poor quality means inappropriate speed and volume, out-of-sync timing, and bad sound quality. That's where the tedious task of audio editing task comes in. And to help you excel in producing high-quality audio, you would need one of the best audio editing apps for macOS.
Unknown to many of us, audio editing is more tedious and harder than video editing because you rely more on the sharpness of your hearing. And normally, hearing is more subjective than seeing. So, it's easier to edit videos and judge their quality than the quality of audio.
What is Audio Editing?
Briefly, audio editing can be described as the process of recording, processing, storing, and delivering audible sound using various technologies including audio editing apps. If you're using a Mac, you're in good hands since doing audio editing tasks on Mac will become easier due to its seamless workflow. And with the help of the best audio editing apps for macOS, your job will become easier.
4 Best Free Audio Editing Apps for macOS
Whether you are recording voiceover files, cutting/deleting/inserting audio clips, adding voice and sound effects, and more, these 4 best free audio editing apps for macOS that are free would greatly help you do the job.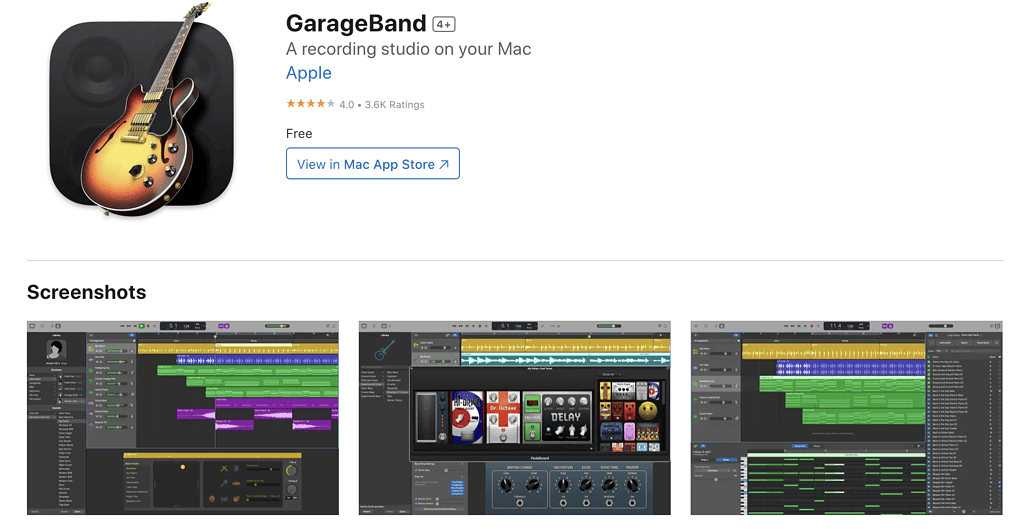 Apple's free music recording and audio editing has been the go-to software for many Mac users not only because it's readily and freely available but also because of its features and ease of use. GarageBand is a feature-rich music production tool, and its voice and audio editing features are highly commendable as well. If you're looking for a tool to start your musical production adventure, GarageBand will be useful to you.
For the more advanced (or even professional) users, GarageBand offers features and functionality enough to make it their staple music recording tool. For content creators, GarageBand also has audio editing features to help you with podcast audio as well as voiceover and accompanying audio for your video content.
Availability: Free
Pros
Professional and streamlined interface.
Support third-party plug-ins.
Visual audio levels are useful for cleaning out audio impurities.
Easy learning curve, perfect for beginners in audio editing software.
Cons
Has large project files that can take up storage on your Mac.
Lack of presets to edit audio quickly.
Tends to heat up Mac when in use for a prolonged period.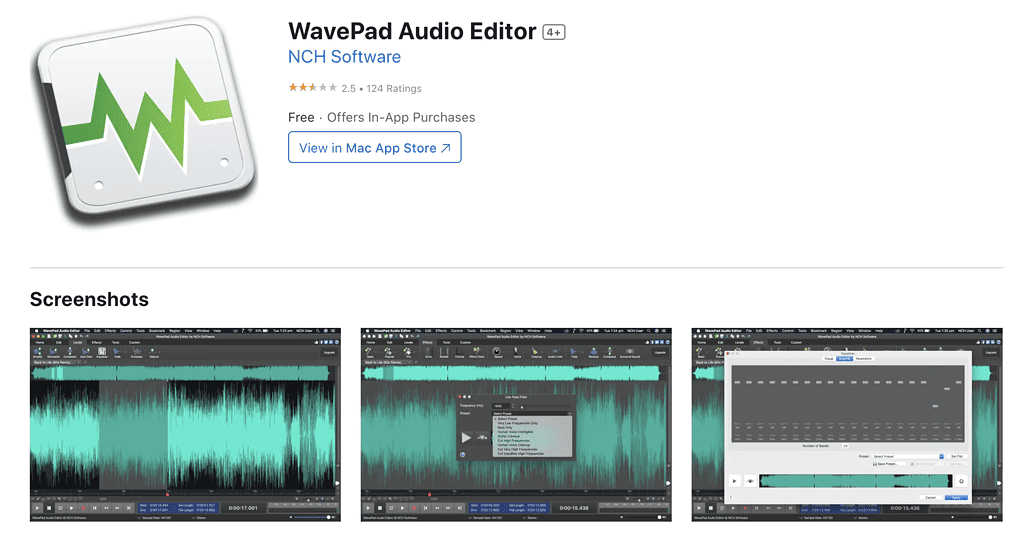 As a full-featured professional sound editor, WavePad seems to be one of the most underrated and unpopular free audio editing apps for Mac. WavePad not only lets you edit audio recordings but record and edit music and voice as well. For audio editing, WavePad has the usual cut, copy and paste functionality.
The app also lets you add echo, amplification, and noise reduction. WavePad also supports WAV, MP3, and other audio formats. WavePad comes with spectral analysis and speech synthesis features, too.
Availability: Free, offers in-app purchases
Pros
Simple yet effective voice recording features.
The audio clean-up feature is good.
Cons
Only works with single-track audio.
➡️ Get WavePad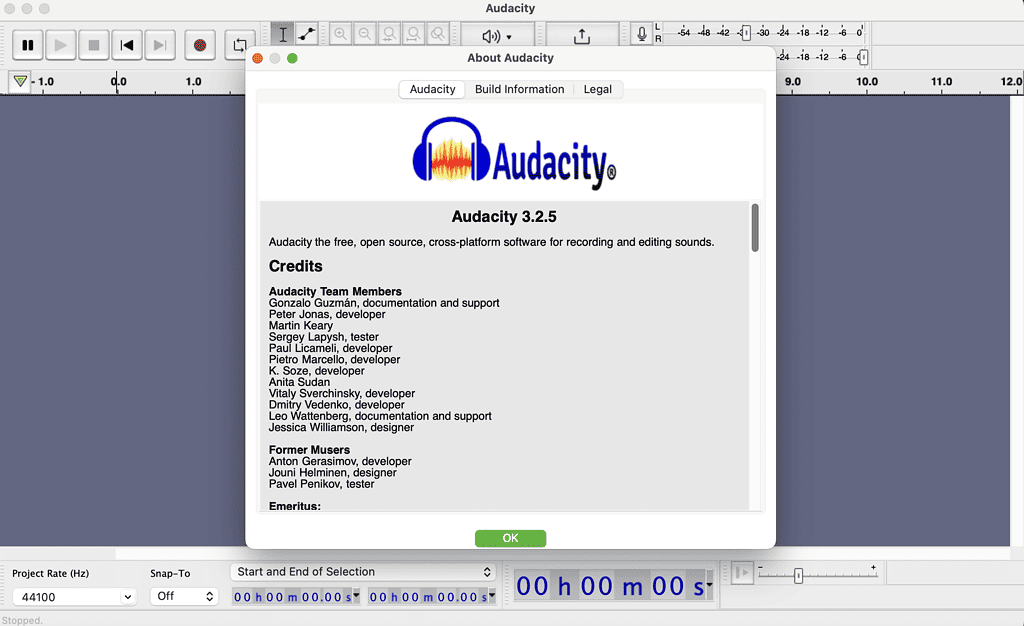 Audacity comes on top of our list of best audio editing apps for macOS not only because it's free and open source but also because of its recording, editing, and mixing features. It features an easy-to-use interface that lets you edit your sounds through the cut, copy, and paste method. In case you need to change an action that you just did, Audacity offers unlimited undo.
The software allows output of WAV, AIFF, MP3, and other sound formats. You can easily import and export them from and into your Mac. Other notable features of Audacity include a built-in amplitude envelope editor, customizable spectrogram mode, and a frequency analysis window. These will help you perform an audio analysis of your audio recording.
Availability: Free, Donationware
Pros
Simple editing workflow.
The user interface is simple and not overwhelming for beginners.
Ability to work well with various audio formats.
Cons
The simple interface may not be appealing to look at.
Not too many new features have been added.
The community support base is helpful and yet intimidating for some.
➡️ Get Audacity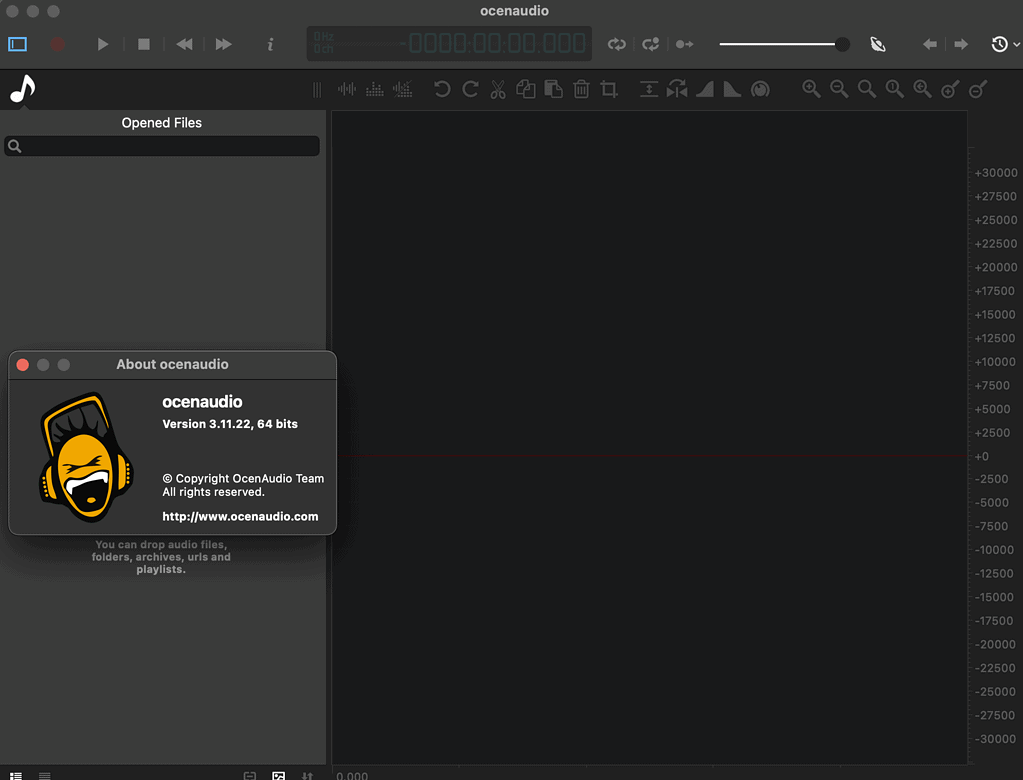 For basic audio editing and analysis, Ocean Audio is certainly worth downloading. Oceanaudio features cut, copy, and paste functionality and the ability to apply equalizer and reverb effects to your audio recordings. Its audio analysis tools are also worth mentioning. These include the spectrum analyzer, oscilloscope, and pitch tracker.
Availability: Free
Pros
Features a simple dashboard.
East to learn and use.
Graphic equalizer and reverb features.
Cons
Not as sophisticated as other advanced audion editors (but hey, it's free).
Not too many fine-tuning or precision editing options.
3 Best Paid Audio Editing Apps for macOS
When it comes to commercially available audio editing apps for macOS, the selection is way better than the free ones.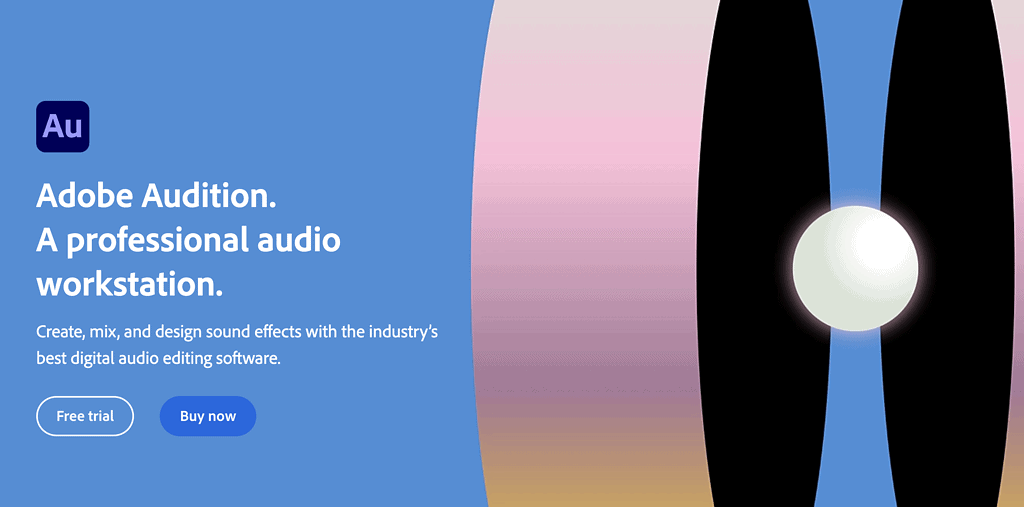 Adobe Audition is a feature-rich audio editing app that works great with your Mac. It also serves as a complete digital audio workstation (DAW). Audition comes with special tools that allow you to clean up and restore audio recordings.
For podcasters, content creators, and videographers, Audition offers precise and non-destructive editing of voice recordings. However, when it comes to musical features, Audition has been lacking in this since day one. This is one reason why the app has not been very popular among self-made musicians who produce, edit and publish their own musical recordings.
Availability: $19.00/mo.
Pros
Excellent audio-restoration, sound-removal, and noise-reduction features.
Useful tools for visualizing audio recordings.
Simplifies complex audio editing processes.
Cons
Lacks support for MIDI.
Monthly subscription with no one-time licensing options.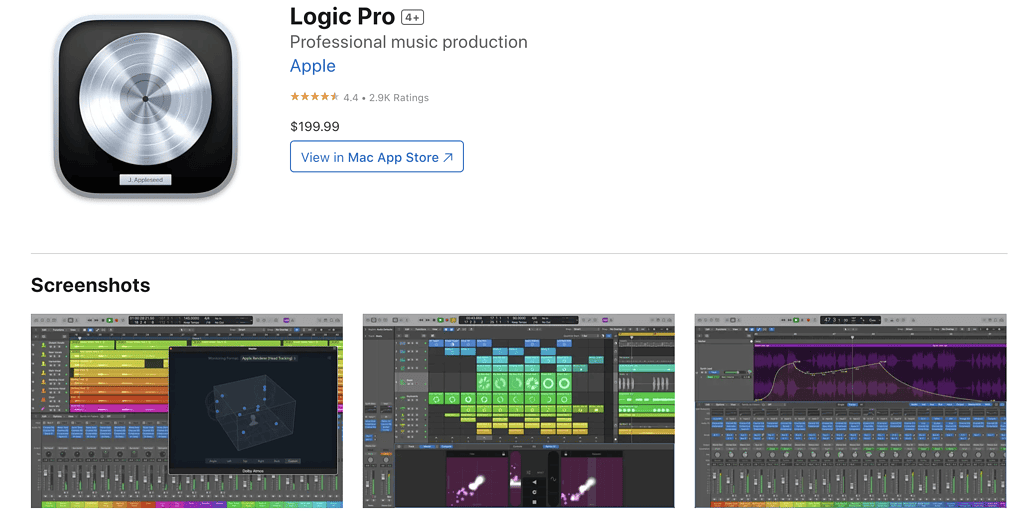 Apple acquired the Logic Pro audio editing app in 2002. Since then, Logic Pro has become Apple's flagship audio production software. Apple's Logic Pro is a professional digital audio workstation (DAW) featuring tons of definable keys and MIDI, and a 200-step undo history.
Logic Pro also comes packed with more than 6,000 instruments and effects as well as more than 1,200 sampled instruments. Additionally, Apple Logic Pro also supports spatial audio and a whole lot more features.
Availability: $199.99
Pros
Feature-rich music production capabilities.
Growing compatibility with other apps.
Offers simplified and full-feature modes.
Cons
Features may overwhelm beginners.
Exclusive for macOS.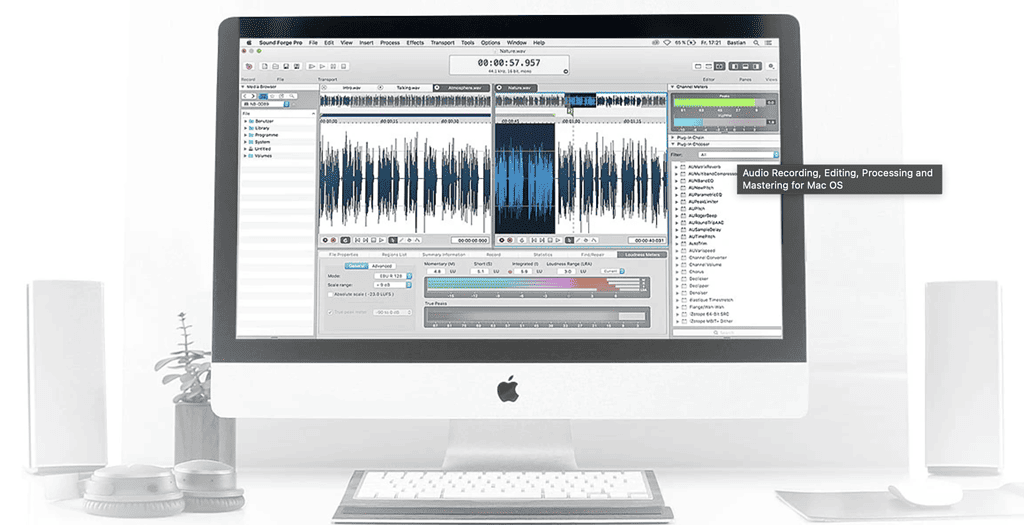 Sony's SoundForge has evolved into a powerful audio recording and editing app since its Mac version has been released separately from its Windows counterpart. For those who are unaware, SoundForge has been, for years, the standard in audio editing software for Windows.
Its Mac version came a little late to the game but it has still managed to establish itself pretty well through the years. For its audio editing features, SoundForge certainly has too many to brag about. SoundForge offers a user-friendly interface as well as time-saving options for working with podcasts, broadcast audio, video clip audio, and other tasks. It also features audio cleaning with a seamless audio editing workflow.
Availability: $129.00
Pros
Clean and simple user interface that is customizable.
Comes with many audio effects.
Support VST plugin.
Cons
The noise cancellation/reduction feature is a little weak.
No batch processing feature.
Final Words: Choosing the Best Audio Editor for macOS
Choosing the best audio editor for macOS depends on your needs. The freely available of these apps are all good enough to fulfill your needs for basic audio editing tasks. It's really a matter of choosing which of them offers an interface simple enough for you to learn and use as quickly as possible.
But when your need is more sophisticated than basic audio editing, all three audio editing apps included in this list are worth considering. Perhaps the only factor that would determine your choice is the price that you have to pay for your chosen macOS app.