The iPhone 15 Pro features a titanium casing, and Ceramic Shield display glass and is lighter and stronger than its predecessor. However, I wouldn't count on any of these to protect my iPhone from an accident. We suggest you get a case to protect your iPhone 15 Pro from such mishaps. And, for those who want the highest level of protection, read along as we've put together a list of the best-rugged cases for iPhone 15 Pro.
1. Spigen Magnetic Optik Armor Rugged Case for iPhone 15 Pro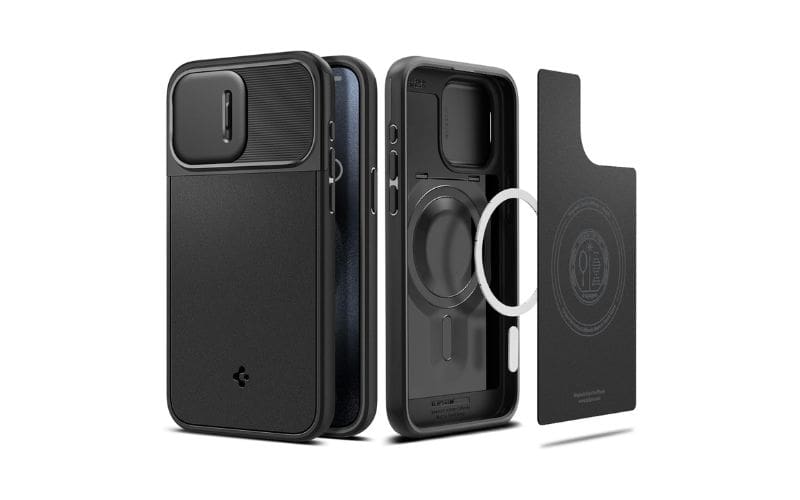 Spigen needs no introduction as it makes one of the best accessories for the iPhone. If you're looking for a rugged case that has a clean finish, protects the camera lens, and doesn't add a lot of bulk, the Spigen Magnetic Optik Armor is the best case for your iPhone 15 Pro.
The cases in Spigen's Optik Armor line have a sliding camera protector. It protects the camera housing (all the lenses) from all angles at all times. Whenever you want to click a picture, you can slide the protector to the side and use the camera.
The Spigen Magnetic Optik Armor case offers dual-layer protection as it is built from rigid PC (Polycarbonate) and durable TPU (Thermoplastic Polyurethane). It also features MagFit technology that allows the device to use MagSafe accessories and wireless charging. Moreover, the case doesn't add a lot of bulk to the device either as it features a sleek design. However, it doesn't compromise on protection as it has Air Cushion technology that protects it from drops and offers Military-Grade protection.
2. SUPCASE UB Mag XT Rugged Case for iPhone 15 Pro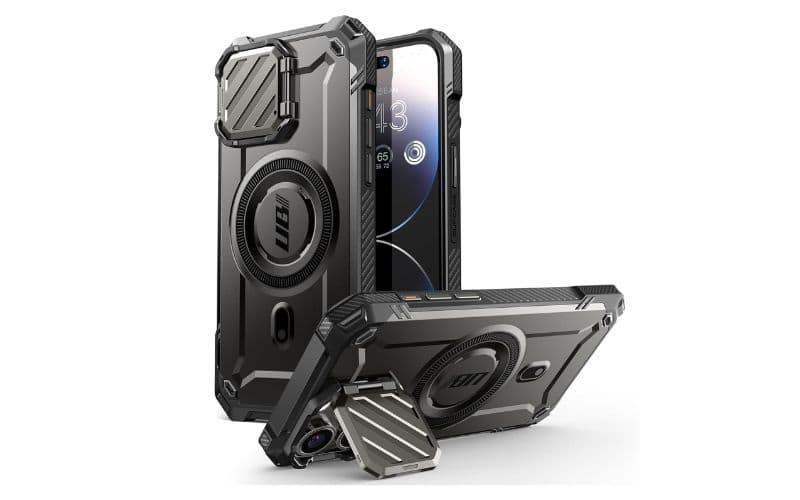 The SUPCASE Unicorn Beetle Mag XT is a heavy-duty rugged case that is built like a tank and also looks like one. It features a multi-function camera cover that protects the camera from scratching and also doubles as a kickstand. The camera cover is rated for 30,000 folds so you don't have to worry about it falling off either.
The multi-layered PC and TPU build of the SUPCASE UB Mag XT paired with rugged bumpers that absorb shock in case of drops contribute towards the ultimate drop protection. The brand claims that the case is drop-tested up to 20-ft and has Military-Standard drop protection. Most rugged cases from SUPCASE exceed the MIL-STD-810G 516.6 testing and we are expecting the same from the SUPCASE UB Mag XT for iPhone 15 Pro.
If you prefer charging your device wirelessly, the case supports MagSafe charging as it features a ring of MagSage magnets on the back. The only downside of the SUPCASE UB Mag XT for iPhone 15 Pro would be that it will add a significant amount of heft. So, if you do not like bulky cases, it might not be the right choice for you.
3. ESR Classic Hybrid Case Rugged Case for iPhone 15 Pro
Do you want a case that protects your iPhone 15 Pro from the rear, front, and also the sides? In that case, the ESR Classic Hybrid Case is the one as it offers the ultimate rugged protection. For those unaware, ESR is a renowned brand, especially when it comes to iPhone cases so you don't have to worry about the product's quality.
The ESR Classic Hybrid Case has two separate parts. It has a back case and a front screen protector case. Moreover, the box also comes with a tempered glass camera lens protector for the iPhone 15 Pro. So your device is covered from everywhere. There's also a kickstand hidden within the raised lips that protects the camera housing.
Your iPhone 15 Pro is protected from every corner. ESR also claims that the Classic Hybrid Case is scratch-free from the back and has a 110-lb impact resistance at the front. Finally, you also get a magnetic ring that will help you use MagSafe-style accessories with your iPhone including the MagSafe wireless charging.
4. CASETiFY Bounce Case for iPhone 15 Pro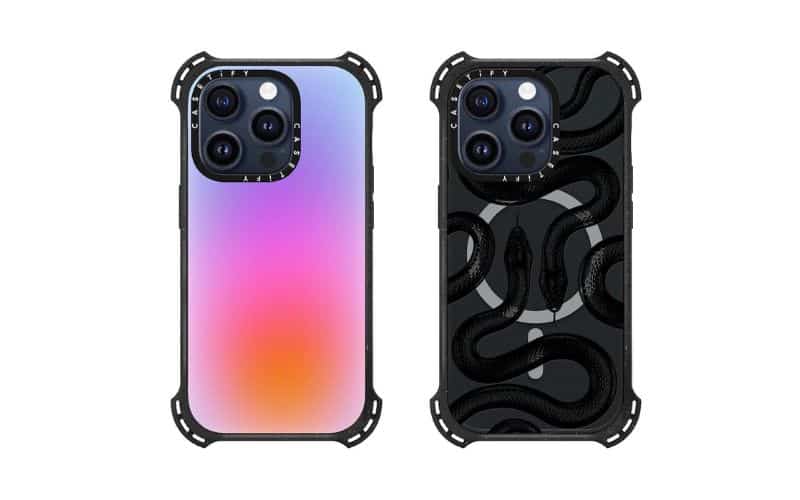 Many of us use cases not only for protection but also because we want to personalize our iPhones. If you want to personalize a case for your iPhone 15 Pro but also want it to be rugged and survive accidental drops, the Casetify Bounce case might be a perfect fit.
The Casetify Bounce case for iPhone 15 Pro is rugged yet looks beautiful. There are several options you can choose from or even customize one to your liking. And this case does not compromise on protection one bit. It features Casetify's proprietary bounce corners that have air cavities and contribute towards creating structural support while adding rigidity. It has 6x military-grade protection.
The Casetify Bounce cases are also MagSafe compatible. So, you can easily use this with MagSafe or other wireless chargers. Do note that the Casetify Bounce case is relatively more expensive than others on this list. However, none of the cases offer customization options.
5. Spigen Magnetic Tough Armor
The iPhone 15 lineup has contoured edges which improve the in-hand experience of holding the device. However, if you want to take this up a notch and also protect your device by the highest standards, we suggest you look at the Spigen Magnetic Tough Armor case for iPhone 15 Pro. It is built from PC, and TPU, and also features an Impact Foam on the inside that increases the durability of the case and protects your iPhone 15 Pro. And, don't forget the kickstand.
Just like the other Spigen case in this list, the Spigen Magnetic Tough Armor case for iPhone 15 Pro also features Air-bag like corners that help decrease the impact. The corners are raised around the camera housing and the screen to protect them from scratches and drops. It is also a MagFit case which means it features built-in magnets, has MagSafe compatibility and works well with MagSafe accessories.
6. ESR Clear Case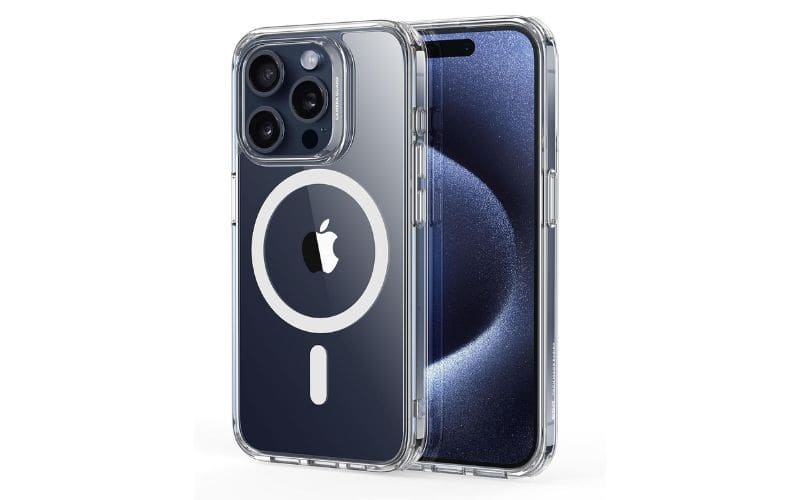 Just when you get your iPhone 15 Pro, you might want to enjoy the new color of your device. If you cover it up with a rugged case, you won't be able to do so. However, the ESR Clear case resolves this issue as it features a scratch-resistant, acrylic back that offers a crystal clear view of your iPhone 15 Pro.
Also, the ESR clear case has Military Grade protection. It has been rigorously tested and also has Air Guard corners that absorb shock when you drop your iPhone. The back of the case is scratch-resistant, features a camera guard that protects the lenses from scratches, and also has raised edges on the front to protect the screen.
You do not have to compromise on MagSafe compatibility either as the ESR Clear case features built-in strong magnets that have a 1,500g of holding force. You can use any MagSafe accessory and even wirelessly charge it using a MagSafe charger.
Rock the Best Rugged Case for iPhone 15 Pro
We hope this list helps you choose the best rugged case for your iPhone 15 Pro. We've tried to cover the whole range of rugged cases so that everyone gets to pick something they like. If you have any other suggestions, please let us know in the comments below.