Apple has unveiled the iPhone 15 Pro and Pro Max at the Wonderlust event. The iPhone Pro series has always denoted the best Apple has to offer. As rumored earlier, the iPhone 15 Pro is chiseled from titanium bodies. The signature iPhone slider button is now replaced with a customizable Action key. Furthermore, the camera is significantly better while adding 5x Optical zoom to the mix. Let us take a closer look at iPhone 15 Pro Max features. 
1. Robust Titanium Casing
Apple's invite showed an Apple logo made out of glittery powder. Apparently, it referred to the iPhone 15 Pro titanium chassis. Earlier iPhones touted a stainless frame. Apple says the iPhone 15 is the lightest Pro model. Furthermore, the titanium 5 alloy is expected to offer the best strength-to-weight ratio. Meanwhile, the PVD (physical vapor deposition) process adds a thin protective layer, making cleaning easier.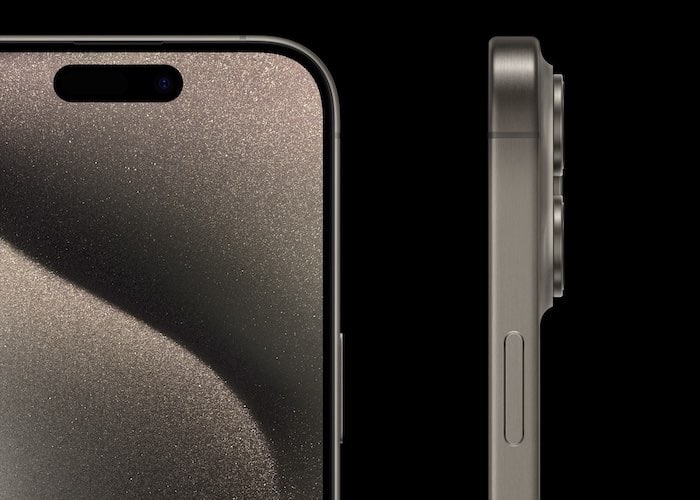 The titanium bands are based on a new 100 percent recycled aluminum substructure. Besides structural stability, aluminum is also likely to aid better heat dissipation. Apple says replacing the glass is now easier owing to the aluminum frame. You can choose from stunning finishes such as Black, White, and Natural Titanium.
2. Hello Action Button, Goodbye Slider
The iPhones have always sported a slider button. It started 16 years ago with the first iPhone. Later, OnePlus added the slider button on their flagship. After over a decade, Apple has decided to ditch the slider button in favor of Action Button. You can program the action button to open your camera, trigger Focus Mode, record a voice memo, and more.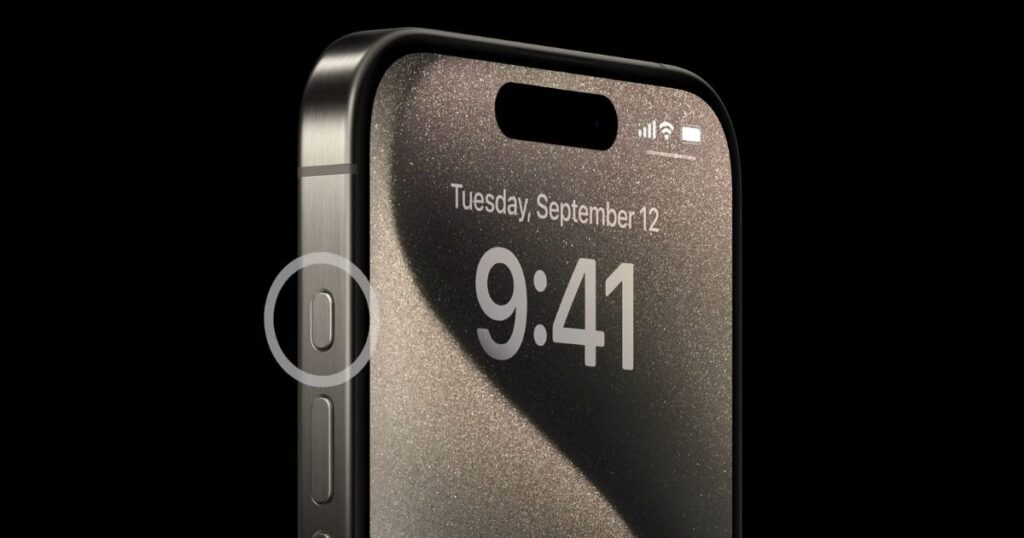 We are all used to turning on Silent on our iPhones using the slider. Fret not; you can still do it. Press and hold down the action button to turn your ringer on or off. In essence, Apple has added an additional layer of functionality with Action Button.
3. Powered by Apple A17 Pro
The iPhone Pro series always gets the best Apple Silicon chipset, and the iPhone 15 Pro is no different. To start with, the A17 Pro is the first 3-nanometer chip. This translates to a 20 percent faster GPU, a significant performance boost, and a neural engine that is twice as fast. 
iPhone 15 Pro and the Pro Max have a lot going for gamers. The A17 Pro is geared towards supporting immersive AR applications and top-notch gaming experience. This means you get a string of console gaming titles such as Assassins Creed, Resident Evil Village, Resident Evil 4, and Death Stranding.
4. Roadside Assistance via Satellite 
Roadside Assistance is a common feature between the iPhone 14, iPhone 15, and the iPhone 15 Pro. That said, it deserves a mention. Apple has collaborated with AAA to offer roadside assistance. Imagine being stranded on a deserted road with no cellular reception and no one to help. In such cases, the new iPhone Roadside Assistance can be a lifesaver. It uses satellite to connect with the AAA helpline.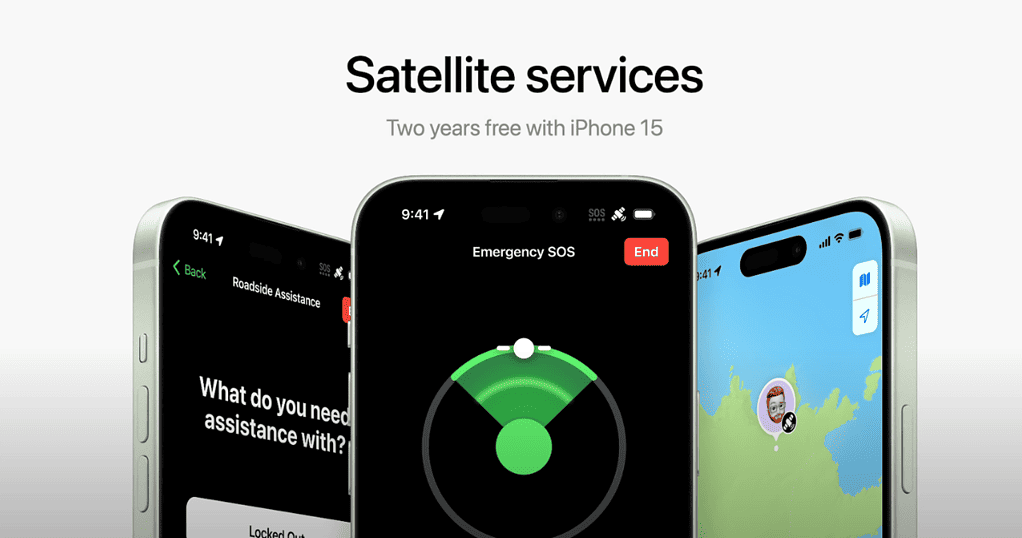 The feature supports all sorts of four-wheelers, including cars and trucks. Here's how you can use Roadside Assistance on supported iPhones. Do note the feature is available only in the U.S. and is free for two years from the date of activation. 
5. iPhone 15 Pro Gets 5x Telephoto and Other Camera Upgrades
At the Keynote, Apple touted the iPhone 15 Pro as equivalent to carrying seven camera lenses. The latest iPhone retains a 13mm ultra-wide angle lens. Apple has added an anti-glare lens and bettered the Night Mode.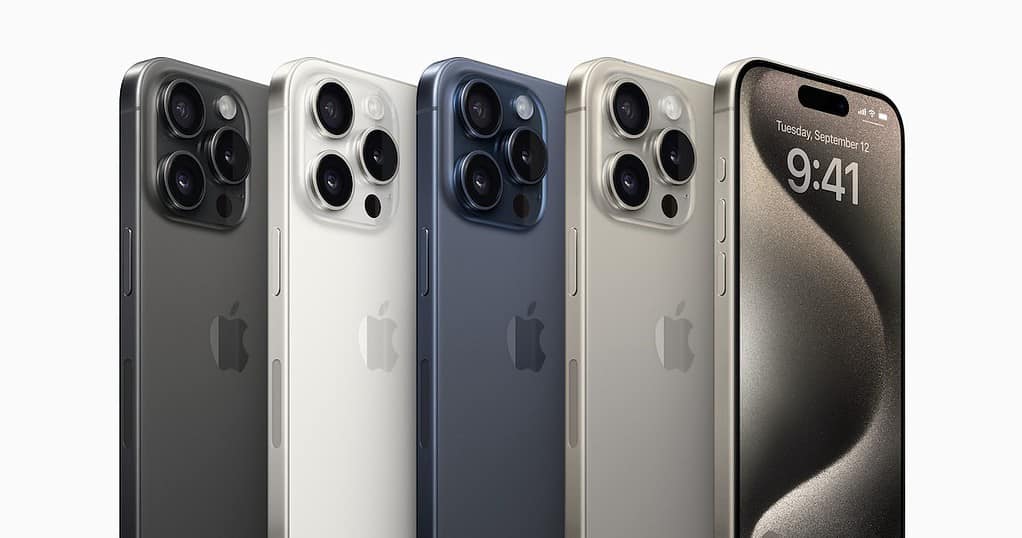 Talking numbers, the iPhone 15 Pro has a large 48MP sensor. It is larger than the iPhone 15 and offers an f/1.78 aperture. You also get a 24MP mode with ProRes support. You can pick from three zoom levels: 24mm, 28mm, and 35mm. 
Moving on, Apple has worked on the telephoto lens. It is still 12MP but gets a 3x zoom on iPhone 15 Pro. Meanwhile, the Pro Max employs a periscope lens that bounces light and offers 5X optical zoom.
Other camera novelties include better low-light visibility alongside improved color reproduction. You also get the ability to convert normal photos into portrait photos. Unlike before, you can add Portrait Mode even after capturing the photos.
5. New UltraWideBand With Enhanced range 
Ultra Wide Band is extremely useful in locating things using the Find My app. The iPhone 15 Pro Max features an updated chip. It lets you locate devices with three times more range than before. However, both devices need to feature an updated UWB chip. The increased range is available only for iPhone 15 Pro and iPhone 15 Pro Max. 
6. USB-C Marks its Debut on iPhone 15
Apple has long resisted the change to USB-C. A few years back, Apple started adding USB-C for the Mac's while continuing with lightning connectors on the iPhone. Recent EU rules asked smartphone manufacturers to offer the standard charging port. Apple had no choice but to comply with EU regulations.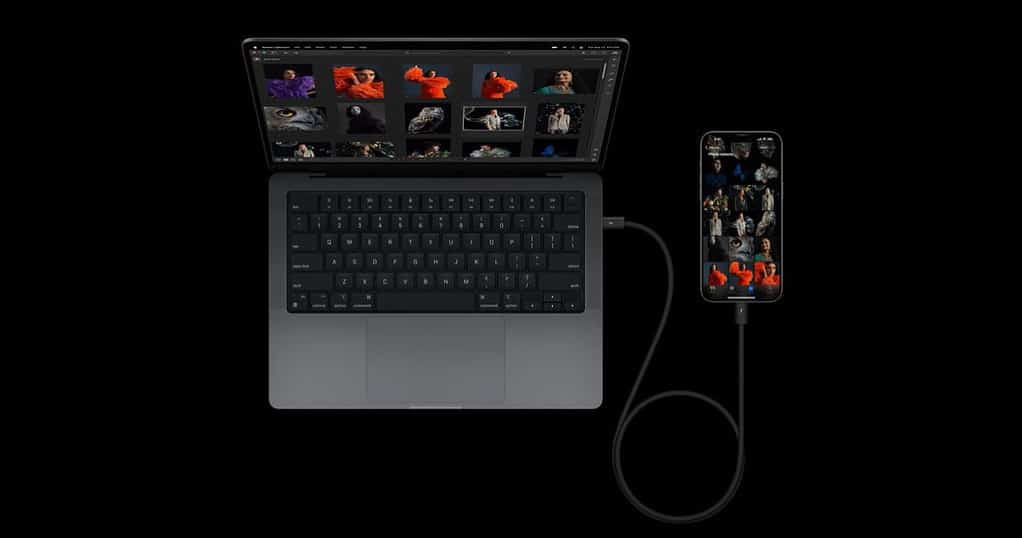 The iPhone 15 Pro supports a USB-C connector and USB 3 for data transfer. It boasts lightning-fast data transfer speeds of up to 10GB per second, which is 20x faster than before. Check out our compilation of the best USB-C cables for iPhone 15 Pro. 
7. Recycled Battery and Finewoven Cases
Apple has committed to becoming carbon neutral by 2030. Each year, the company highlights progress as it works towards its goal. For the first time, the iPhone 15 Pro and Pro Max battery uses a 1— percent recycled aluminum substructure and 100 percent recycled cobalt in the battery. Apple's battery is now free of mercury, PVC, and beryllium.
Apple has ditched leather cases and straps for the iPhone and Apple Watch. The leather is now replaced with the fine woven case.
Apple is focussing on adding new utilitarian features to the iPhone every year. The ones like USB-C, Roadside assistance, Action buttons, and UltraWideBand make it significantly better. That apart from that, each iPhone iterative upgrade is treated to the latest and fastest hardware. Which is your favorite iPhone 15 Pro Max feature? Let us know in the comments below.