The iPhone 15 series comes with a USB-C port. While iPhone 15 and iPhone 15 Plus feature a USB 2 port, the iPhone 15 Pro and iPhone 15 Pro Max feature a USB 3 port and support speeds up to 10 Gbps. However, the USB-C cable in the box only supports USB 2 speeds. So, if you're looking to get the best transfer speeds and make the most of USB 3, here are the best USB-C cables for iPhone 15 and iPhone 15 Pro Max.  
1. Apple Thunderbolt 4 (USB‑C) Pro Cable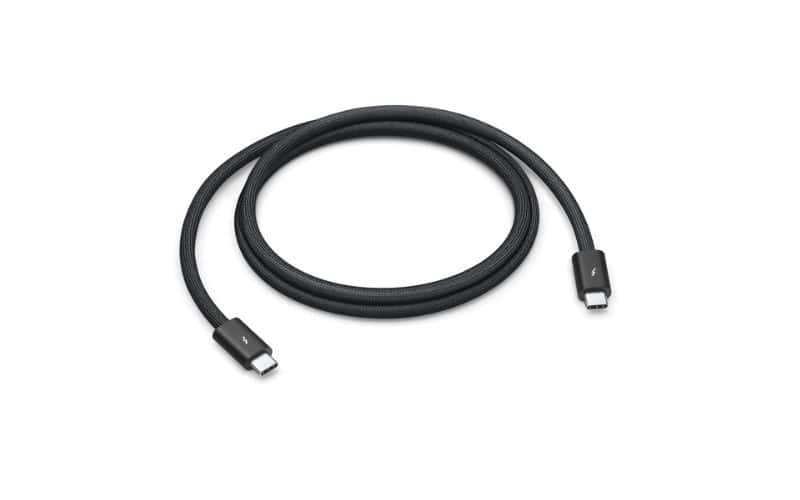 Many people prefer to buy original accessories, instead of third-party products. If you're one of them, the Thunderbolt 4 Pro Cable by Apple is the perfect choice. Mind you, it's more expensive than all the other USB-C cables in this list, however, it is the only product that supports USB 3 functionality.
You can use the Thunderbolt 4 Pro Cable by Apple to transfer data at 10 Gbps, use it as a Display Port (HBR3) for video output, or even connect it with other USB 3 devices. Also, it supports up to 100 watts of power delivery so you can use it as a charging cable for your MacBooks. 
The build of the cable is sturdy as it has a braided design that you can easily coil without it tangling. However, as of writing this, it only comes in the black color option. This is good because it won't look as dirty as a white cable, but more color options would've been better. 
2. Cable Matters 10Gbps USB-C Cable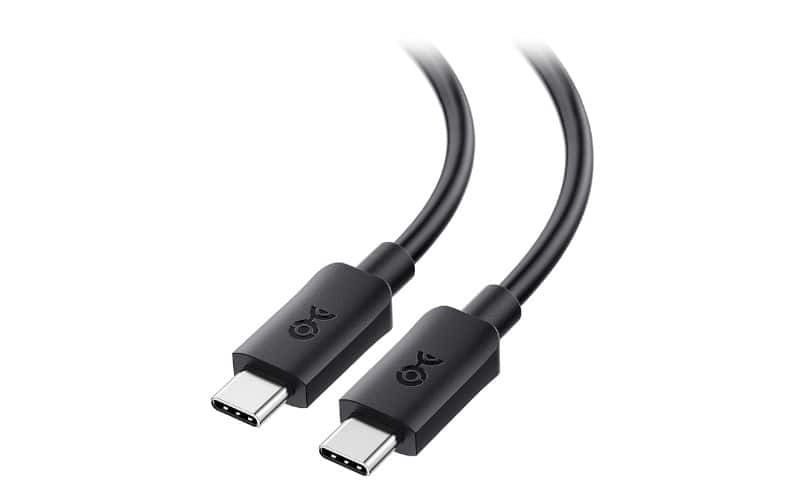 The Cable Matters USB-C Cable is a noteworthy option. While it does not bear the Apple logo, it offers reliable performance for various purposes. It is a Thunderbolt 3 cable and supports all its features which means it can be used as a display cable and power a 4K 120Hz monitor or even an 8K 30Hz monitor. 
The Cable Matters USB-C Cable supports data transfer speeds of up to 10 Gbps which is exactly what the iPhone 15 Pro series supports. It can also charge devices at 100 watts. Now, this might be overkill for your iPhone 15 Pro but will be helpful if you own other USB-C devices. Moreover, all of these features combined make it a perfect choice for someone who wants a multi-purpose USB-C cable.
You can get the Cable Matters USB-C Cable in two sizes: 3ft or 6ft. Which allows you to pick the perfect size for your needs. Lastly, the cable's build quality is sturdy and reliable. However, it isn't braided which might lead to tangling. It is available in a sleek black color. 
3. Anker Powerline USB-C Cable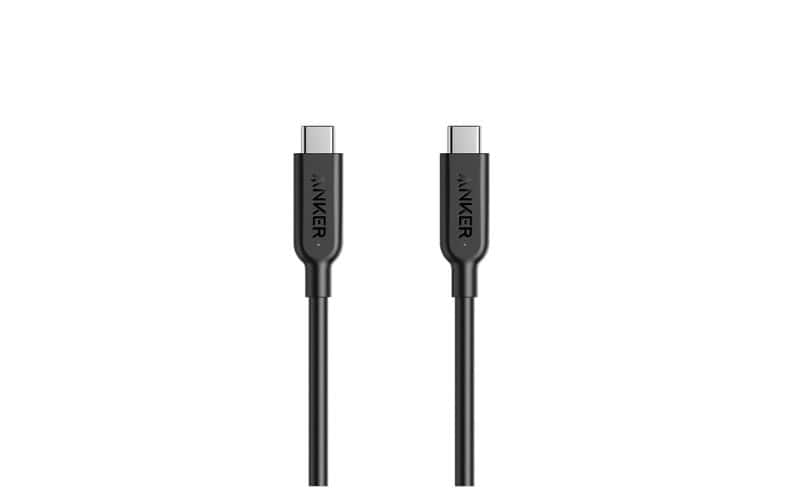 Anker is a renowned brand for third-party accessories. Many of you might have already tried their products and if not, now is a good time to do so. This Anker USB-C cable is from their Powerline product line. It is a USB 3 cable and supports multiple products including the iPhone 15 Pro series.
You can use the Anker Powerline USB-C cable to swiftly transfer data as it offers 10 Gbps data transfer speeds. Another helpful feature is the ability to use this cable for video and audio output and it supports video output up to 4K resolution. Furthermore, its ability to provide up to 100 watts of power adds to its versatility, making it suitable for charging various devices like your MacBook, iPad, or any other USB-C device.
One standout feature of the Anker Powerline USB-C cable is that it comes with a lifetime warranty. The company offers free replacement for any quality issues. It does not include normal wear and tear. Lastly, the cable is available in black and is 3ft long. The length should be enough for most users, however, if you want a longer cable, you can opt for other options in the list.
4. UGREEN USB C Cable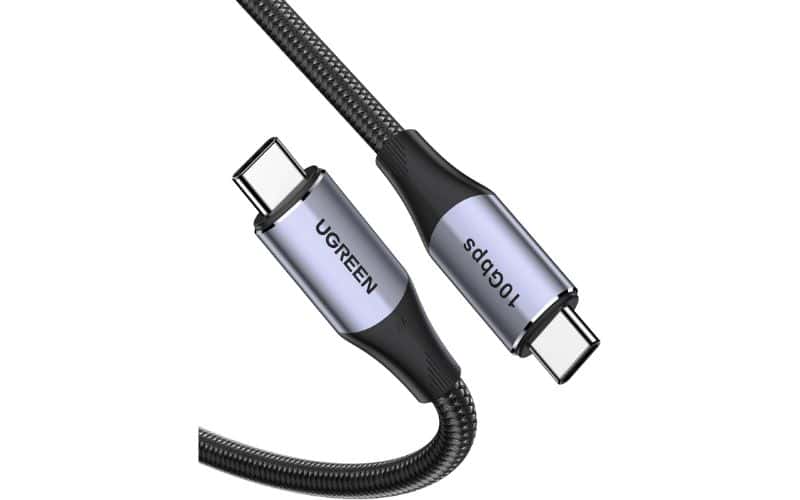 UGREEN is yet another brand that makes great value-for-money products. This USB-C Cable from UGREEN supports 140 watts of power delivery which is extremely quick and can be used for MacBook Pro's. Yes, this USB-C cable will still charge your iPhone 15 Pro at the same speed as the cable provided in the box. But, having this cable will eliminate the need to carry another cable for your MacBook.
It even comes with an exclusive E-marker smart chip that automatically matches the required current based on the device you plug it into. Additionally, it has 56KΩ resistors that support seamless conduction, enhancing protection against potential damage during current discharge.
The UGREEN cable is compatible with Thunderbolt 3 for those seeking video output capabilities. So, you can use it to output video from your iPhone 15 Pro or MacBook to another monitor. It can support displays with up to 4K resolution. How can we forget about the data transfer speeds, especially because this USB-C cable supports up to 10 Gbps speeds. 
5. Fasgear 90-Degree USB-C Cable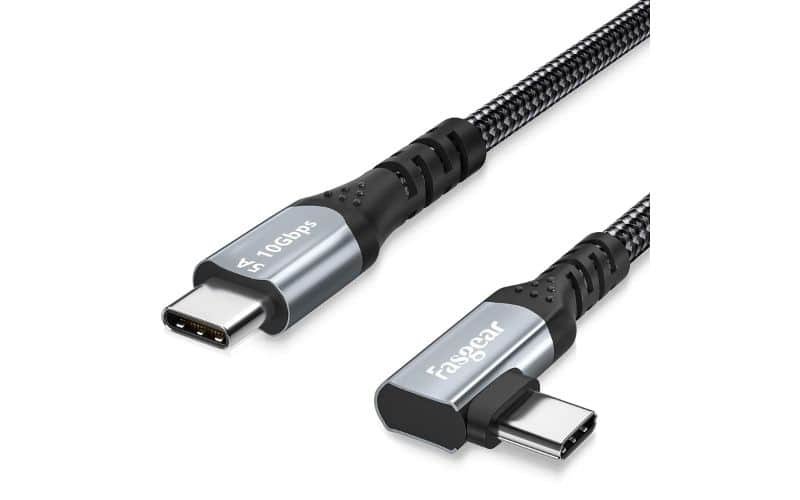 The Fasgear 90-degree USB-C Cable boasts a 90-degree L-shaped connector design. This makes it a perfect choice if you have to use your iPhone 15 Pro for shooting 4K ProRes Videos to an external storage device and the 10 ft length just makes it the perfect choice. The connector shape is also useful for gamers or in virtual reality setups as the cable won't interfere while plugged in.
The Fasgear 90-degree USB-C Cable offers power delivery of 100 watts through its built-in E-Marker IC chip. It even has data transfer speeds of up to 10 Gbps, another bonus. Furthermore, you can even use it for audio and video output and it supports resolution up to 4K at 60Hz. 
Talking about the design, apart from the L-shaped connector, the cable's outer layer is made from braided nylon, which further increases its durability. It can withstand at least 10,000 cycles of 90-degree bends, ensuring long-lasting performance. You even get an 18-month worry-free warranty. 
Which USB-C Cable Are You Getting for Your iPhone?
Right now, there aren't many choices from well-known brands. Moreover, whenever you opt for a cable from a third-party brand that is not very well known, check if it has MFi certification to be sure that it is certified by Apple. Some of these cables also come with certifications from other brands which ensures that they're well-tested and will carry out whatever functions the company claims. If you have any other suggestions, please let us know in the comments below.