More than often cases tend to ruin your iPhone's stock look. Clear case, however, lets you flaunt iPhone without worrying about protection. However, there are a number of iPhone 15 Pro clear cases in the market. So, to help you not fall prey for substandard products, I will give you a list of the best clear cases available on the market.
Do You Need a Clear Case for iPhone 15 Pro and Pro Max?
The latest iPhone 15 Pro is powered by A17 Pro chip, triple-lens camera, and introduction of the Action button promise to revolutionize the iPhone experience for users. Furthermore it is the first iPhone made of Grade 5 titanium, a strong and lightweight alloy often used in airplanes and spacecraft. For example, the same alloy was used to build the Mars Rover that is currently exploring Mars.
The reasons behind the choice of titanium were its strength and durability. Moreover, the lighter weight of the metal makes the iPhone 15 Pro series of devices the lightest Pro models to be ever released.
Apple uses Grade 5 titanium because of the superior strength-to-weight ratio of the alloy. Plus it is durable and light. And what better to showcase this impressive finish than a clear case for your iPhone 15 Pro?
Best Clear Cases for iPhone 15 Pro and Pro Max
This list includes the most reliable clear cases that you can purchase for your iPhone 15 Pro. We will have a closer look at all the clear cases and analyze their functionality. We will start off with the MagSafe range of accessories that Apple released along with the iPhone 12 series of devices.
1. MagSafe
The MagSafe range of accessories by Apple makes adding extra attachments to your iPhone case easy. And that's not all, it also facilitates faster wireless charging. If you want to showcase the elegant finish of your brand-new iPhone 15 Pro, the MagSafe Clear Case is a good choice. And, you can choose MagSafe chargers and other MagSafe accessories.
Best Features
The iPhone 15 Pro Clear Case with MagSafe is made of a combination of optically clear polycarbonate and other flexible materials.
The case has two separate scratch-resistant coatings on both its interior and exterior.
Enables faster than standard wireless charging.
2. ESR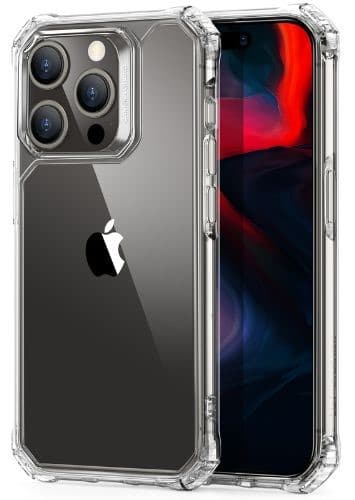 ESR blends style and security with the ESR iPhone 15 Pro air armor clear case. It has Air Guard corners to absorb shock in case of an accidental drop or fall of the iPhone.
High-quality materials are used to make the case to ensure less yellowing over time. The case is also MagSafe compatible. You can use a lot of accessories comfortably with it.
Best Features
This clear case aligns with Apple's climate pledge of 2030.
Slim and lightweight yet offers military-grade protection.
The raised bezels around the screen and camera provide excellent protection against scratches.
3. Supcase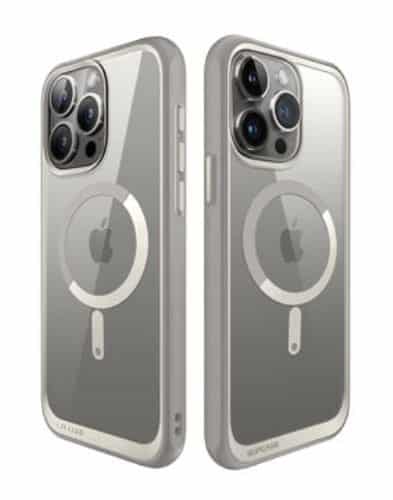 If you want protection and style, you can opt for the iPhone 15 Pro Unicorn Beetle MAG Slim Clear MagSafe Case by Supcase. This case is available in three different hues – blue, grey, and black.
This case strikes the perfect balance between protection and style. So, if you are looking for professional clear case options, this one might be the one for you.
Best Features
It is MagSafe compatible. So you will be able to use wireless chargers and other MagSafe accessories with this iPhone 15 Pro clear case.
Certified for a 15 ft drop test by MET Labs.
Supcase offers a one-year warranty period for the case.
4. Spigen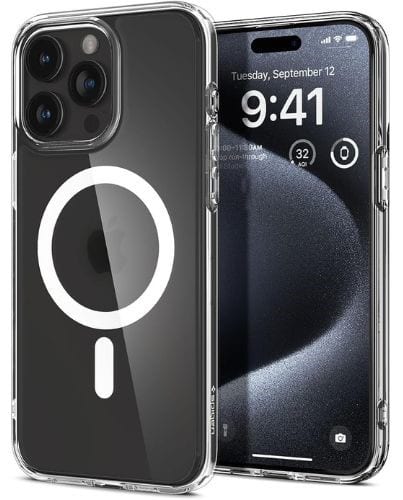 For iPhone 15 Pro users who desire an eye-catching clear case, Spigen has got you covered. The Spigen Ultra Hybrid MagFit Designed for iPhone 15 Pro Case (2023) – Frost Clear is a strong statement of intent by Spigen.
Apart from offering holistic protection against physical damages, the clear case accentuates the beauty of your iPhone 15 Pro. The only drawback? The case feels a bit slippery.
Best Features
The raised corners of this clear case provide adequate screen protection.
Tactile buttons are present on the case to relay solid feedback.
Uses the air cushion technology to offer maximum protection to your device.
5. Mkeke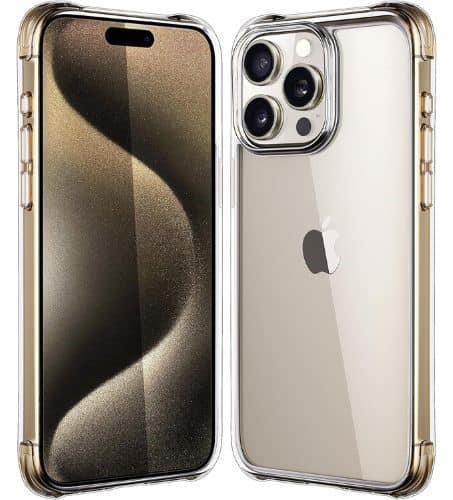 The Mkeke for iPhone 15 Pro Case Clear is an obvious choice for users looking for a protective case that is clear, sleek, and reliable. A perfect blend of aesthetics and reliability, this clear case by Mkeke is a solid choice for professional individuals.
With anti-yellowing technology and a non-slip surface, this clear case is a good option for iPhone 15 Pro users to consider.
Best Features
The thermoplastic polyurethane material is environment-friendly, durable, and heat-resistant.
Has good stain and sweat resistant properties.
The anti-yellowing technology ensures that your iPhone 15 Pro's sleek design always shines through.
6. Totallee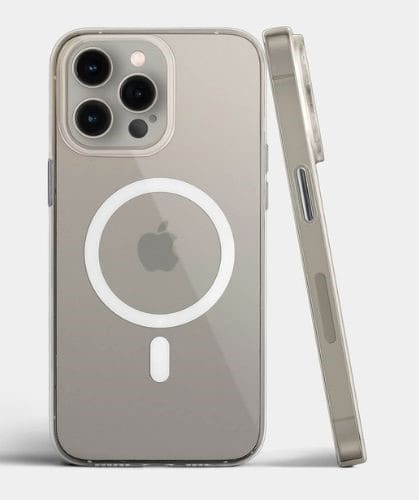 The Clear iPhone 15 Pro Case by Totallee maintains the phone's elegant outlook while providing a slim and minimalistic protective layering. The high-quality polypropelene material makes the case resistant to yellowing and discoloration.
Best Features
The ultra-thin design enhances the sleek getup of your iPhone 15 Pro.
Features extra grip anti-slip material to reduce slippage issues.
Uses shock-absorbing drop-protecting technology.
Best iPhone 15 Pro Accessories
Apart from the clear cases, there are quite a few other accessories to choose from for iPhone 15 Pro. Let us have a look at some of them.
MagSafe Battery Pack: This portable battery pack can be attached to the MagSafe compatible clear cases. With about 15 hours of battery life, these are a great choice of accessories, especially for travel users.
USB-C to Lightning Cable: Like the name of the cable mentions, this is a USB-C type cable. You can charge your device reliably and considerably faster with this.
MagSafe Wallet: Capable of holding upto three separate cards, this slim wallet can be attached to your iPhone case and can come in handy.
Get Clear Cases and Show Off Your iPhone 15 Pro
First ever titanium Apple product, fastest chip in the market, superior ray tracing for enhanced photographs – these are some of the distinctive features of the iPhone 15 Pro devices. Clear cases come in handy because the titanium finish is something that users would want to show off. And what better way to show it off than a clear case?
So, which one did you opt for? Do you have any suggestions that you believe should be on the list but aren't? Do let us know in the comments. And for more Apple news and updates, keep following us.