When I first saw a 2015 MacBook in an Apple store, I instantly fell in love. Not with the gold color, mind you. That looked garish, unprofessional and cheesy. So I bought a space gray model and have greatly enjoyed using this computer for about 15 months. It's the best Mac notebook I've ever owned. Here's my report.

MacBook First Reactions
My first reaction to the lack of a USB-A port was solved immediately. When I placed the online order, I opted for the short USB-C to USB-A adapter cable. That got me though the early days of using Flash drives and served me well at the TMO summer camp about a year ago.
Another backup device that I didn't use as much as I thought I would was a Flash drive with both ports, the Patriot Stellar-C. "Patriot Ready With a USB-C Flash Drive for Apple's MacBook." That's probably because I use AirDrop much more than I used to.
This computer is designed for extreme mobility. That's obvious, but brushed under the rug in many articles. As such, this Mac doesn't try to be a half-way computer and make compromises such as backwards compatible ports. That seems to place operational constraints on this MacBook when used on a desktop, but I'll get to that in a moment.
My first article explored the wireless modes that replace the traditional desktop wires. "How My New MacBook Speaks to Me." There, I showed how a subtle change in mindset eliminates the angst and desire to return to old ways.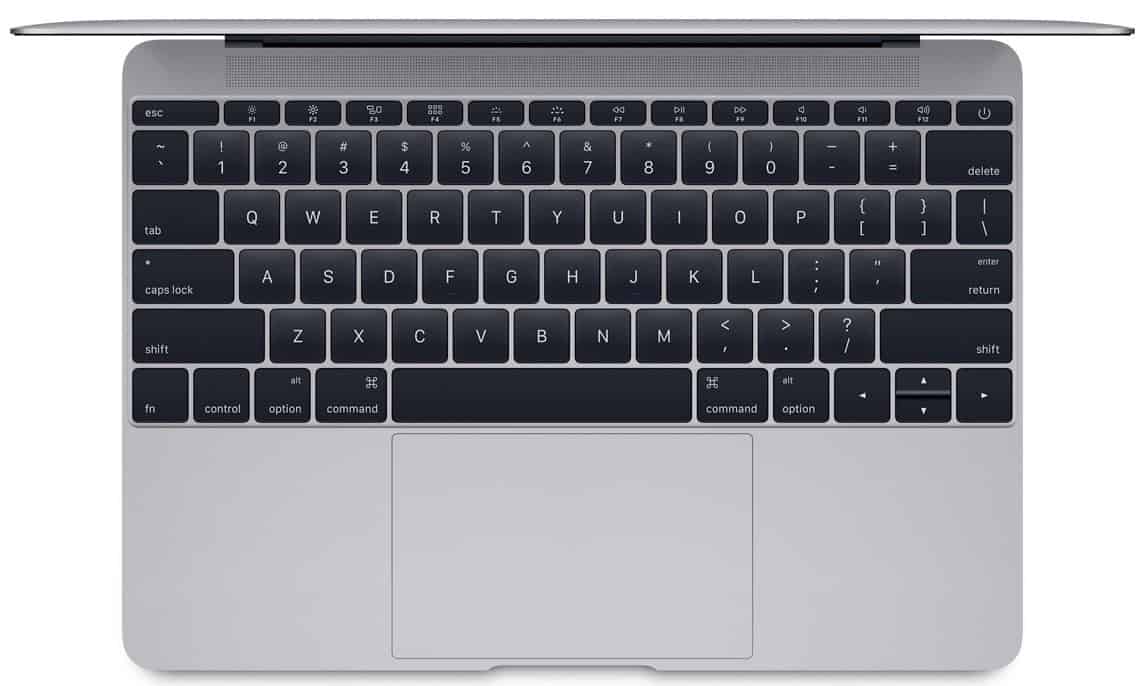 I absolutely love the keyboard with its butterfly mechanism, but I understand that not everyone does. In my case, it's the best keyboard I've ever used, and I've been waiting eagerly for Apple to sell a stand-alone version to replace my Apple Aluminum Keyboard, for everyday writing. My wish has gone unfulfilled. "Eight Weeks With the MacBook Keyboard: Total Love."
No Speed Demon?
Early criticism of the 2015 MacBook focused on the supposedly anemic Intel Core M CPU. It always amazed me how bloggers could look at this MacBook, smaller than a 12.9-inch iPad Pro, and suggest that it is somehow deficient because it doesn't have the power of a NASA supercomputer. It gets the job done in a mobile environment, and that's the whole point.
In my experience, in terms of every day use, writing articles, browsing with Safari, managing files, reading email, and installing El Capitan and Sierra Betas, it has been up to the task. I've never found myself complaining, "Jeez, this Mac is too darn slow!" Nope. Hasn't happened.
Life with USB-C
The only annoyance I had with this MacBook was in the early days when I wanted to have a drive attached and also charge it. But that problem quickly faded when I acquired the beautiful, amazing, essential Other World Computing USB-C dock. "OWC's USB-C Dock Has a Complete Set of Ports and is Fully Powered."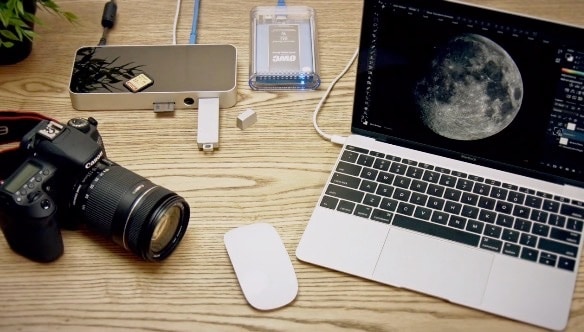 This dock promotes a convenient space on my desk where I can sit and work, charge the MacBook, attach a Flash drive, a Time Machine Drive (at first), and and Ethernet connection—if I need it. (I seldom do, and I use a NAS for Time Machine backups via Wi-Fi now.)
I've seen persistent complaints about this MacBook (and of course, its 2016 upgrade) being susceptible to breakage of the USB-C charging port. There are two things here. First, because I charge it on a desk, there's no worry about tripping on a cable and paying the price for not having a MagSafe connector. When I'm in my recliner, cordless, there's no problem thanks to the excellent battery life. The claim is 10 hours; I get about 7. Consequently, I don't need to connect a charger when it's in my lap, so the lack of MagSafe is not a problem.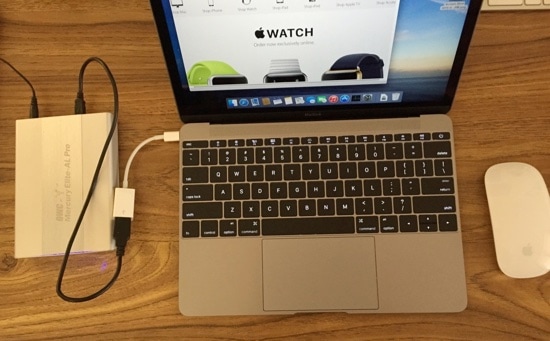 A bigger problem is the fact that one port has to do so much, and if it were to become mechanically damaged, I'd be up a Jacobian without a determinant. That could be a problem, but I've had no mechanical failure in 15 months of constant fiddling, reviewing and testing. Of course, if your situation begs for a MagSafe-type solution, there is one. "Griffin's BreakSafe USB-C Cable Replicates MagSafe For the Apple MacBook."
Over the months, I've reviewed several less expensive USB-C hubs that are small and light, perfect for travel when a powered dock is too clumsy. My favorite has been: "Minix Neo C USB-C Multiport Adapter Includes VGA or HDMI."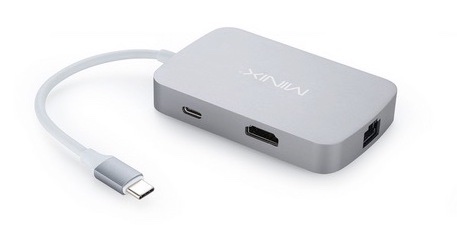 In fact, over the past year, there have been a host of new USB-C peripherals introduced, including hard disks with pass-through power. These peripherals have made the decision for a MacBook go from a moment of pause to a no-brainer. See: "9 New, Cool USB-C Devices Shown at CES."
Despite its advantages, not every PC maker has aggressively jumped on the USB-C bandwagon. If you're curious, see: "Here's why PC notebook makers, aside from Apple, have been slow to adopt USB-C."  Hooray to Apple for charging a bit more and moving us forward.
The Display
This MacBook has a gorgeous Retina display. At first, I wondered how the default and other display options mapped to the native resolution of this 12-inch LCD display, which is a rather weird 2304 x 1440. I finally figured it out and wrote: "Here's How Apple Adapted Retina Technology for the New MacBook."
In terms of sheer physical size, I found a 12-inch diagonal display a bit too small for my liking. My previous notebook Mac was a 2011 13-inch MacBook Air, and while it may seem inconsequential, that extra inch made all the difference. [Insert your favorite joke here.] And so, if Apple carries the 2015/2016 MacBook design theme over to the new, rumored 2016 MacBook Pros, I might well jump to a 13-inch MacBook Pro.
Thunderbolt
The Intel Core M processor in the 2015 does not support Thunderbolt 3, and so Apple settled for for just USB-C 3.1 Gen 1 which is only 5 Gbps. But that USB-C port supports DisplayPort 1.2 and HDMI, so there isn't much of an impact in a portable Mac like this. Apple probably wanted the debut of Thunderbolt 3 to be on the 2016 MacBook Pros anyway. For a review of the 2016 model, see this excellent article at ars technica that also explains the Thunderbolt politics. "The 2016 Retina MacBook is a faster version of the same machine."
Speaking of Thunderbolt, I can't say enough good things about this introductory article. "Tech 101: A Brief History of Thunderbolt Technology." That will get you ready for the new MacBook Pros.
Final Thoughts
Throughout my 15 months with this MacBook, writing, researching, reviewing products, and installing betas of El Capitan in 2015 and Sierra in 2016, it has been rock solid. I've never had a hiccup, never had a hardware failure, and never been annoyed with its performance. It's been a stellar companion, light, thin, beautiful in space gray, rugged and with long battery life. It's the best Apple notebook I've ever owned, and I never regretted jumping in with USB-C, day one, for an instant.