Dr. Mac's Rants & Raves
Episode #301
I have always loved creating automated shortcuts on my Mac to execute repetitive multi-step tasks with a single keystroke. In the old days, I used QuicKeys (may it rest in peace). Since QuicKeys' untimely demise, I rely on Keyboard Maestro to automate dozens of repetitive tasks on my Mac, as I wrote in Dr. Mac on August 14, 2018.
Along the same lines, I've loved creating automated sequences on my iOS devices with Workflow, one of my all-time favorite third-party apps, for many years.
Apple apparently loved Workflow, too, and it acquired the Workflow app and its development team early last year. That could have been good or bad for users, but current events seem to lean toward good.
Since Apple acquired Workflow, it dropped the price from $4.99 to free while continuing to update it with new features and capabilities.
With the release of iOS 12, Workflow has been renamed Shortcuts. If you had the Workflow app on your iOS device before the upgrade, you'll find the Shortcuts app has replaced your Workflow app. Don't be alarmed—it still contains most (if not all) of the workflows you created previously.
If you didn't have Workflow installed, you can download Shortcuts from the iOS App Store for free. If you haven't done got it yet, you should. Once you do, you'll be able to execute sequences with a single tap or voice command.
Some Shortcuts I Love
Here are just a few of the shortcuts I use every day:
Share the current item with: myself; my wife; my son; my daughter; or the whole family (five separate shortcuts).
When I tap the Share button in any app, I can use any of these shortcuts to share what's on my screen—a link, a picture, or anything else that's shareable— with the appropriate family member (or the whole family) in an iMessage.
Remind me to _______ when I get home.
I usually trigger this shortcut by voice. If I say, "Hey Siri… Remind me to call my mom when I get home," Siri creates a reminder in the Reminders app and notifies me when I arrive at home.
Directions to home from my current location
Having this shortcut in my Today View (swipe left-to-right on your 1stHome screen) launches the Maps app and fills in the To and From fields, so all I have to do is select a route (optional) or press the Go button.
Send the last screenshot I took to another device (usually my Mac) via AirDrop.
Create an audio recording and save it in Evernote.

Most of these shortcuts are in my Today View, where they save me time by eliminating dozens of taps every day.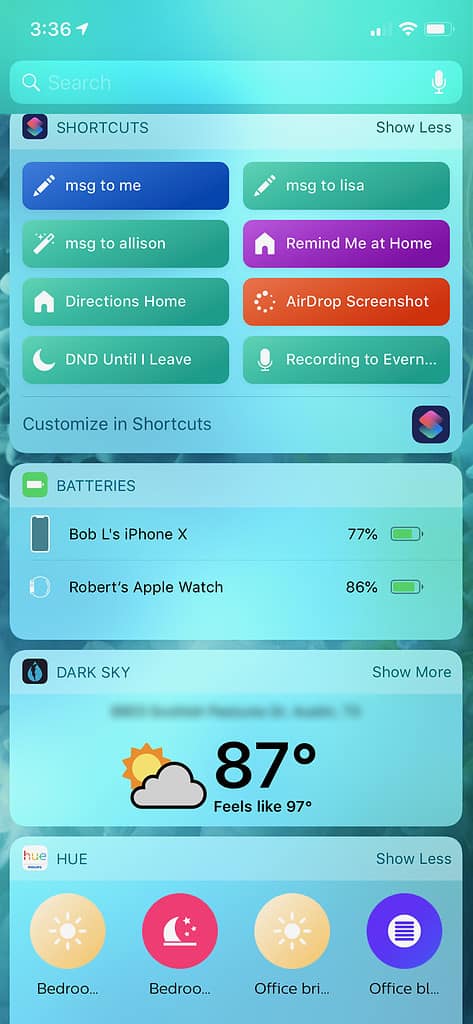 Finally, all of my customized shortcuts are based on shortcuts from the built-in gallery, which includes literally hundreds of useful shortcuts for you to customize and use.
Shortcuts is free, awesome, and easy to use. If you aren't already using it every day, why not?
Want to Learn About Automation (on macOS and iOS)?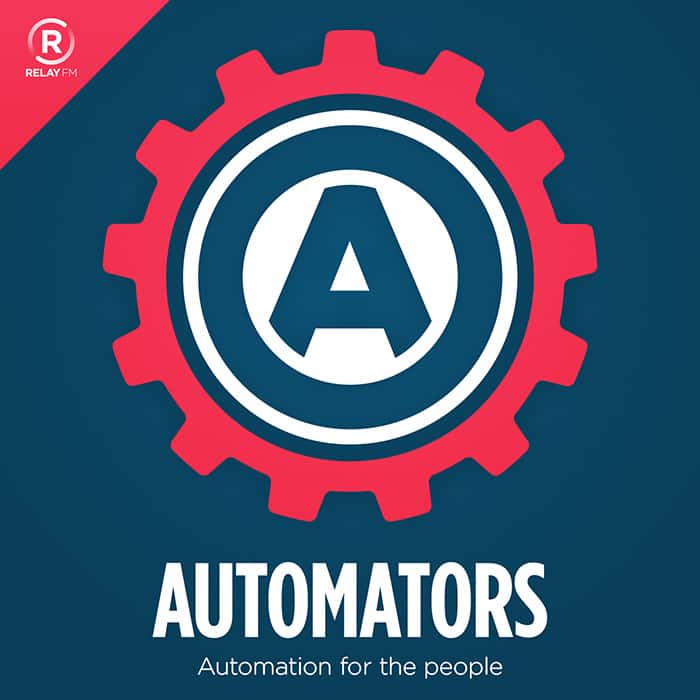 There is one more thing: I recently discovered an excellent, relatively new podcast (8 episodes to date) focused on automation on the Mac and iOS devices. Hosted by veteran podcaster and creator of the popular MacSparky Field Guide series, David Sparks with co-host Rose Orchard, I've found the episodes I've listened to so far informative and engaging. If you're into automation, I think you will, too. 
If I had to pick a favorite episode so far it's Episode 3, in which a former member of the Workflow/Shortcuts team, Matthew Cassinelli, provides useful tips, hints, and techniques for creating cool shortcuts with the iOS Shortcuts app.
All episodes are free (of course), so give The Automators a try.