The color choices for the iPhone 7/Plus are better than ever. A good case can protect that iPhone without covering up those amazing colors. Here's a look at three cases that are mostly transparent and provide a range of protection.
First, this is a Quick Look review. I'm not going to go into all the technical details that I typically delve into. Also, each case is available for the iPhone 7 and iPhone 7 Plus. See the website links below for available colors. So let's just jump in.
Here are the three cases on my desktop. Left to right, we have:
Rokform "Crystal" Case – US$49.99
Just Mobile TENC – US$24.95
Gear4 Soho – US$39.99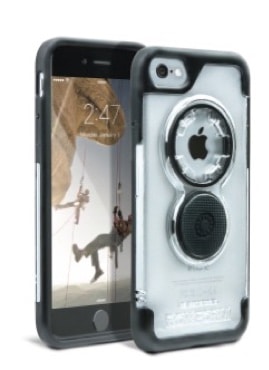 #1. Rokform. The first case I received and tried out was the Rokform Crystal. Notable here is the mounting system that includes a magnet with a sticky back and a corresponding magnet in the case. These are very strong magnets. Also notable is the RokLock system that allows, with optional accessories, the mounting of the iPhone on, say, a bicycle, stoller, golf cart, etc. This part is not included.
The case itself is a hybrid clear polycarbonate outer shell and an energy absorbing material around the edges. I liked the design, and it's easy to insert and remove the iPhone. The covered button press-through is easy, much improved from before. (For more details, see my review of a previous model for the iPhone 6.) However, if you're not after a mountable iPhone, you'll want to dispense with all the hardware and move on to one of the others below.

#2. Just Mobile.The second case I received was the Just Mobile TENC (The Emperor's New Clothes). I've experimented with this kind of case in the past when I thought I wanted nothing more than a thin, transparent polycarbonate shell and nothing else.
I think my tastes have changed over the years because this case left my iPhone 7 feeling very much exposed. If a case is going to be that spare, I like to have the edges covered in a soft, impact absorbing material. This is why my favorite case of all time was the iLuv Vyneer, which I've previously reviewed.
Notable in the design of this case is that the polycarbonate is covered with a "AutoHeal" smart coating that is claimed to be 10 times more scratch resistant than the bare surface. This layer is just 0.2 mm thick and can, according to Just Mobile, wear with time if rubbed often. I didn't have a chance to test the scratch resistance and auto-healing feature.
There's no issue with button pressing with this case because they aren't covered. And, if there's one thing important to note about the use of case, it's that it is extremely difficult to remove. That's a serious negative.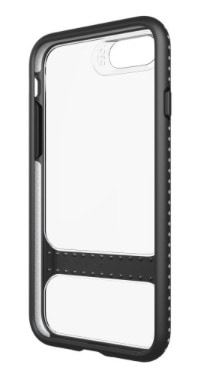 #3. Gear 4. I've saved the best for last. My favorite of the three is the Gear4 Soho. It's transparent on the back and uses what's called D3O material on the edges and inside. From Gear4:
Used by Olympic ski teams and the military, D3O is a smart material scientifically proven to deliver superior impact protection through advanced shock absorption…. GEAR4 is the first case brand to use INJECTABLE D3O delivering more impact protection per cubic millimeter than other leading materials.
This case feels like it's going to protect my iPhone 7, yet lets the Apple logo and back of the iPhone show. My only complaint is that the button press-through is a little stiff. Gear4 could learn from Rokform's experience on this. On the plus side, it's easy to insert the iPhone 7 and reasonably easy to remove it. But it's not as easy to remove as the NuGuard KX Case for iPhone 7, previously reviewed. That Nuguard KX has, in my opinion, the best protection. But it's opaque except for the aperture for the Apple logo.
Summary
For now, the Gear4 case, while not perfect, is a very good compromise between protection, transparency and ease of use. It reminds me a lot of that iLuv Vyneer that I linked to above.
This is now my goto case until something better comes along. That will, indeed, be an accomplishment.