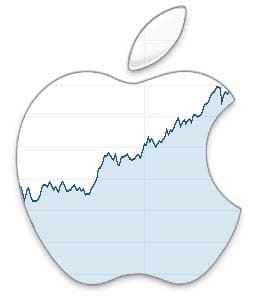 Apple announced results for the September quarter—the company's 4th fiscal quarter—on Thursday, including year-over-year gains in revenue and earnings. Apple reported revenues of $52.6 billion, up 12 percent year-over-year, and earnings per share of $2.07, up 24 percent year-over-year.
Both numbers significantly beat Wall Street's consensus expectations of $50.7 billion in revenues, and EPS of $1.87. Revenues represent a new record for the September quarter.
Apple posted strong unit sales of 46.7 million iPhones, 10.3 million iPads, and 5.3 million Macs. Wall Street had expected 46 million iPhones, 9.9 million iPads, and 5 million Macs.
"Apple's year-over-year revenue growth rate accelerated for the fourth consecutive quarter and drove EPS growth of 24 percent in the September quarter," Apple CFO Luca Maestri said in a statement. "We also generated strong operating cash flow of $15.7 billion and returned $11 billion to investors through our capital return program."
Apple provided guidance of December quarter revenue between $84 and $87 billion, gross margins between 38% and 38.5%, operating expenses between $7.65 billion and $7.75 billion, other income/(expense) of $600 million, and a tax rate of 25.5%.
All told, this is a good, old-fashioned Apple beat down of Wall Street expectations.
Shares of $AAPL ended the regular session higher at $168.11, a gain of $1.22 (+0.73%), on strong volume of 33.2 million shares trading hands.
*In the interest of full disclosure, the author holds a tiny, almost insignificant share in AAPL stock that was not an influence in the creation of this article.