A common claim has resurfaced in the past week: Apple is deliberately slowing down your iPhone. These claims insist that Cupertino is doing this to push people to buy new models. Each time a new model is released, Google searches for "iPhone slow" spike dramatically.
That's not the whole story, though. One benchmarking firm tackled that argument, checking models as old as the iPhone 5S for performance in iOS 9, 10, and 11. The latest iteration of this claim that Apple is slowing down your iPhone surfaced in the form of an online article that was shared 270,000 times before it was taken down.
Testing the Performance of Older Devices to Determine If Apple Is Slowing Down Your iPhone
Futuremark, a popular benchmarking service that is now part of Underwriter Labs (UL), tackled this argument head-on. Despite the spike in Google searches for "iPhone slow," Futuremark decided to tally up results from its own database of benchmark data for various models of the iPhone.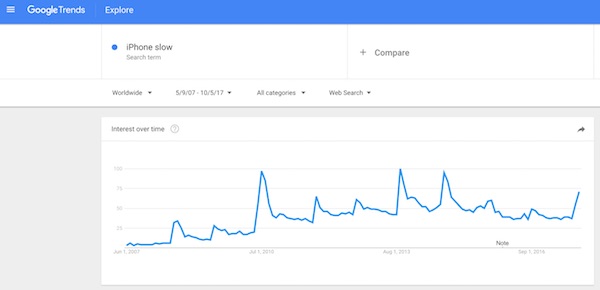 Futuremark used a free benchmarking app called 3DMark, which tests the graphics and central processing units (GPUs and CPUs, respectively). It runs a demanding series of tests, and then scores the GPU and CPU based on performance metrics. The results for the iPhone 5S don't surprise me much, because I don't believe for one minute that Apple needs to slow down devices to get our money.
Well, would ya look at that? The figures for iOS 9, 10, and 11 are almost as steady as a rock for two years. There are minor variations, but Futuremark says these "fall well within normal levels". It certainly looks good to me. The numbers show that the GPU in the iPhone 5S maintains very steady performance even years after its release. No sign that Apple is slowing down your iPhone there, so let's look at the CPU.
Just as with GPU performance, the 3DMark Sling Shot Extreme Physics test doesn't waver much. It doesn't matter what iOS version is installed, the device performs the same.
The Moral of the Story is No, Apple Isn't Slowing Down Your iPhone
The numbers don't lie, folks. Apple is not slowing down your iPhone, but your apps might be. Apps that aren't optimized for your device could run slower. Newer features might not be as crisp and snappy.
You can't really expect Cupertino to stop coming up with new features just so you don't have to buy a new device. The truth is, models like the iPhone 5S last an incredibly long time without any performance hits. The problem lies in the apps you run, not the device. Hopefully, these benchmark results will finally put to rest the allegation that Apple is slowing down your iPhone.