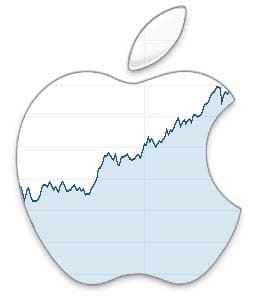 Apple reported revenues of $61.1 billion and earnings per share of $2.73 for the March quarter on Tuesday. Wall Street consensus estimates were for revenues of $60.8 billion and EPS of $2.68, making the quarter a solid beat for Apple. Earnings clocked in at $13.8 billion.
Apple said revenues were up 16% year-over-year, while earnings were up 30%, with both numbers a record for the March quarter, apple's 2nd fiscal quarter. International sales made up 65% of the company's revenues.
The company also stressed that iPhone X was the best selling iPhone throughout the quarter, a clear counter to persistent and inexplicable rumors and leaks saying the iPhone X is a failure that hasn't sold well.
"We're thrilled to report our best March quarter ever, with strong revenue growth in iPhone, Services and Wearable," Apple CEO Tim Cook said in a statement. "Customers chose iPhone X more than any other iPhone each week in the March quarter, just as they did following its launch in the December quarter. We also grew revenue in all of our geographic segments, with over 20% growth in Greater China and Japan."
$100 Billion AAPL Smackaroos
Apple also announced a new $100 billion share repurchase program, plus a 16% increase in the company's already huge dividend.
"Our business performed extremely well during the March quarter, as we grew earnings per share by 30 percent and generated over $15 billion in operating cash flow," Apple CFO Luca Maestri said in a statement. "With the greater flexibility we now have from access to our global cash, we can more efficiently invest in our US operations and work toward a more optimal capital structure."
"Given our confidence in Apple's future," he added, "we are very happy to announce that our Board has approved a new $100 billion share repurchase authorization and a 16 percent increase in our quarterly dividend."
Shares of AAPL ended the regular trading session higher at $169.10, a gain of $3.84 (+2.32%), on heavy volume of 43.3 million shares trading hands. The stock was up in after hours trading, too, with shares trading at $175.65, a gain of $6.55 (+3.87%).
Mac and iPhone Unit Sales
Apple reported Mac unit sales of 4.078 million, down from 4.199 million Macs in the year ago quarter. iPads got a little boost with 9.1 million units sold, compared to 8.9 million iPads in the year-ago quarter. The company sold sales of 52.2 million iPhones, up from 50.76 million iPhones in the year ago quarter.
iPhone revenues, however, were sharply higher at $38 billion, up from $33.2 billion in the year ago quarter. That would be more effect from the supposedly failed iPhone X, which has sent iPhone's average selling price (ASP) much higher. We expect more color on this from Apple during the company's quarterly conference call with analysts.
June Quarter Guidance
Apple provided guidance of revenues between $51.5 billion and $53.5 billion for the June quarter, with gross margins between 38% and 38.5%.
*In the interest of full disclosure, the author holds a tiny, almost insignificant share in AAPL stock that was not an influence in the creation of this article.