For those that enjoy classical music, the long-rumored Apple Music Classical is finally here, so long as you have an iPhone. Arriving March 28, 2023, the new app promises several new features, and will be available for all Apple Music subscribers via the App Store. Considering this service has been in the works for quite sometime, let's take a look at everything the new service plans to offer.
With rumors of Apple Music Classical making the rounds ever since Apple purchased Primephonic back in August of 2021, rumors of the app have been sporadically bubbling ever since. However, it seems Apple is finally ready for users to get the full experience under the spotlight. Let's take a look not only at the features, but what users will need to enjoy this experience.
Features of Apple Music Classical
Designed specifically for those that love and enjoy classical music, this addition will arrive to Apple Music subscribers at no additional cost. Some of the most exciting things about the new program include an absolutely massive library, as well as the ability to enjoy works while utilizing Spatial Audio.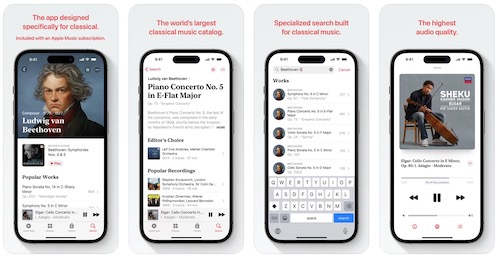 With this new arrival, several new features are arriving right along side it.
This includes:
Unlimited access to "the world's largest classical music catalog", which includes over 5 million tracks. Additionally, this also features new releases alongside renowned classics. Apple is also promising thousands of albums that will be exclusive to the service.
Users will be able to search by composer, conductor, work and even catalog number. Thanks to the search system, you'll be able to instantly enjoy your favorite pieces whenever and wherever.
Apple Music Classical listeners will also be able to enjoy Spatial Audio in thanks to Dolby Atmos. However, even if you don't have a device that supports Spatial Audio, you will still have access to tracks with audio quality up to 192 KHz/24 bit Hi-Res Lossless.
Tracks will also feature "complete and accurate metadata" so you can ensure that you are listening to exactly who and what you want to enjoy.
Those with a flair for learning the history of the music will also get to enjoy composer biographies, as well as descriptions of key works. Apple is also promising more in this field.
Apple Music Classical will also feature AirPlay, which makes streaming to compatible wireless devices a breeze.
Play it Again, Beethoven
With so many features arriving to Apple Music Classical, no doubt many fans are sure to get excited. For many, one of the early criticisms of the program was the search ability. Given that classical music can often be more specific to search for versus contemporary music, many found this to be an issue. Right now, it seems like Apple is promising a full search experience, so hopefully fans will be able to find exactly what they are looking for.
Additionally, this news also means that users will have access to two incredibly expansive libraries, if you take in account the already massive Apple Music library. Featuring over a hundred million songs alone, this means users will be able to get even more content in thanks to their Apple Music subscription.
Requirements
Of course, there will be some requirements for users to be able to fully enjoy the Apple Music Classical experience. In terms of requirements, this includes:
An Apple Music subscription. Apple Music Classical will be a part of the regular Apple Music plan at no additional cost. Individual, Student, Family and Apple One plans are all eligible for the new service. However, Apple Music Classical will not be available with an Apple Music Voice Plan.
The new addition will be available worldwide, excluding Japan, China, Korea, Russia Taiwan, Turkey, Pakistan and Afghanistan. Global users should also be aware that some features and content can potentially vary by region or country.
Apple Music Classical is available for all iPhone models running iOS 15.4 or later. Interestingly, no mention of iPad.
An internet connection will be required for Apple Music Classical for users to be able to listen to music.
Of course, iPhone users are able to preload or install the app here.
Arriving on a High Note

Obviously this news is going to be great for those that enjoy classical music, but it will be interesting to see how the search function is going to operate once the program goes live. Considering classical pieces of music can often be a bit more complex than today's modern music, many may rightfully wonder how the search function will operate and pan out. Some may also question how the experience is going to sound in Spatial Audio.
Nonetheless, it's great that the app is finally seeing the light of day. However, many are likely still waiting for the experience to arrive to iPad. Regardless, the service arriving at no additional cost is sure to win over fans of classical music, and may even bring some new fans for the experience. At the time of this writing, Apple Music Classical will arrive to users March 28.