For the past six years, the Electronic Frontier Foundation releases a scorecard for tech companies called Who Has Your Back? It evaluates each company's commitment to protecting users when it comes to government requests for data. Companies protect users through technology, law, and corporate policies.
Categories
The scorecard has five categories with which it rates companies:
Follows industry-wide best practices
Tells users about government data requests
Promises not to sell out users
Stands up to NSL gag orders
Pro-user public policy: Reform 702
Section 702
This year, Apple achieved a score of 4 out of 5 stars. The one category that Apple didn't receive a score in was Reform 702. This refers to Section 702 of the FISA Amendments Act, which is set to expire at the end of this year. Section 702 is the legal basis that the NSA uses for broad surveillance of electronic communications, and includes the controversial PRISM program.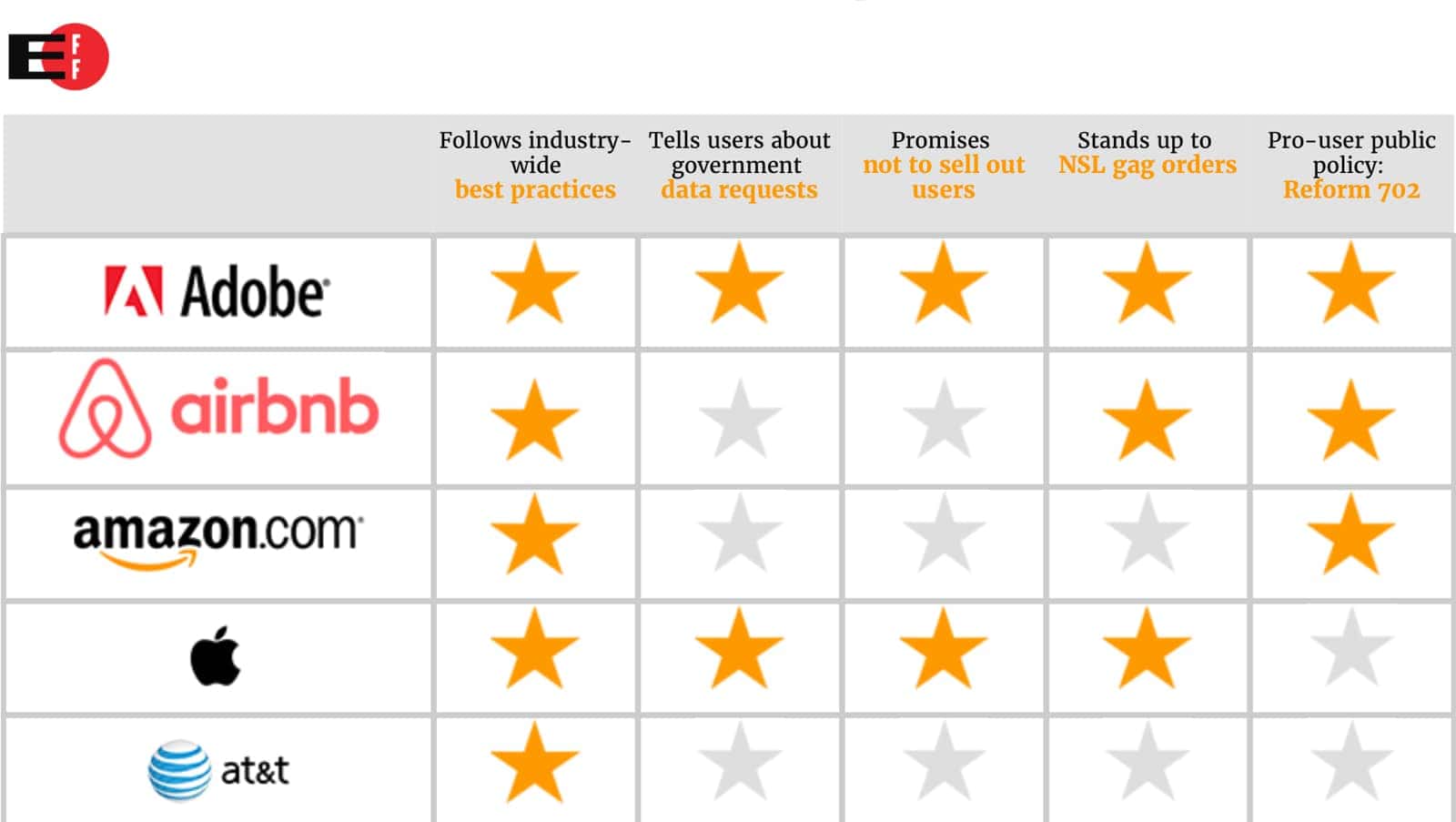 Earlier this year, some tech companies signed a letter calling for U.S. lawmakers to reform Section 702 before reauthorizing it, with changes like more transparency and oversight. The companies that signed include Amazon, Facebook, Google, Twitter, and Uber. Since Apple did not sign the letter, it didn't receive a star.
High and Low Scores
The companies that scored the highest this year, with five stars, are:
Adobe
Credo Mobile
Dropbox
Lyft
Pinterest
Sonic
Uber
Wickr
WordPress
The companies that received the lowest scores, with one star, shouldn't come as a surprise:
AT&T
Comcast
T-Mobile
Verizon
You can visit the EFF's website to see the scorecard, as well as download a PDF of the full report.